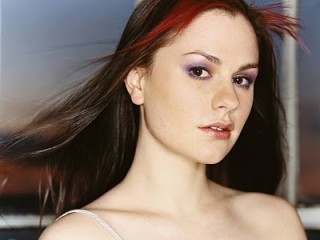 Anna Paquin
Date of birth : 1982-07-24
Date of death : -
Birthplace : Winnipeg, Manitoba, Canada
Nationality : Canadian-New Zealand
Category : Arts and Entertainment
Last modified : 2011-06-21
Anna Paquin is a Canadian-born New Zealand actress. Paquin's first critically successful film was The Piano, for which she won the Academy Award for Best Supporting Actress in 1994 at the age of 11 – the second youngest winner in history. Her acting career took off almost half a decade later when she appeared in a string of successful films including She's All That, Almost Famous and the X-Men franchise.

Born Anna Helene Paquin on July 24, 1982, in Winnipeg, Manitoba, Canada, the youngest of three children. The daughter of educators, Paquin was studious and academically minded, showing an early interest in sports and music (she played cello and piano). In 1986, Paquin relocated to her parents' native country of New Zealand with her family, and led a typical middle-class childhood. But life changed for Anna at the age of 11, when she attended a movie audition with her older sister, Kate. Anna, whose only acting experience came from a performance as a skunk in a school play, went with her sister to the audition on a whim. The director was immediately taken with Anna, and selected her for a co-starring role in the art house film The Piano, also starring Holly Hunter and Harvey Keitel.

In 1993, she made her film debut in The Piano, which told the story of a mute mail-order bride (played by Holly Hunter) and her young daughter (played by Paquin). Rated R for certain mature sexual scenes, the 11-year-old Paquin was unable to see the film in its entirety at the time of its release. But critics raved about the art-film-turned-box-office-hit. They were especially awed by Paquin's subtle and moving performance as her mother's interpreter in the film, and her portrayal earned her an Academy Award for Best Supporting Actress. With the win, Paquin became the second youngest winner of an Oscar; Tatum O'Neal remains the youngest with her win for 1973's Paper Moon.

After her Hollywood success, however, Paquin had little to no interest in pursuing a film career. She returned to her studies and refused offers for more film opportunities. Following her parents' divorce in 1995, Paquin and her mother relocated to Los Angeles, where she attended Windward School. The next year, she accepted roles in two new films: as a young girl who rescued homeless goslings in the true story, Fly Away Home (1996), and as the younger version of Jane in the Franco Zeffirelli-directed Jane Eyre (1996). While still in high school, she also made an impressive appearance in Stephen Spielberg's slave drama, Amistad (1997), playing the role of Isabella II, the Queen of Spain. Versitile Paquin next played the role of Rogue in the blockbuster X-Men trilogy (2000, 2003, 2006). In 2005, she appeared in the drama The Squid and the Whale as Jeff Daniels' precocious teenage love interest.

Since 2008, Paquin has starred as the vampire-loving, telepathic Sookie Stackhouse in the popular HBO series True Blood, for which she earned a Golden Globe award for best actress.

In 2009, Paquin played Irena Sendler, a Polish woman hailed as a heroine of the Holocaust, in The Courageous Heart of Irena Sendler, a CBS TV film biopic based on the book Mother of the Children of the Holocaust: The Irena Sendler Story, by Anna Mieszkowska. The film was made in Latvia, and was a Hallmark Hall of Fame presentation for the network.[12] Paquin's performance earned her a 2010 nomination for the Golden Globe Award for Best Actress in a Television Film.

Paquin's film The Romantics, a romantic comedy with Josh Duhamel and Katie Holmes, was released in the US at selected theaters in September 2010.

In 2010, Paquin was cast in a cameo role in Scream 4, which was released in 2011.

Paquin will also make a guest appearance as the voice of her True Blood character Sookie Stackhouse in an upcoming episode of Disney's Phineas and Ferb.

Paquin has received critical acclaim for her role as Sookie Stackhouse in the HBO series True Blood, for which she won the 2008 Golden Globe Award for Best Actress – Television Series Drama.

Personal:

On August 5, 2009, it was announced that Paquin was engaged to her True Blood co-star Stephen Moyer, whom she had been dating since filming the series pilot in 2007. On August 21, 2010, Paquin and Moyer married at a private residence in Malibu, California. Through her marriage to Moyer, Paquin has a step-son, Billy, born in 2000, and a step-daughter, Lilac, born in 2002. Paquin and Moyer reside in Venice, Los Angeles.

On April 1, 2010, Paquin came out as bisexual in a public service announcement for the Give a Damn campaign as part of the True Colors Fund, an advocacy group organized by Cyndi Lauper dedicated to LGBT equality.

View the full website biography of Anna Paquin.