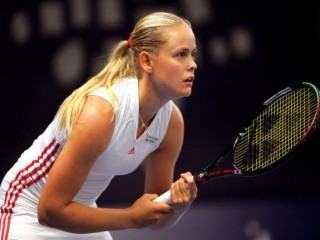 Anna-Lena Groenefeld
Date of birth : 1985-06-04
Date of death : -
Birthplace : Nordhorn, Germany
Nationality : German
Category : Sports
Last modified : 2011-04-28

Anna-Lena Grönefeld is a professional tennis player from Germany. She turned professional in April 2003.

CAREER:

As of November 2010, Grönefeld is the No. 7 tennis player from Germany. She was coached and trained by Rafael Font de Mora in Scottsdale, Arizona until 2006. Anna-Lena is currently coached by former professional German tennis player Dirk Dier (since the WTA tournament in Stuttgart in October 2006). She now lives and trains in Saarbrücken.

Anna-Lena Groenefeld's best year on tour came in 2006, when she won her only title (in Acapulco), reached the quarterfinals at Roland Garros, and achieved a career-high ranking of No. 14. In 2009, Groenefeld won the mixed-doubles title at Wimbledon in 2009 with Mark Knowles.

Singles Titles
2006: Acapulco

Doubles Titles
2010: Copenhagen
2009: Brisbane, Linz
2008: Stuttgart, Québec City
2007: Sydney
2006: Acapulco, Stanford
2005: Pattaya City, Toronto, Bali

PERSONAL:

Coached by Dirk Dier; managed by ITMS Sports
Introduced to tennis at age 5 by father and brother at club around the corner
Mother is Marie-Louise (teacher); father is Hans (surgeon); brothers are Philipp and Bastian (both attend university)
Graduated from Nordhorn High School in June 2001
Favorite tournament is Roland Garros
Other sports interests include handball, basketball
Favorite place to visit is home
Relaxes by listening to music, reading, watching TV, seeing friends
Closely follows German soap opera "Gute Zeiten Schlechte Zeiten"
Admires countrywoman Steffi Graf.

View the full website biography of Anna-Lena Groenefeld.