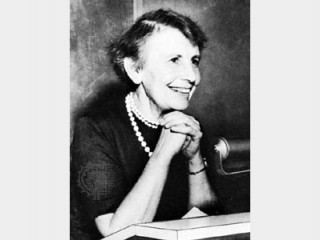 Anna Freud
Date of birth : 1895-12-03
Date of death : 1982-10-09
Birthplace : Vienna, Austria
Nationality : Austrian
Category : Famous Figures
Last modified : 2010-12-06
Anna Freud's pioneering efforts in establishing the theory and method of child psycho analysis expanded the legacy of her father, Sigmund Freud, while it applied psychoanalytic discoveries to practical problems of child care and development in her innovative child care and study centers. As an investigator, speaker, teacher, and writer, she established a training method and body of scientific work that greatly influenced the study of children in the late twentieth century.
Anna Freud, the youngest of Sigmund Freud's six children and the only one who became a psychoanalyst, was born in Vienna in 1895. In the same year, Sigmund Freud published Studies on Hysteria, regarded as the first work of what would come to be known as psychoanalysis. From her earliest years, she identified closely with her father. Freud's mother was more attached to the other children, however, and the youngest daughter seems to have envied her beautiful older sister Sophie. Throughout her life, Freud had a difficult and distant relationship with her mother, who was famously skeptical of psychoanalysis. The elder Freud later praised her intellectual interests, but he did not send her to schools that could prepare her for university. Instead she was sent to the Cottage Lyceum, a school for teachers.
In 1914, Freud was visiting England when World War I broke out. Helped by friends in the diplomatic community, she returned to Austria where, stimulated by the ideas of Maria Montessori, she began her career as an elementary school teacher. She taught in her old school during the war, but abandoned teaching soon afterwards to begin working more closely with her father. She briefly considered becoming a doctor but was dissuaded by him.
Freud increasingly assumed a role as her father's assistant, secretary, and proponent. In 1918, she entered analysis with the elder Freud. That same year she attended her first meeting of the Vienna Psychoanalytic Society. She became immersed in the development of psychoanalysis and began attending psychoanalytic meetings, translating papers, and analyzing patients. In 1922, she delivered her first paper to the Vienna Psychoanalytic Society and soon afterwards was accepted as a member.
The period from the mid-1920s to 1938, when the Freuds were forced by the Nazi occupation of Austria to leave Vienna, was a period of rich intellectual activity and rapid development in psychoanalytic thought. Freud's first patients were adults, but she soon began treating children. Her work as a teacher served as a bridge to what was emerging as her life's work—the psychoanalytic study of the child. Her interest in working with the Berlin Clinic promised to grant her a degree of independence from her father, but she decided to remain in Vienna after her father narrowly escaped bleeding to death after outpatient surgery. In 1923, he was diagnosed with cancer and from then on Freud became his primary caretaker, secretary, and intellectual companion. In that year she also established her own private practice. During this time she also assumed increasingly responsible positions in the leadership of the Vienna Psychoanalytic Society and the International Psychoanalytic Association.
In 1925, she met Dorothy Burlingham, who had brought her children to Vienna for analytic treatment. Their friendship eventually deepened into a lifelong bond. During this time she also began a private analytically-oriented nursery school together with several other analysts, and also set up what is now regarded as the first modern day care center for underprivileged infants. The city of Vienna asked her in 1926 to train nursery workers and elementary teachers in applying the new analytic knowledge to education theory. That year she delivered four lectures, published as An Introduction to the Technique of Child Analysis, which marked the recognition of child analysis as a legitimate sub-specialty. In 1929, she first warned childcare professionals against mistaking professional child care for mothering. Throughout her career, Freud continued to stress that child care and analysis itself cannot substitute for the early parental attachments which shape personality development.
The elder Freud defended his daughter against the differing views of Melanie Klein and others and came to admire her intellectual independence. In 1931, she became editor of the Journal of Psychoanalytical Education, a forerunner of The Psychoanalytic Study of the Child. By the early 1930s, however, opposition to Freud's ideas was growing among extremists in the Nazi Party in Germany, and in 1933 his books were burned in Berlin.
Her efforts at this time to define normal child development led her to expand on her father's ego theory in her influential work The Ego and the Mechanisms of Defense, published in 1936. The principal defense mechanism, she claimed, is repression, which develops as children learn that some impulses are harmful and cannot be acted upon. Child analysis was the best means, she believed, for examining the functions of the ego and the instinctual drives, since children respond to their own internal pressures and the demands of the external world with a wider and more creative range of defenses than do adults. Considered a classic, this work contained one of the first comprehensive examinations of the conflicts of adolescence and outlined her views of the structure and unity of the human personality.
In 1938, after Freud was interrogated by the Nazi Gestapo in Vienna, the family emigrated to England. In England, Freud went back to seeing patients and founded a nursery at her family's house for children who had been separated from their parents by the war. The Hampstead Wartime Nursery for Homeless Children provided a natural laboratory for Freud's views on the influence of parental separation on childhood development. In two books and a series of reports collected as Infants Without Families, Freud and Burlingham, who also had become an analyst, outlined a program of service and research to prevent further harm to the children, conduct research on the fundamental needs of children, and develop an ideal nursery environment that could provide a model for peacetime education. A fundamental conclusion from these works was that separation from family could have a more detrimental effect than the war itself.
Freud consistently sought to apply the theories of psychoanalysis to the practical problems of children. The children of the war nurseries included the blind, handicapped, and deprived as well as those troubled by minor problems. Her observations convinced her of the importance of the parental bond to both normal and abnormal childhood development. The immediate effect of the nurseries was to shift childcare policy in favor of supporting children in their families rather than sending them away to institutions. She also initiated a form of core training for the war nurseries staff.
Others were also applying psychoanalysis to the treatment of children at this time, but a number of major differences soon emerged after Freud's arrival in England. A lifelong rift developed in the British Psychanalytic Society between Freud and Melanie Klein, who believed that techniques could be equally applied to children and adults. Freud held, however, that analysis of children must make allowances for children's unique developmental stages and fluid individuality. She believed in a reality-based and practical application of educational devices for both parents and children. She also disagreed that child analysis was beneficial to all children, and she objected to over-interpretation of children's movement and expression in play as signs of underlying conflict. Freud argued instead that a wide range of behavior could be considered "normal" and relied, more heavily than her counterparts, on direct observation and on the clues provided by children's drawings, play, and daydreams.
Like her father, Freud believed that analysis was essentially a talking cure, and children could not therefore be analyzed until they could talk. Children cannot be trusted to control the impulses set free by analysis, she argued; they must be controlled by the parents or by the analyst acting as "auxiliary ego." Child analysis, Freud concluded, aims to strike a balance between freeing and restricting the child's impulses in the process of educating them. And no therapy of children can succeed without parental support. With her practical focus and humanistic outlook, Freud played a major part in maintaining unity among British psychoanalysts who often held widely differing points of view.
The nurseries were succeeded in 1947 by the Hampstead Child Therapy Course and Clinic, which she founded with a number of other prominent analysts. It would become the world's largest and most comprehensive child analytic training and treatment center. It provided analytic therapy, counseling, and a renowned training course for many American child psychologists and other practitioners and served as a model for similar centers throughout the world. For the next 40 years, Freud served as a training analyst, supervisor, and consultant to the clinic while speaking internationally and publishing on a wide variety of subjects. Freud continued her collaborations with pediatricians, social workers, and teachers, combining models of service to children with rigorous scientific investigation.
In the early 1960s, Freud began a collaboration with the Yale Child Study Center, contributing to seminars on family law and child placement conflicts. In the resulting books, Freud argued that the child's perspective must be paramount in determining child care decisions and that the "least detrimental alternative" should be pursued that will allow the child to maintain a stable parental relationship. She also argued for minimizing the state's intrusion into family life. In her final years, she extended this work to examining the uses and misuses of experts in resolving custody and placement conflicts.
In her final years, Freud believed the future of psychoanalysis lay in examining each developmental path that led to adulthood. Instead of seeking the origin of disturbances in earliest life, she proposed a number of "developmental lines" of normal development in which disturbance could occur. Psychic disturbance, she believed, may have many origins and take forms in childhood and adulthood which are not necessarily causally related or even similar. A later major work, Normality and Pathology in Childhood, focused on assessing childhood developmental stages and establishing norms for childhood development.
Freud came to believe that modern analysis had wrongly shifted attention from unearthing repressed past childhood experiences to dealing solely with the patient's present relations with the therapist. She also disagreed with the modern shift from a father-centered to mother-centered approach. When asked about her views on the subject of mothering, Freud replied that she had never written of mother-daughter relations because she knew nothing about them. A striking irony of her life was that she never married or had children of her own; and in spite of her lifelong dedication to the care of children, she refused to be identified as a universal mother figure.
Although Freud never acquired advanced academic degrees, her accomplishments were widely recognized in the many honorary degrees awarded her in England, Europe, and the United States. As the last link to the origins of psychoanalysis, she embraced her father's ideas while forging her own theories of normal and abnormal child development and psychology and creating a coherent therapeutic technique. Freud suffered a stroke in 1982 and died later that year. Clifford Yorke, a fellow psychoanalyst, wrote that her death "brought to a close the distinguished career of one of the great scientific leaders of our time, and one whose impact and influence will continue to be felt as long as a science of the mind survives."
Coles, Robert, Anna Freud: The Dream of Psychoanalysis, Addison-Wesley, 1991.
Freud, Anna, Writings of Anna Freud [8 volumes], International Universities Press, 1964-1980
View the full website biography of Anna Freud.