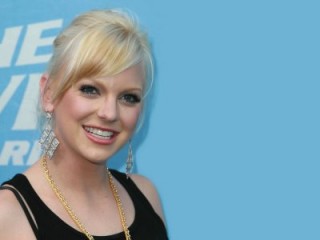 Anna Faris
Date of birth : 1976-11-29
Date of death : -
Birthplace : Baltimore, Maryland, U.S.
Nationality : American
Category : Arts and Entertainment
Last modified : 2011-06-21
Anna Kay Faris is an American actress, comedian, and singer. She is known for her starring role in the Scary Movie film series, as well as her lead roles in The Hot Chick (2002), Lost in Translation (2003), Just Friends (2005), My Super Ex-Girlfriend (2006), Smiley Face (2007), and The House Bunny (2008). She also provided voice acting in the animated film Cloudy with a Chance of Meatballs (2009).

Born on Nov. 29, 1976 in Baltimore, MD, Faris was raised by her father, Jack, and her mother, Karen, who encouraged their daughter to act from an early age. When she was nine, Faris made her professional debut in Arthur Miller's "Danger: Memory" at the Seattle Repertory Theatre. She soon followed with performances as Scout in "To Kill a Mockingbird," the title character in "Heidi," and Rebecca in "Our Town." While she was attending Edmonds Woodway High School, Faris starred in a frozen yogurt commercial that solidified her standing as a professional actress, even though she endured relentless teasing from her classmates. After graduating from the University of Washington, where she earned her bachelor's in English literature, Faris made her feature debut in "Lover's Lane" (1999). On set, she met future first husband, actor Ben Indra, who she married in 2004, only to divorce four years later. Shortly after her first feature, she had her breakout role as the hapless Cindy Campbell in the Wayans Brothers' horror spoof feature, "Scary Movie" (2000).

It was during the filming of "Scary Movie" that Faris decided to dye her blond hair to black in an attempt to make her character look more like Neve Campbell and Jennifer Love Hewitt from "Scream" (1996) and "I Know What You Did Last Summer" (1997) respectively, the already-self-aware slasher hits that "Scary Movie" parodied. The good-natured, consistently amusing, but often crude spoof became a surprise hit, with much deserved credit going to Faris for her giving performance. She returned the following year for the less appealing sequel, "Scary Movie 2" (2001). Continuing to make a name for herself in broad comedy, Faris was one of the few redeeming qualities in the low-brow Rob Schneider comedy "The Hot Chick" (2002), playing the best friend of a mean-spirited high school girl (Rachel McAdams) who is cursed to occupy the body of a 30-year-old man (Schneider). Following "Scary Movie 3" (2003), in which her character deviated from parodying Neve Campbell to focus on Courteney Cox, Faris surprised many with her brief, but hilarious supporting turn as a vacuous actress who visits her lonely friend (Scarlett Johansson) in Japan in "Lost In Translation" (2003). She later admitted to basing her empty-headed performance on a real-life Hollywood actress, but denied much-circulated rumors that Cameron Diaz was her inspiration.

Hoping to avoid Hollywood "flavor of the month" labels while exploring more challenging and dramatic indie fare, Faris also shrewdly gained mainstream exposure when she was cast in a three-episode stint during the final season of "Friends" (NBC, 1994-2004), playing the birth mother of the baby Monica (Courteney Cox) and Chandler (Matthew Perry) plan to adopt. In the low-budget comedy "Waiting" (2005), Faris played a seductive waitress at a restaurant full of misfits, including two cooks (Luis Guzman and Dane Cook) who do disgusting things to the food, a waiter (Ryan Reynolds) whose only care in life is partying, a dishwasher (Chi McBride) who likes to wax philosophical, and another waiter (Justin Long) who hates his dead-end job. Weeks after the release of "Waiting," she reunited with Reynolds in "Just Friends" (2005) for another brilliantly funny out-there character, playing the spoiled socialite, diva and magazine pin-up girl Samantha James, whom formerly fat Reynolds is charged with turning into a pop-singing sensation just as he is reuniting with the high school best pal (Amy Smart) he has pined for all his life.

Faris next had a brief, but scene-stealing turn as an all-too-chatty Southern trophy wife in director Ang Lee's award-winning and much ballyhooed "Brokeback Mountain" (2005). Returning to the well perhaps once too often, she revived the clueless Cindy Campbell for "Scary Movie 4" (2006); this time seeking a career in home healthcare that leads her to a creepy old lady in a creepy old house where she encounters numerous horrors - plane crashes, alien sphincters and Oprah. "Scary Movie 4" snatched the No. 1 spot on an opening weekend with little competition, taking in a whopping $40 million. In "My Super Ex-Girlfriend" (2006), Faris was the beautiful office worker whose budding romance with a lovelorn guy (Luke Wilson) spurs the wrath of his superhero ex-girlfriend (Uma Thurman). In "Smiley Face" (2007), she was a college dropout and aspiring actress whose love of marijuana-laced cupcakes leads to a misadventure of epic proportions. After appearing as herself in a few episodes of "Entourage" (HBO, 2005- ), she starred as a former Playboy Playmate kicked out of the mansion who becomes the house mother at a nerdy sorority in "The House Bunny" (2008). She next starred as the target of a flasher whose protected by a buffoonish mall security guard (Seth Rogen) in the comedy "Observe and Report" (2009).

View the full website biography of Anna Faris.