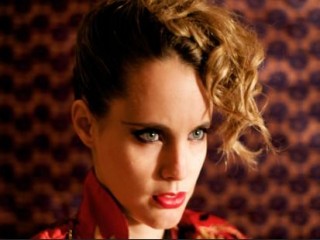 Anna Calvi
Date of birth : -
Date of death : -
Birthplace : London, UK
Nationality : English
Category : Arts and Entertainment
Last modified : 2012-07-04

Anna Calvi (born 1982) is an English musician who plays in the band of the same name. On 6 December 2010, Calvi was announced as a nominee for the BBC's Sound of 2011 poll. Her debut album Anna Calvi was released in the UK on 17 January 2011, where it debuted at number 40 on 23 January. The album was subsequently nominated for the prestigious Mercury Music Prize in 2011 and the BRIT Awards in 2012.

Hailed as "the best thing since Patti Smith" by Brian Eno, as well as being included on the BBC's Sound of 2011 list, the hype surrounding London-born Anna Calvi came to fruition during late 2010. Gaining critical acclaim among music journalists, Calvi drew comparisons with the passionate and brooding musicianship of the likes of Nick Cave and PJ Harvey. The dense and rich musical influences that inhabit Calvi's world are broad and distinctive strokes of sultry flamenco, smoke-filled blues, and seductive goth pop/rock. Adding to this tapestry of influences, Calvi has claimed to have been inspired by the films of David Lynch, Gus Van Sant, and Wong Kar Wai; the cinematic element to her music contributes a mysterious and unyielding undercurrent to her work.

Half Italian singer/guitarist Anna Calvi grew up being exposed to a multitude of genres of music by her music-loving father. According to the Suzanne and I Songfacts, she cites the classical composers Ravel and Debussy among her influences and her music has been described as "brooding melodramatic goth-pop."


At the age of 17 and after eschewing art school in favor of a music degree, Calvi began to learn her trade and started to assemble musical partnerships. In 2006, she met percussionist and harmonium player Mally Harpaz and later recruited drummer Daniel Maiden-Wood. The release of her debut single, "Jezebel," in the fall of 2010 was an electric cover version of the Edith Piaf standard.


Awards and nominations:

2010:
BBC Sound of 2011 - Sound of 2011 (nominated)
2011:
Mercury Prize - Best Album (nominated)
UK Festival Awards - Best Breakthrough Artist (nominated)
2012:
Eurosonic Noorderslag - European Border Breaker Award (UK) (won)
The Guardian - First Album Award (nominated)
Brit Awards - British Breakthough Act (nominated)

The album was Rough Trade's album of the month in January, described as an "astonishingly confident, expressive and powerful record."

Calvi launched the album to sold out show at the intimate Hoxton Hall in London on 27 January 2011. As part of the album promotion, Calvi performed several times on French TV including a performance of Desire on Le Grand Journal, and Blackout and Desire on ARTE. In France, according to Q magazine, Calvi "has become an overnight star, the album debuting in the Top 20 and the Parisian fashionistas taking her to their hearts."

The album was released in USA, Australia, and Japan on 1 March 2011. Calvi performed on the first show of Series 38 of Later... with Jools Holland that was broadcast on 5 and 9 April 2011. She performed Blackout and Desire. Calvi performed 5 songs on the TV show "Live From Abbey Road" broadcast on Channel 4 on 22 June 2011. Calvi also performed on Late Night with David Letterman on 27 July 2011.

Domino Records released Blackout as the first single taken from the album on 21 March 2011 : it featured a cover of Elvis Presley's Surrender as the B-side. Blackout was debuted on Pitchfork in the US. "Blackout" was eventually added to BBC Radio 1's playlist in January 2012. Desire was released as the second single from the album on 20 June 2011. The single featured a cover of Leonard Cohen's Joan of Arc as the B-side. Suzanne & I was the third single from the album and was released on 12 September 2011. The B-side was Baby It's You. Calvi debuted Wolf Like Me a cover of TV On The Radio on Stereogum. The album was shortlisted for the prestigious 2011 Mercury Prize.

In January 2012, Calvi was awarded the European Border Breakers Award. To be eligible for the awards, the artists must have enjoyed border-breaking success with their first international release in Europe between 1 August 2010 and 31 July 2011. The winners are selected by music market analyst Nielsen Music Control on the basis of record sales and broadcast frequency and according to votes by European Broadcasting Union (EBU) radio stations and festivals participating in the European Talent Exchange Program (ETEP).[48]

On 20 February 2012, Calvi released a French version of Jezebel with Wolf Like Me (TV On The Radio cover) as the B-side.

Calvi covered Beyonce's "Naughty Girl" for BBC Radio 1's Live Lounge in February 2012.

Calvi was nominated in the Best British Breakthrough category at the BRIT Awards 2012. Calvi attended the event but did not perform.

View the full website biography of Anna Calvi.