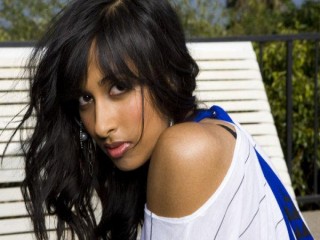 Anjulie
Date of birth : 1983-05-21
Date of death : -
Birthplace : Oakville, Canada
Nationality : Canadian
Category : Arts and Entertainment
Last modified : 2020-10-13
Anjulie Persaud, known for his stage name Anjulie is a Canadian singer/songwriter from Oakville, Ontario, Canada, a suburb outside of Toronto.

With her distinctive voice, open lyrics, melodic talent, and good looks, Anjulie announces herself as a commanding new presence on the music scene. Part Canadian, Indian, and Guyanese, Anjulie is the youngest of four children of Guyanese-Canadian parents. She is described as a music addict and has been writing and composing her own music since she was a teenager. Artists like Annie Lennox, U2 and Prince heavily influence Anjulie's music.

Her debut album was co-written and produced by Jon Levine of the Philosopher Kings. Anjulie met Levine while working as an intern at Metalworks Recording Studio in Mississauga, Canada. She was later fired for accepting a lunch date with Levine, but it ultimately led to their partnership and the start of her music career.

Anjulie's debut single Boom was released on November 11, 2008 and reached number one on the U.S. Dance chart in 2009. The hit single has been featured on ABC's Eastwick, Canada's Next Top Model, and CW's Melrose Place and The Vampire Diaries. Her track "Big Thing" was featured in the opening scenes of the 2009 film Fame. Her single "Rain" was featured on MTV's The Hills and Addicted2Me appeared on several episodes of The City.

Remixes of Anjulie's follow-up Love Songs reached the Top 20 on Billboard's Hot Dance/Club Play charts in October 2009. She also co-wrote the single "I Want You" with Fefe Dobson for her album "Joy" that came out in the fall of 2009. On October 14, Dobson announced via Twitter and Facebook that she will perform at the PINKtober benefit concert at Hard Rock Café in Hollywood on October 22, 2009 and that Anjulie will be a special guest.

Anjulie was recently nominated for the 2009 MTV Video Music Award for "Best Breakthrough Artist in a Video." Currently she is on tour with Shwayze and Bobby Ray a.k.a B.o.B. across the United States, and she will be touring this fall and winter with Raphael Saadiq.

View the full website biography of Anjulie.