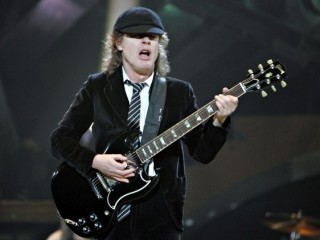 Angus Young
Date of birth : 1955-03-31
Date of death : -
Birthplace : Glasgow, Scotland
Nationality : Scottish
Category : Arts and Entertainment
Last modified : 2012-01-13
Angus McKinnon Young is a rock guitarist who has been a member of Australian hard rock band AC/DC since the group was formed in 1973. Angus is known for his hard-edge blues style lead (and signature vibrato), wild stage energy, and schoolboy clothing style.

Angus started playing guitar when he was about five. Another kid who lived nearby had one, and Angus would come over and play on it. He got his own "guitar" by taking a banjo his ily had lying and the house and restrainging ita guitar. He didn't really get into guitar playing, thoguh, until his early teens. He got his first Gibson SG after seeing it in a friend's catalogue. Until then, he had been playing on an old Hofner guitar he got when his brother Malcolm got his Gretsch Jet Firebird.

For a part time job, before AC/DC and when the band had just started playing shows, Angus worked at a printing company in Australia.

Angus Young practiced with his band, AC/DC, which was just developing at the time. Angus had developed a trademark 'schoolboy' style in the band. One rumor is that he did not have time to change between his school uniform and band practice, and simply wore the uniform. The truth is though that his sister suggested he do it as a gimmick. Angus previously tried dressing as Zorro and also a gorilla. Eventually, it became a signature trademark of the entire band.
View the full website biography of Angus Young.