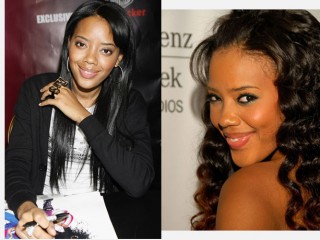 Angela Simmons
Date of birth : 1987-09-18
Date of death : -
Birthplace : New York City, New York, US
Nationality : American
Category : Famous Figures
Last modified : 2011-02-03
Angela Renee Simmons is an American socialite and business woman. She is best known as the daughter of hip-hop legend Rev Run. She is co-owner of her company Pastry Footwear with her sister Vanessa Simmons. She also has a magazine deal with Word Up Magazine called Angela's Rundown. She appears on the MTV reality show Run's House with her family, and its spin-off show Daddy's Girls.

Angela Simmons is the second daughter of Joseph Simmons, co-founder of the hip-hop group Run-DMC with former wife also named Vanessa, like their first daughter. Angela finished her studies in the Fashion High School of NYC, having an average grade of A. She will be continuing her studies in the Fashion Institute of Technology and is currently handling her own magazine, Angela's Rundown. She also has a new executive title under the Word Up! Magazine and this becomes a challenge for her as she is still in school studying. Along with her elder sister, Vanessa, Angela opened a sneaker line named Pastry, which is inspired by their hip-hop dynasty, influenced by their fashion-involved relatives Russell and Kimora Lee Simmons, and their love for pastries and cute colors. The first collection of Pastry Sneakers is appropriately called Cake, which comprises of Strawberry Shortcake, Chocolate Mousse, Sprinkles, and Red Velvet which all literally look like cakes. These sneaks aren't only yummy for the eyes but for the lips too because each she comes with its own scented lip gloss which matches the theme of the sneaker.

Angela Simmons appears in MTV's reality TV show entitled Run's House which is currently in its third season. It features the family hip-hop guru Joseph Simmons, including his second wife Justine, eldest daughter Vanessa, Angela, JoJo, Diggy and Russel. In the latest season, we can see that she's busy with her studies and the management of her magazine Angela's Rundown.



View the full website biography of Angela Simmons.