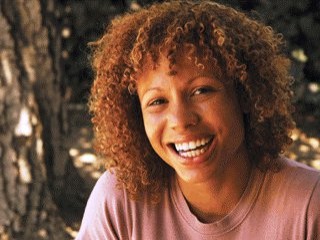 Angela Nissel
Date of birth : 1978-12-05
Date of death : -
Birthplace : Philadelphia, Pennsylvania, United States
Nationality : American
Category : Arts and Entertainment
Last modified : 2011-08-23
Angela R. Nissel is an author best known for her first book, "The Broke Diaries: The Completely True and Hilarious Misadventures of a Good Girl Gone Broke". She is also a writer and co-producer for Scrubs and is working on a television series with Halle Berry, who optioned both of Nissel's books.

Nissel in Philadelphia, Pennsylvania, the daughter of Jack Nissel, a white man, and his wife, Gwen, a black woman and former militant member of the Black Panthers. Nissel's father left the family when she was eight years old and was not involved in her upbringing nor that of her younger brother. Gwen Nissel raised her children as a single mother on a nurse's salary in the southwestern part of the city. Nissel attended Catholic schools, and graduated from the Baldwin School.

In 1992, Nissel entered the University of Pennsylvania, where she studied medical anthropology. Her college years involved some difficulties. During her first year of college, she suffered from depression and had a brief stay in the psych ward. She later took semesters off on occasion to gather the funds to pay for school. By the time she reached her senior year, 1997-98, Nissel's financial difficulties seemed to crest.

During the summer of 1997, she returned to Philadelphia after doing an unpaid internship on the news program Dateline NBC. On her door was an eviction notice; she had used all the money she had to complete the internship. Nissel needed to do something for free to entertain herself while she finished school. She learned HTML by skipping class and going to the library, and used her new skills to write an online journal about being a starving college student. Nissel told Elizabeth Jones of the Lantern in an article published on the University Wire, "It seemed normal when I started writing them on the web, but the more I wrote the crazier things went."

Nissel wrote about what she did to make money, eat cheaply, and get free food and books, including some odd dates, stealing a textbook from a teaching assistant's office, and difficult banking situations. She also talked about her jobs as a babysitter, telemarketer, and her work-study positions. Nissel told Andrea Dingman of the Daily Bruin in an article published on the University Wire, "At first I was just writing it for myself, just a sane way to keep perspective on things and make myself laugh." But she came to realize that an audience was there.
Nissel graduated from University of Pennsylvania in 1998 and stopped writing in the journal a few months later. She began working as a temporary receptionist in a law office and at the Internal Revenue Service. In 1999, she co-founded her own website/web-based community, Okayplayer.com. The business created and managed websites for hiphop and soul musicians like ?uestlove, whom Nissel had met years earlier when they both worked at a telemarketing firm when she was in high school. Nissel designed websites and served as site manager for the business. Okayplayer.com received 300,000 hits per day.

That same year, Nissel was approached by Villard Books about publishing her online journal. Skeptical at first, she finally agreed to a deal and spent two years preparing the journal for publication. After the book was published in 2001, she left her partner in charge of Okayplayer.com and focused on writing full time.
The compilation of journal entries was published as The Broke Diaries: The Completely True & Hilarious Misadventures of a Good Girl Gone Broke. In the edited version, Nissel discussed how to live cheaply like a college student does on a limited budget. Ramen noodles, she emphasizes, are a dietary staple. Nissel also describes some of the difficult situations her financial status got her in. Yet, throughout the text, she remains hopeful because she knows her poverty is only temporary because of her forthcoming degree. Many critics found the book poignant and funny. Reviewing The Broke Diaries in USA Today, Tara McKelvey wrote, "What makes Nissel's book shine is her unsentimental prose and wicked sense of humor."

Around the time The Broke Diaries was published, Nissel moved to Los Angeles to pursue writing. Initially, her goal was to turn the book into a screenplay or television series. While pursuing this ambition, Nissel began writing on a freelance basis for magazines. Through the sale of some of her personal items for cash on eBay, she met a television executive who helped her find an agent. The agent sent her book around and Nissel was given her choice of television shows for which to write.

Nissel decided to join the staff of Scrubs, a medical-based situation comedy which allowed her to use her college degree. She joined the writing staff of the NBC cult hit in 2002. By 2004, she was story editor on the show, and was later named consulting producer. Nissel penned several episodes, which aired in 2002, 2004, and 2006. While writing for Scrubs, Nissel worked on her second book, a memoir of growing up a biracial child in Philadelphia. She describes how she dealt with the questions and situations raised because she was of mixed race. Mixed: My Life in Black and White was published in 2006. Critics lauded the book and its author for her amusing take on sometimes-difficult life situations.

Nissel also continued to pursue getting The Broke Diaries as well as Mixed adapted for a visual media. Originally, The Broke Diaries was to be a feature film with the script co-written by Nissel and Aaron McGruder, the cartoonist responsible for The Boon-docks comic strip. However, this project did not pan out.
Later, actress Halle Berry optioned both books. She intended to turn The Broke Diaries into an HBO film, but was also considering combining both books for a situation comedy pilot on HBO. Nissel was working on the HBO project, and decided not to write another book at least until the end of the run of Scrubs. She wanted her voice heard on television. Nissel told DeBorah B. Pryor of EURweb.com, "Books are my passion but I know how many people you can reach through TV; and being in there and being the only black writer in the room I know how powerful it is when I say 'no' to doing certain things. I want to be the person who can say 'yes' to doing certain things; getting shows on the air that I can look at and be proud of as a black woman."

Books:
The Broke Diaries: The Completely True and Hilarious Misadventures of a Good Girl Gone Broke (2001). Mixed: My Life in Black and White (2006)

Awards:
Best New Website Award, Online Hip-Hop Awards, for Okayplayer.com, 2001.
View the full website biography of Angela Nissel.