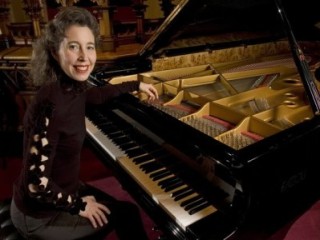 Angela Hewitt
Date of birth : 1958-07-26
Date of death : -
Birthplace : Ottawa, Ontario, Canada
Nationality : Canadian
Category : Arts and Entertainment
Last modified : 2022-07-26
Angela Hewitt is a Canadian classical pianist. She holds British nationality through her father, Godfrey, who was the organist and choirmaster at Christ Church Cathedral in Ottawa, Ontario for almost fifty years.


"What wonders here were revealed--wit, poetry, high spirits, deep reflection--all conveyed with faultless clarity," Geoffrey Crankshaw exclaimed in Musicial Opinion after one of Ottawa-born pianist Angela Hewitt's concert performances. London's Sunday Times called her "one of the outstanding Bach pianists of our time," and the New York Times proclaimed, "[Hewitt] is an artist of consummate technical skill and refinement."

Hewitt's career escalated to the level of international musical sensation after she won 1985's prestigious Toronto International Bach Piano Competition--an event held in honor of fellow Bach master interpreter Glenn Gould. Although she was already a recognized performer, the competition brought Hewitt attention at an international level that she had not yet received, as well as an opportunity to record on the Deutch Gramophon label. "Winning the Bach Competition," she explained to John Kraglund in the Globe and Mail shortly after her win, "has given me a tremendous boost, particularly in Europe." Earlier she admitted in Performing Arts that she had planned to make the Bach Competition her last: "I had made a vow that this competition would be my last one," Hewitt told Paula Citron, "because they are exhausting and emotionally stressful ... At 27, it seemed like a good age to say goodbye to the pressure. Yet, there are so many pianists out there, that there is no other way of getting known. It's not like the old days when there were impresarios to find the new talent."

Although the Bach competition was a pivotal point in Hewitt's international career, it took 24 years of hard work to reach that Toronto stage. Angela Hewitt was born into a musical family. She is the daughter of acclaimed Ottawa cathedral organist Godfrey Hewitt and music teacher Marion Hewitt. Under her mother's tutelage, Hewitt began playing piano at the age of three and gave her first recital at the age of four. She won her first scholarship when she was only five. As a youngster, Hewitt was exposed to a variety of cultural experiences as she also studied violin, recorder, voice and classical ballet.

In 1964, at the age of six, Hewitt began a nine-year period of study at Toronto's prestigious Royal Conservatory of Music, where she gave her first recital when she was just nine. Later, at the University of Ottawa, Hewitt studied under Jean-Paul Sevilla and graduated with her Bachelor's Degree in music in 1977 just before her 18th birthday.

By this time Hewitt had already performed extensively in competitions around the world. A winner in the 1975 Chopin Young Pianists' Competition in Buffalo, she also won top prizes in the International Bach Competitions of Washington D.C., in 1975 and Leipzig, in 1976. Hewitt took home the top prize in the Schumann Competition in Zwickau in 1977. The following year, Hewitt won the Viotti Competition in Italy, and won the Casadesus Competition in Cleveland in 1979. She also took home top honors at the Dino Ciani Competition at La Scala, Milan, in 1980.

Four years later, Hewitt made her New York debut at Alice Tully Hall. After her spectacular win in Toronto, she later made her London debut at Wigmore Hall in 1985. Since then she has toured extensively, bringing her distinctive sound to Japan, China, the former Soviet Union, Europe, Mexico, and North America. Hewitt has shared these stages with orchestras including the BBC Philharmonic, The Bournemouth Symphony and Sinfonietta, the Japan Philharmonic, the Norwegian Chamber Orchestra, the Philharmonia, the Royal Philharmonic Orchestra, and the San Francisco Orchestra, as well as every major Canadian orchestra and all the orchestras of the Australian Broadcasting Corporation.

Her win at Toronto's Bach Competition further established Hewitt as a keen interpreter of the composer's works. Her recordings of Bach's Inventions, French Suites, and Partitas have all been highlighted in Gramophone's "Editor's Choice," where they were described as "effortlessly eclipsing all competitors." Stephen Wigler wrote in the Baltimore Sun, "some of the few pianists who continued to perform [Bach] often seemed as if they hated the sound of the modern piano ... What makes Hewitt different, is that she likes the sound of Bach on the piano." The Ottawa native confirmed, "I love the instrument and the sound I can get on it." Reviewer Robert Everett-Green wrote in a review for the Globe and Mail: "Listening to Angela Hewitt's performance is like wandering through a portrait gallery, looking at one small masterpiece after another."

A resident of London, England since 1985, Hewitt embarked on a project in 1994 to record all of Bach's works for the Hyperion label--an undertaking that will take her well into the 21st century. Together with her producer, Ludger Bockenhoff, she records in Hannover, Germany where she is able to use an instrument particularly suited to the music of Bach. It is an old Hamburg Steinway that German master Wilhelm Kempff had often used. "It has wonderfully soft registers," Hewitt described to Wigler, "an ability to play evenly with the soft pedal down and an exquisite ring at the top."

Hewitt has not singly devoted herself to Bach and his compositions, however. She is also widely recognized for her interpretations of other composers, particularly Schumann, Ravel, and Beethoven. "The clarity of thought and articulation that playing Bach demands are very helpful with other composers, particularly Beethoven," she told Wigler in the Baltimore Sun. Wigler wrote after hearing Hewitt perform Beethoven's First Concerto, "this listener cannot remember ever hearing an account of Beethoven's First Concerto that he enjoyed as much as last night's performance by Angela Hewitt."

"Hewitt is a very graceful player--her subtlety of touch recalls the great days of Kempff, Haskil and Curzon--but also a daring and volatile one," Wigler continued in his review. "She played this piece in a way that never violated its classical dimensions, but which nevertheless, exuded an almost dangerous sense of quirky fantasy."

"A frequent champion of the music of Schumann, [Hewitt] relaxed to the music's advantage in the collection of miniatures known as `Kinderszenen,' " wrote William Littler in the Toronto Star, "taking care to preserve the spiritual simplicity of the various pieces and not to over-dramatize them." The Ottawa Citizen's Richard Todd took note of that same piece: "As usual, Hewitt managed to infuse the music with a sense of personality and uniqueness without wandering into eccentricity. She has," Todd continued, "the full measure of the artful naivety of this lovely little score."

Although Hewitt has at times been accused of being too unemotional in her playing, these criticisms are quickly drowned in the stream of praise she tends to evoke. According to the New York Times, "Miss Hewitt brought distinct and sometimes daring interpretive convictions to the works at hand ... the music's development was presented not as a display but as passionately reasoned discourse." Littler wrote in the Toronto Star, "Her understanding of the colloquial idioms of Barber's excursions provided one of the evening's special rewards." A writer for CD Review concluded, "In every way she is a musician who puts the composer first, bringing a keen intelligence and a perceptively polyphonic ear to bear on performances of exemplary clarity and craftsmanship."

While Hewitt continues to devote herself to bringing the best music of the great composers to the world's most hallowed concert halls and recording studios, she is also committed to taking music to smaller communities in Canada that often hear very little world-class live performances. Along with fellow Canadian pianists Angela Cheng, Jon Kimura-Parker, Andre Laplante, Janina Fialkowska, and Marc-Andre Hamelin, Hewitt became a founding member of the group Piano Six in 1994. The six world-class musicians, all Canadian expatriates, take their talents and music to rural Canadian communities. Each member of the group has committed a portion of time and energy for ten years, performing recitals in small towns and offering workshops for a fraction of their regular fees.

Around the world, Hewitt creates music that moves and enthralls her audiences, regardless of the country she is playing in. "When Hewitt walked on stage, they loved her," wrote one reviewer in the Ottawa Citizen. "She bowed," the writer continued, "and they loved her. She began to play, and they loved her." Geoffrey Crankshaw raved in Musical Opinion, "Not the least impressive feature of this marvelously successful evening was the artist's conveyance of sheer joy; the music seeming newly composed as one listened."

Littler wrote, "Hewitt ... spoke briefly but eloquently, acknowledging her belief that the major ambition of a pianist is to make the piano sing." With numerous acclaimed recordings and sell-out concert tours behind and ahead of her, most of her critics and all of her fans around the world agree that when Angela Hewitt plays, pianos do indeed sing.

In July 2005, Angela Hewitt launched her own Trasimeno Music Festival in the heart of Umbria near Perugia. Now an annual event, it draws an international audience to the Castle of the Knights of Malta in Magione, on the shores of Lake Trasimeno. Seven concerts in seven days feature Hewitt as a recitalist, chamber musician, song accompanist, and conductor, working with both established and young artists of her choosing.

Angela Hewitt's entire 2007-2008 season was devoted to performances of the complete Bach Well-Tempered Clavier in major cities all over the world, including London (Royal Festival Hall), New York (Carnegie Hall), Los Angeles, Berkeley, Portland, Vancouver, Denver, Ottawa, Toronto, Mexico City, Bogota, Singapore, Tokyo, Seoul, Macao, Sydney, Melbourne, Warsaw, Milan, Lisbon, Venice, Bilbao, Zurich, Stuttgart, Glasgow, Pretoria, and Hong Kong. A special DVD lecture-recital entitled Bach Performance on the Piano was released by Hyperion to coincide with the tour. Before the end of the tour, she re-recorded the work which was released by Hyperion in 2009 to great critical acclaim from around the world.

Selected discography:

-(Bach) Italian Concerto BWV, 1985.
-(Bach) Toccata in C Minor Hyperion, 1985.
-(Bach) Four Duets, English Suite No. 6 Hyperion, 1985.
-(Bach) Piano Concerti Hyperion, 1986.
-(Granados) Spanish Dances CBC, 1994.
-(Bach) Fantasia in C minor; Two-Part Inventions; Three-Part Inventions; Chromatic Fantasia & Fugue Hyperion, 1994.
-(Bach) The French Suites Hyperion, 1995.
-(Bach) The Six Partitas Hyperion, 1997.
-(Bach) The Well-Tempered Clavier Hyperion, 1997.
-(Bach) The Well-Tempered Clavier, Book 2 Hyperion, 1998.
-Angela Hewitt Plays Messiaen Hyperion, 1998.
-(Bach) Goldberg Variations Hyperion, 1999.
-(Ravel) The Complete Solo Piano Music Hyperion, 2000.
- Bach Arrangements Hyperion, 2001.
-Ovation, Vol. 3 CBC, 2001.
-(Couperin) Keyboard Music, Vol. 1 Hyperion, 2002.
-(Bach) The English Suites Hyperion, 2002.

View the full website biography of Angela Hewitt.