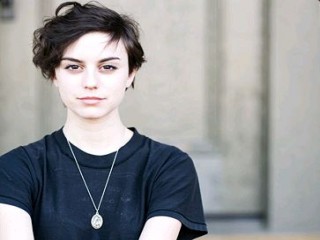 Angel Deradoorian
Date of birth : -
Date of death : -
Birthplace : Brooklyn, New York
Nationality : American
Category : Arts and Entertainment
Last modified : 2012-06-23

Angel Deradoorian is mostly known for her role in the Dirty Projectors.


Her first solo recording entitled "Mind Raft EP" was released on 5/5/09 by Lovepump United Records. It is available through insound.

According to her MySpace page (http://www.myspace.com/angelderadoorian):

"I'm trying something new. Still using garageband. Sounds better in headphones. Bands I play in: Dirty Projectors, Secret Surprise and the Latter Day Saints, Inlets, Mature Women, Fleetwood Mac."

Concerning her new record: "I have finished recording my first real recording of music ever. An EP with 5 gothed out psych tracks for you to do drugs to, or something…"

Her last name is of Armenian heritage. In 2009, she recorded a track with Vampire Weekend keyboardist Rostam Batmanglij and Ra Ra Riot vocalist Wes Miles on their Discovery album LP. The track is entitled "I Wanna Be Your Boyfriend". Animal Collective chose her to perform at the All Tomorrow's Parties festival that they curated in May 2011.

On February 22, 2011, she released a split 7" with Albert McCloud containing a song by McCloud entitled "Planetarium 2010" and her own song "Marichka".

View the full website biography of Angel Deradoorian.