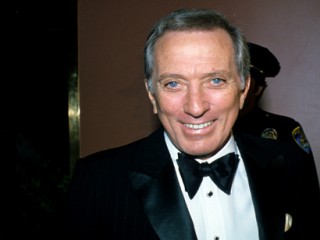 Andy Williams
Date of birth : 1927-12-03
Date of death : 2012-09-25
Birthplace : Wall Lake, Iowa,U.S.
Nationality : American
Category : Arts and Entertainment
Last modified : 2012-09-28

Howard Andrew "Andy" Williams was a well known American singer who has recorded 18 Gold and three Platinum-certified albums. He hosted The Andy Williams Show, a TV variety show, from 1962 to 1971, as well as numerous television specials, and owns his own theater, the Moon River Theatre in Branson, Missouri, named after the song "Moon River", with which he is closely identified.

In an era dominated by the driving rhythms of rock and roll, Andy Williams has risen to superstardom by quite an opposite approach. Singer Williams projects a relaxed, affable style, at once soothing and romantic; his popularity has endured while other more faddish singers have come and gone. In fact, Williams reached the height of his success at just the moment--the late 1960s and early 1970s--when rock music seemed most hysterical. A 1968 campus poll picked him as the top male vocalist of the year, and his 1968 album Honey remained on the charts for more than six months. A New York Herald Tribune reviewer notes that Williams's appeal stems from his good-natured demeanor and his low-key approach to his songs. "He sings well in a casual style," the reviewer writes, "and doesn't attempt to overpower you with personality."

Williams was a professional singer at an age when most children are still playing in Little League. Born in the tiny town of Wall Lake, Iowa (population less than 1,000), he began performing with his three older brothers at the local Presbyterian church. He was only eight when the Williams Brothers made their radio debut at station WHO in Des Moines. Williams's father quit his job as a railway mail clerk in order to manage his sons' engagements, and soon the whole Williams family hit the road. From Des Moines they travelled to Chicago and then to Cincinnati; eventually they wound up in Los Angeles with a coveted Metro-Goldwyn-Mayer motion picture contract. Young Andy's education was piecemeal due to his uprooted lifestyle, but he did manage to graduate from high school in Los Angeles in 1947.

The Williams Brothers had to disband during the Second World War because the two oldest brothers were drafted. After the war the group reunited, adding comedienne Kay Thompson to the act. The team proved exceedingly successful in night clubs, with the four well-groomed Williams men counterpointing Thompson's buffoonery. From 1947 until 1953 they toured America and Europe and "spent their time making money hand over fist," to quote a Harper's magazine reviewer. In 1953 the brothers broke up the group in favor of solo work. Andy was unenthusiastic about his chances, but he began recording songs and making the rounds with them in the competitive New York market.

Williams auditioned for a spot on the Steve Allen Tonight show early in 1954. He was signed to a two-week run. When the two weeks ended, he continued to report to the set--and continued to be the featured singer on the show. The two-week contract was stretched into two and a half years, during which Williams appeared in comedy sketches as well as song features. The lengthy stint with Steve Allen offered Williams a wealth of new professional experiences--and it made him a star. He began to record on Cadence Records and earned his first two gold records with the singles "The Hawaiian Wedding Song" and "The Village of St. Bernadette."

Television has proven the perfect medium for Williams over the years. As early as 1958 he starred in his first variety show, the summer replacement "Chevy Showroom with Andy Williams." The next summer he hosted "The Andy Williams Show," and thereafter--for a decade--he starred in numerous specials, especially at Christmas time. Williams also continued to make records, moving to the Columbia label in the 1960s. He regularly placed singles in the Top 40 charts, and most of his albums were best sellers. This was especially true of his late-1960s, early-1970s work, including Born Free, Honey, Love, Andy, Raindrops Keep Fallin' on My Head, Andy Williams's Greatest Hits, and Love Story. Williams returned to a weekly variety show, "The New Andy Williams Show," for two seasons, 1970 and 1971. He has always preferred more sporadic television work, however, because he likes to rehearse and prepare thoroughly for each show.

Very few of Williams's hits over the years have been songs written especially for him. He is better known for his renditions of already popular numbers such as "You've Got a Friend," "The Impossible Dream," "MacArthur Park," and "Born Free." Williams's untrained voice--like that of Perry Como--is a rich baritone that never shows signs of strain or strays from the pitch. Unlike Como, however, Williams projects a more casual, middle-American persona, comfortable and wholesome without prudishness. A New York World-Telegram and Sun reporter has described Williams as an entertainer who "looks and acts like just what he is, a country boy from the Midwest who has made good in the big city." The description is not quite accurate--the suave Williams hardly comes across as a "country boy," nor does he suffer from the squeaky-clean reputation that hounds his contemporary, Pat Boone.

Time has not dulled Andy Williams's popularity, although he rarely places albums on the charts anymore. He still retains a busy schedule of club dates and television appearances, and he hosts the prestigious Andy Williams San Diego Golf Open each year. An avid golfer himself, Williams also enjoys tennis, art collecting, and reading. Williams told the New York Herald Tribune that he ignored rock and roll because "ballads are more welcome on TV." He added: "I wouldn't want to sing solely for teen-agers. Once they go to college, their musical taste changes, and then where would I be?" As Kay Thompson once observed in Look magazine, stars like Andy Williams "with a plain niceness about them, are the ones that last."

He completed a sold-out tour of the United Kingdom and Asia in the winter and summer of 2007, in which he performed at several major concert halls including the Royal Albert Hall, singing among other classics, Van Morrison's "Have I Told You Lately".

Williams returned to the UK singles charts with his 1963 recording of "It's The Most Wonderful Time Of The Year" in December 2007 thanks to an advert for Marks And Spencer, reaching number 21 in its first appearance in the British charts, also reaching #108 on the EU Top 200. In 2008 he lip-synched the 45-year-old recording to welcome Santa at the end of the Macy's Thanksgiving Day Parade.

On Friday, November 4, 2011, it was reported in the press that Williams has been diagnosed with bladder cancer. He is undergoing chemotherapy treatments in Houston and will then move with his wife to a rented home in Malibu, California to be closer to cancer specialists in the Los Angeles area.

Williams died on September 25, 2012 at his home in Branson following a yearlong battle with the disease. He was 84.

View the full website biography of Andy Williams.