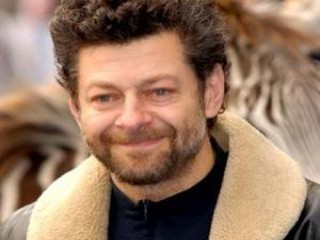 Andy Serkis
Date of birth : 1964-04-20
Date of death : -
Birthplace : Ruislip Manor, London, UK
Nationality : English
Category : Arts and Entertainment
Last modified : 2011-06-21
Andrew C. G. "Andy" Serkis is an English actor, director and author. He is popularly known for playing Gollum in The Lord of the Rings film trilogy, for which he earned several nominations and the Saturn Award for Best Supporting Actor for his performance in The Lord of the Rings: The Two Towers. He also played the title role in the 2005 King Kong remake and earned a Golden Globe Award nomination for his portrayal of Ian Brady in the British television film Longford.

Born in Ruslip Manor, West London, England, on April 20, 1964, Serkis' father was an Armenian doctor (the family's surname was original Serkissian) who worked frequently in Iraq, with the family spending a considerable amount of time in the Middle East during the first 10 years of Serkis' life. His initial interest lay with art, and he pursued it as a major while attending Lancaster University. While there, he became involved in theater design and set building, but when he was offered a small role in a student production of Barrie Keefe's "Gotcha," he fell deeply in love with acting.

In 1985, he began his professional acting career at the Duke's Playhouse in Lancaster, where he received his Equity card; countless performances in touring companies and at nearly every major theater in England followed, most notably at the Royal Exchange in Manchester and the Royal Court Theatre, where he appeared in productions of "Cabaret" (as the MC), "The Threepenny Opera," "King Lear" (as The Fool), and Steven Berkoff's "Decadence," which earned him the Manchester Evening News award for Best Actor. He made his UK television debut in 1987 and found his breakthrough role as Tom, the drug- and gambling-addicted son of a criminal in "Finney" (ITV, 1994). More substantial TV parts followed, including turns in "Grusko" (1993), the miniseries "Touching Evil III" (1999), and "Oliver Twist" (1999) as Bill Sykes opposite Keira Knightley and Robert Carlyle. Feature work during this period included Mike Leigh's "Topsy-Turvy" (1999), a drama about the celebrated 19th century theatrical duo of Gilbert and Sullivan, with Serkis playing an eccentric choreographer; "Among Giants" (1998) with Pete Postlewaite and Rachel Griffiths; and "Pandeamonium" (2000) for director Julian Temple, with Serkis essaying poet John Thelwall.

In 1999, Serkis landed the coveted role of Gollum in New Zealand director Peter Jackson's epic, three-part film version of J.R.R. Tolkien's "The Lord of the Rings." Although the primary action of the three films - "The Fellowship of the Ring" (2002); "The Two Towers" (2003); and "The Return of the King," (2004) - would be shot over the course of 18 months, Serkis' turn as the emaciated Gollum took place primarily between 2002 and 2003. Every moment that he appeared as Gollum in the film required an incredible amount of coordination between Serkis, his co-stars (primarily Elijah Wood and Sean Astin), director Jackson and his crew, and the digital effects designers. Serkis would shoot each of his scenes twice - once for his fellow actors, and then again for the designers, who required Serkis to don a wet suit covered with markers that would aid them in transforming him into a 3-D digital image (Serkis also appeared briefly in human form in "King" as Smeagol, Gollum's hobbit identity). The image and Serkis' voice (he adopted a croaking gurgle for Gollum that he says was based on the sound of his cats coughing up a hairball) was then edited seamlessly into the live action footage. From a visual standpoint alone, it was an incredible feat, but had it not been for Serkis' performance - in which the actor found the damaged heart of the character - all of the special effects would have been for naught.

During breaks in shooting, Serkis returned to Europe to appear in two features - "24 Hour Party People" (2002) as real-life record producer Martin Harnett, who captured the early days of the "Madchester" sound in England's underground rock scene, and "Deathwatch" (2002), which brought him to Prague to play a desensitized WWI soldier who faces a supernatural terror with the rest of his brigade. He also found time to appear in stage productions of Sam Shepard's "A Lie of the Mind" and "Othello," and to make his directorial debut with the short film "Snake" in 2001. In 2002, Serkis married actress and singer Lorraine Ashbourne in 2002, with whom he had three children.

Serkis' free time soon found itself occupied by awards shows and accolades with the release of "The Two Towers" in 2003. Critics and audiences alike were bowled over by the blend of digital effects and Serkis' talents. His mantle quickly filled with trophies from the Screen Actors Guild (Best Performance by a Cast, 2004), the National Board of Review (Best Ensemble, 2003), the Empire Awards (Best British Actor, 2004), the Broadcast Film Critics Association (Best Acting Ensemble, 2004), and the Saturn Awards (Best Supporting Actor, 2003). He also found himself at the center of a debate among industry pundits and representatives in Hollywood, who split over a possible Academy Award nomination for his work due to the amount of CGI used to render his expressions. No Oscar nomination came from the argument, but by 2004, Serkis had risen from dependable though obscure English actor to one with global recognition.

After penning a book about his experiences as Gollum - 2004's Gollum: How We Made Movie Magic - Serkis made his Hollywood debut in the Jennifer Garner comedy "13 Going on 30" (2004), which allowed him to show off a knack for dancing in the film's big number based on Michael Jackson's "Thriller" single. In 2005, he reunited with Peter Jackson to undergo another CG transformation - this time, to provide the movements for the legendary movie ape King Kong in Jackson's 2005 remake. To prepare for the role, Serkis traveled to Rwanda to study the movement of gorillas, and he earned further accolades for his convincing performance, including a second Broadcast Film Critics Association trophy. Serkis played a second role in "Kong" - that of Lumpy, the ill-fated cook of the expedition to Skull Island.

More feature roles followed, including the assistant to David Bowie's Nikolai Tesla in Christopher Nolan's "The Prestige" (2006), and a role in "Stormbringer" (2006), based on the popular spy novels by English author Anthony Horowitz. He also appeared as a government interrogator in the improvised feature "Extraordinary Rendition" (2006), played Vincent Van Gogh in an episode of the BBC 2 documentary series "Simon Schama's Power of Art" (2006), and lent his voice to the unsuccessful Aardman Animation feature, "Flushed Away" (2006). That same year, he gave a chilling performance as child murderer Ian Brady, who attempts to advise social reformer Lord Longford to not take up the case of his partner in crime, Myra Hindley (Samantha Morton), in "Longford," which aired in the United States on HBO in 2007. Serkis courted controversy for visiting the real Brady in prison to gain insight into the role, but his efforts clearly paid off when he was nominated for a Golden Globe in 2008.

The year 2007 found Serkis busier than ever, with a string of independent features and major projects to his name; most notable among these was "Tintin" (2009), a motion capture animation feature based on the enduring French comic strip from Steven Spielberg and Peter Jackson. He also lent his voice and physical skills to the Playstation 3 video game "Heavenly Sword," and served as dramatic director for the cast, which included Steven Berkoff. Other projects included the BBC 2 drama "Einstein and Eddington," for which Serkis would play the famed physicist, and the films "Addict" (2008), based on the harrowing life story of Stephen Smith, and "Freezing Time" (2009), about the photography pioneer Eadweard Muybridge. Both films would feature Serkis in acting roles as well as serving as director. Also in 2007, rumors began swirling that Serkis would return to the role that made him famous by playing Gollum in the feature version of "The Hobbit." The project, which underwent serious birth contractions due to legal battles between New Line and Peter Jackson, was slated for a 2010 release, and with Jackson as producer, not director. Prior to that, Serkis appeared as Rigaud, the murderous French rogue of Charles Dickens' "Little Dorrit" (PBS, 2009). The role earned him an Emmy Award nomination for Outstanding Supporting Actor in a Miniseries or Movie that same year.

View the full website biography of Andy Serkis.