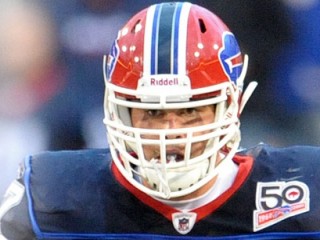 Andy Levitre
Date of birth : 1986-05-15
Date of death : -
Birthplace : Felton, California
Nationality : American
Category : Sports
Last modified : 2010-11-23
Andy Levitre is an American football offensive lineman for the Buffalo Bills of the National Football League.

PRO
Drafted in the second round (51st overall) in the 2009 NFL Draft…sixth selection from Oregon State in team history.

NFL Awards:

* Sporting News 2009 All-Rookie Team
* Pro Football Weekly/Pro Football Writers of America All-Rookie Team
* Football Outsiders All-Rookie Team

CAREER:
* One of only four rookie offensive linemen (Alex Mack – CLE, Michael Oher – BAL, Max Unger – SEA) to start every game in 2009
* First rookie offensive lineman to start each game in team history since 1995 (Ruben Brown)… joins C Bruce Jarvis (1971), G Reggie McKenzie (1972), G Joe DeLamielleure (1973), G Will Wolford (G) and Brown as one of six rookie offensive linemen in team history to start every game
* One of two Bills offensive linemen (Geoff Hangartner) to start all 16 games in 2009

2009:
* At NE (9/14): Made NFL debut, starting at LG… joined fellow 2009 draft selection RG Eric Wood as the first two true rookies to start for the team in a season-opener since 1970 (9/20/70 vs. DEN)… joined rookie, RG Eric Wood and first-year player LT Demetrius Bell, as the first three offensive linemen to start an NFL game for a team without playing in an NFL game since the 1981 Washington Redskins… registered critical block in RB Fred Jackson's 10-yard touchdown screen pass in fourth quarter
* Vs. TB (9/20): Started for the second straight game at LG… provided blocking for RB Fred Jackson's 163-yard rushing performance
* At NYJ (10/18): Started at LG for the sixth straight game… part of an offensive line that set a new season-low of 1.0 sack allowed
* At TEN (11/15): Started at LG, before making a switch to LT in replace of Demetrius Bell who left the game in the second quarter
* At JAX (11/22): Made first career start at LT in place of Demetrius Bell… moved back to LG after Seth McKinney left the game with an injury
* At KC (12/13): Made his 13th start of the season at RG… part of an offensive line that blocked for a 200-yard rushing performance
* Vs. IND (1/3): Started at LG… part of an offensive line that blocked for RB Fred Jackson's 212-yard rushing performance, the team's first 200+ yard rusher since Thurman Thomas (9/24/90)… also held Indianapolis' defense to zero sacks

COLLEGE
Closed out his career with a string of 35 consecutive starts (39 total for his career)...In his last two seasons, he started seventeen times at left tackle and nine times at right tackle... Allowed 10.5 quarterback sacks and six pressures on 863 pass plays.

2008: All-American first-team selection by the American Football Coaches Association and Pro Football Weekly…earned second-team honors from the Associated Press... First-team All-Pac 10 Conference and Academic All-Pac 10 choice... Served as team co-captain…Started all 13 games at left offensive tackle.

2007: Second team All-Pac 10 Conference and Academic All-Pac 10 selection... Started the team's first nine games at right offensive tackle before shifting to the left side for his final four contests.

2006: Second-team Academic All-Pac 10 Conference choice, adding All-Pac 10 honorable mention... Started the final 10 games at right tackle.

2005: Saw action in every game, serving as the team's top reserve at both guard positions for the first ten contests...Earned his first career start in the season finale vs. Oregon, lining up at right tackle.

PERSONAL
Graduated in March 2009 with degrees in Finance and Sociology…earned Academic All-Pac 10 Conference honors four times...Brother, Erick, was an offensive guard at the University of Arizona (2002-06)...One of five sons of Gene Levitre (pronounced Luh-Vee-Tree)...Born in Los Gatos, California…Los Gatos is also the hometown of Bills QB Trent Edwards...played for San Lorenzo Valley High…in his sophomore year, his high school team lost to Edwards', 42-0, in California's Central Coast Section finals…Currently resides in Ben Lomond, California.

COMMUNITY:
In 2009, Andy participated in the Toyota Rookie Club appearing at numerous community events throughout Western New York and Southern Ontario. The Toyota Rookie Club helps the franchises newest players become more involved in the Western New York community. Each month, Andy and all first year players did one community appearance as a group. The Toyota Rookie Club events included a visit to Dave & Buster's to play video games and host a pizza party with pediatric cancer patients hosted by Brian Moorman's PUNT Foundation, a visit to the Lawrence Park Collegiate Institute Panthers in Toronto, Ontario to discuss the importance of sport and activity with the student-athletes and to present the football team with $3,000 in new equipment for the school's football program, and a trip to the Northwest Buffalo Community Center in November 2009 where the Rookie Club Members served Thanksgiving Dinner to approximately 300 children and families. In addition to serving food, the players introduced themselves to the community members during a brief ceremony, sat and ate with them, and signed autographs.

The final Rookie Club appearance of 2009 took place at the Annual Bills Holiday Party. The Rookie Club and Bills veterans hosted nearly 100 children from a number of different local community organizations. The Annual Holiday Party gives children from the organizations an opportunity to celebrate the holidays with the Bills players, Jills cheerleaders, Billy Buffalo, and Santa Claus. The children received a holiday dinner, pictures and autographs and gifts from a wish list that they had previously submitted.

2009 was the first year for the program Touchdown for Teachers, M&T Bank and the Buffalo Bills teamed up to find the best teachers in Western New York. Once the winner was decided, Andy made a trip to their classroom to deliver the honorary Touchdown for Teachers Grand Prize Official Game Ball. During the visit, Andy also stopped in to a school assembly to play some games with the students and pose for pictures.

Andy, along with fellow teammate Eric Wood, also showed support for a local Playground Unveiling in Niagara Falls, NY. Through the Buffalo Bills Youth Foundation, the school was granted a monetary donation for the playground to be built and the day after spring break the students were surprised to find their new playground completely built! Andy was there to help cut the ceremonial ribbon as well as sign autographs and take pictures with the students. In addition to all of Andy's dedication to Buffalo, he also took the time to make a donation to his high school football program in Los Gatos, California.

View the full website biography of Andy Levitre.