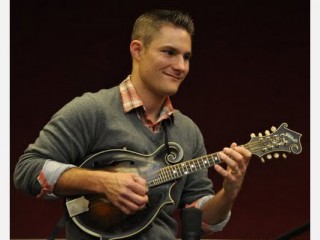 Andy Leftwich
Date of birth : 1981-07-30
Date of death : -
Birthplace : White House, Tennessee
Nationality : American
Category : Arts and Entertainment
Last modified : 2011-02-23
Andy Leftwich is an American Country musician. Leftwich's first musical preferences were the old Texas fiddle tunes played by musicians like Johnny Gimble, Mark O'Connor, Benny Thomasson and Texas Shorty.

Born July 30, 1981, Andy Leftwich started playing the fiddle at the age of 6, learning first from his father, and then from local musicians in the small rural town of White House, Tenn. A year later, he entered his first fiddle contest, and by age 9, he won the Tennessee State Championship for Beginners. By the time he was a teenager, he had become proficient on both the mandolin and the guitar in addition to the fiddle, and entered national contests for all three instruments.

At 14, he seriously began to study the styles of bluegrass fiddlers like Benny Martin, Paul Warren, Stuart Duncan, Vassar Clements and Kenny Baker. During this time, he also developed a respect for the mandolin playing of Adam Steffey and Ricky Skaggs. He also came to appreciate musicians such as Miles Davis, Wynton Marsalis, Stephane Grappelli, Django Reinhardt and Frank Sinatra.

When he was 15, Leftwich joined Valerie Smith and her band Liberty Pike as the lead mandolin and fiddle player, and toured extensively with her throughout the late 1990s. In February 2001, Skaggs asked him to join his band Kentucky Thunder as a second fiddle player, surprising him with an on-stage invitation.

Leftwich released his solo debut album, Ride, on Skaggs Family Records in 2003. He played mandolin, guitar and fiddle throughout the all-instrumental album, in addition to producing it and writing 10 of its 12 tracks.

In January 2010, sessions began for what will be Andy's long-awaited second solo album. "I'm always working on new material, and I've got tons of ideas for future albums I want to make," says Leftwich – making it easy to envision a long, successful career in music for the young man from White House, Tennessee – whose musical journey has only just begun.

Big Mon - on mandolin:



View the full website biography of Andy Leftwich.