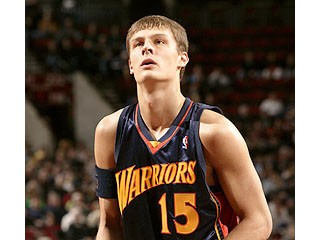 Andris Biedrins
Date of birth : 1986-04-02
Date of death : -
Birthplace : Riga, Latvia
Nationality : Latvian
Category : Sports
Last modified : 2011-03-28
Andris Biedriņš is a Latvian professional basketball player who plays the power forward and center positions for the NBA's Golden State Warriors. He was drafted by the Warriors with the 11th overall selection in the 2004 NBA Draft.

NBA CAREER :

Was selected by Golden State in the first round (11th overall) of the 2004 NBA Draft after entering the draft as an international early entry candidate ... Re-signed as a restricted free agent with Golden State on July 28, 2008 ... Enters 2010-11 owning career averages of 8.1 points, 8.1 rebounds, 1.1 assists and 1.26 blocks in 24.1 minutes (351 regular-season games in six seasons with Golden State) ... Enters season as the Warriors all-time franchise leader in career field-goal percentage ... Is the second player from Latvia to ever play in the NBA, following Gundars Vetra, who played 13 games for the Minnesota Timberwolves in 1992-93 ... Was the youngest player in the NBA during his rookie season in 2004-05 and, at 18-years old, became the youngest player ever to appear in a game for Golden State.

2009-10 :
Appeared in 33 games (29 starts), averaging 5.0 points, 7.8 rebounds, 1.7 assists and 1.33 blocks in 23.1 minutes ... Recorded season-high 19 rebounds and a career-high tying seven blocks vs. Chicago on 1/18 ... Grabbed 10-plus rebounds seven times, including four straight games from 1/15 to 1/23 (10, 19, 13, 10) ... Averaged 11.2 rebounds when logging 25-plus minutes (10 times) ... Shot 59.1% from the field, his sixth consecutive season topping 57% ... Missed final 24 games with athletic pubalgia and his last appearance of the season was 2/27 vs. Detroit ... Underwent surgery on 3/11to repair the injury ... Missed 49 total games due to injury.

2008-09 :
Appeared in 62 games (58 starts) and averaged a career-high 11.9 points, career-high 11.2 rebounds, career-high 2.0 assists and career-high 1.55 blocks in 30.0 minutes...Among NBA leaders, ranked 3rd in field-goal percentage (57.8% FG) and 18th in blocked shots...Finished in NBA's top-5 in field goal percentage for second-straight season...Shot 50.0%-or-better in 44 of 62 games...Recorded 28 double-doubles (20th in NBA), including 10 consecutive to start the season, which extended his overall streak to 17-straight dating back to the 2007-08 season...Streak of 17-straight double-doubles was the longest by a Warriors player since Nate Thurmond had 18-straight in 1972...10-plus rebounds 34 times...15-plus rebounds 13 times...20-plus rebounds twice...Scored 20-plus points four times...Missed 20 games overall (17 due to injury, two due to personal reasons and one DNP-CD).

EUROPEAN PROFESSIONAL/NATIONAL TEAM CAREER :

Prior to joining the NBA, played professionally for Skonto Riga in the Latvian Basketball League for the previous two seasons, averaging 9.1 points, 6.4 rebounds and 1.54 blocks in 69 contests, while shooting 61.1% from the field...This past summer, played for Latvia at the European Championship in Poland....Played for Latvia at EuroBasket 2007 in Spain, averaging 15.0 points and 10.0 rebounds in three games...Competed in the 2004 Under-18 European Championship, averaging 21.8 points, 14.4 rebounds, 4.4 blocks and 3.8 steals...Was named Latvian League Newcomer of the Year in 2002-03...In 2002, participated in the Euro Junior Championship, where he averaged 6.6 points and 7.3 rebounds...In 2001, was a member of the Latvian National Team at the Euro Cadet Championship, where he finished 4th in scoring (16.3 ppg) and 3rd in rebounding (8.5 rpg).

PERSONAL:

Is from the town of Riga, Latvia ... Attended Valters Basketball School in Riga ... Has been extremely active in Warriors community programs during his NBA career, making numerous appearances at season ticket holder and corporate sponsor events, as well as lending his time to various organizations throughout the Bay Area ... During the 2008-09 season, joined teammate Monta Ellis to help unveil a newly refurbished basketball court at the Leonard J. Meltzer Boys & Girls Club in Oakland as part of Toyota Project Rebound ... In addition to visiting local schools and hospitals over the years, has taken part in several pregame meet & greets with various community groups, including a visit with a traveling youth baseball team from Lithuania that he hosted at a game ... For the last five seasons, has purchased 25 tickets to every home game and donated those tickets to various children's groups ... Additionally, he visited injured American troops just back from Iraq at Bethesda Naval Hospital outside of Washington D.C. when the team was in the area during his rookie season ... Is a fan of the San Jose Sharks and attends several games each season.

View the full website biography of Andris Biedrins.