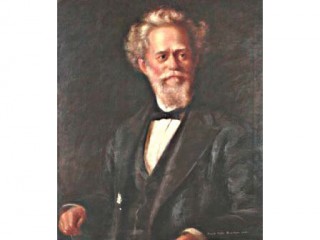 Andrew Smith Hallidie
Date of birth : 1836-03-16
Date of death : 1900-04-24
Birthplace : London, England
Nationality : English
Category : Arhitecture and Engineering
Last modified : 2011-10-03
Andrew Smith's father was an inventor who held several patents for metal wire rope, and as a boy young Andrew tinkered with electricity and worked in a machine shop. At 15 he emigrated to America with his father, settling in California, where for several years he worked as a gold prospector, surveyor, and blacksmith. At some point he adopted a new last name, Hallidie, to honor his uncle and godfather, Sir Andrew Hallidie, who had been the royal physician for King William IV and Queen Victoria. At the age of 20, now known as Andrew Smith Hallidie, he began manufacturing metal wire rope and designing and constructing suspension bridges. The following year he gave up on mining to open A. S. Hallidie & Co., later renamed the California Wire Works, a metal rope business in San Francisco.

In San Francisco, a city of many steep hills, horse-drawn railcars climbed and descended the city's streets, but Hallidie imagined what he called a "Hallidie Ropeway", a means of transporting passengers and material by an endless metal rope. Toward this purpose he designed a metal rope with six strands of nineteen wires each, each wire capable of supporting 160,000 pounds, with the entire rope flexible enough to be bent around a pulley without being damaged. He purchased the franchise for street access from a failed business co-owned by Benjamin H. Brooks and Abner Doubleday, and filed his first cable car-related patent on 17 January 1871. Over the next few years, with financial backing from three other city businessmen and assistance from engineer William Eppelsheimer, Hallidie designed and constructed the cars, pulleys, and grips that comprised the world's first cable car system.

His steam-driven Clay Street Hill Railroad made its first test run before dawn on 2 August 1873. According to legend the muscular man Hallidie had hired to operate the difficult grip mechanism doubted it would work and refused to perform the task, so Hallidie himself operated the grip, taking the vehicle from the hillcrest down Clay from Kearny Street, then onto a turntable and back up the hill without incident. The first paying customers boarded on 1 September 1873, and the service was an immediate success. In 1877 the line was expanded westward to Van Ness Avenue, but the Clay Street Hill Railroad ended its run on 9 September 1891, after most of its passengers had migrated to the competing California Street cable car two blocks away, which had a larger capacity and offered more frequent service. By then, however, cable car routes had been constructed in cities from Los Angeles to New York, London to Sidney, and the patent royalties had made Hallidie a very wealthy man.

He served on the city's Board of Freeholders, which drafted San Francisco's city charter, and he was instrumental in the growth of the Mechanics' Institute, San Francisco's subscription-based library. He ran for Mayor and lost, and was a founding member of the Sierra Club. At his death in 1900 he was buried under a monumental stone at San Francisco's Laurel Hill Cemetery, but he had no children or heirs, so when the cemetery was closed in 1939 and its residents were relocated to Cypress Lawn Cemetery in suburban Colma, Hallidie was entombed in a crypt shared with about 35,000 other souls who lacked family or funds for a more elaborate reburial. He is the namesake of San Francisco's Hallidie Plaza, where the city's Powell Street cable cars reach Market Street and turn around to again climb halfway to the stars.

Hallidie occupied many positions in San Francisco society. He served as a regent of the University of California from 1868 until his death, and as a trustee and vice-president of the San Francisco Mechanics Institute in 1864 and president from 1868 to 1877 and from 1893 to 1895. In 1873, Hallidie stood for election to the California State Senate, and in 1875 he stood for election as mayor of San Francisco, but in both cases he was defeated.

Hallidie served as trustee of the First Unitarian Church, and as its moderator in 1883 and 1884. He held memberships in the American Society of Inventors, American Geographical Society, California Academy of Sciences, and other scientific and literary bodies. He was a member of the old California Historical Society and of the Pacific-Union, Olympic, and Sierra clubs.

A. S. Hallidie & Co. became the California Wire Works in 1883 with Hallidie as president. In 1895, it was sold to Washburn and Moen Co., the oldest manufacturers of wire in the United States (established in 1831).

Hallidie died at the age of 65 at his San Francisco residence.

View the full website biography of Andrew Smith Hallidie.