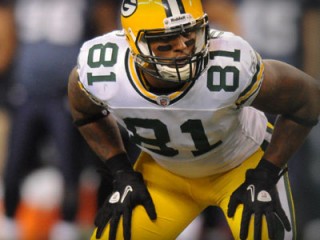 Andrew Quarless
Date of birth : 1988-10-06
Date of death : -
Birthplace : Uniondale, New York
Nationality : American
Category : Sports
Last modified : 2011-02-01
Andrew Quarless is an American football player for the Green Bay Packers of the NFL.

Holds the Penn State records for receptions by a tight end in a career (87) and single season (41 in 2009).
• Ranks second in school history for receiving yards by a tight end with 1,146.
• First Penn State tight end to be drafted by Green Bay.
• Finished his college career with a Penn State bowl-record eight receptions in Capital One Bowl vs. LSU (Jan. 1) and then caught game-winning TD pass in final seconds of East-West Shrine Game.

COLLEGE :
Athletic, productive tight end who overcame some early off-the-field issues in his college career to become Penn State's all-time leader in receptions at his position... In 49 career games, including 29 starts, caught 87 passes to break the previous school record for a tight end held by Ted Kwalick (1966-68)... Totaled 1,146 yards for a 13.2-yard average and eight TDs... His yardage total makes him one of only three tight ends in school history to top 1,000 career receiving yards, and he ranks second in school history behind Kwalick's 1,343... He also fell two TDs short of Kwalick's career mark of 10... All this after nearly losing his scholarship prior to his junior season... Had served a two-game suspension as a sophomore in 2007 for an underage drinking incident and then the following spring was involved in another drinking incident, including a DUI charge, that led to head coach Joe Paterno nearly dismissing him from the team... Went to Paterno's house the night after the DUI charge to plead his case, vowing to give up drinking and change his lifestyle, and Paterno gave him another chance... Ultimately finished his career with an impressive senior season, catching 41 passes to break the previous Penn State single-season record of 38 for a tight end set by Tony Stewart in 2000... Capped his career with a Penn State bowl record and career-high eight receptions in Capital One Bowl vs. LSU (Jan. 1) and went on to impress pro scouts during the week of the East-West Shrine Game... Calls the decision to give up drinking the best thing he could have done, and says he hasn't had a drink since the spring 2008 incident, except for a toast with his family the night he was drafted by the Packers... Was taken with the first of Green Bay's two fifth-round picks, the 154th overall selection and the 11th tight end selected... Became the first Penn State player drafted by the Packers since 2001 (CB Bhawoh Jue, 3rd round) and the first Penn State TE drafted in team history... Graduated in December 2009 with a degree in telecommunications.

2009: Concluded his collegiate career with by far his best season, nearly doubling his career totals for both receptions and yards coming in... Won the starting job and started all 13 games, catching 41 passes for 536 yards (13.1 avg.) and three TDs for the Big Ten's second-ranked offense... Was the only Penn State player to catch a pass in every game and caught at least three passes in eight contests... Earned honorable mention All-Big Ten and was named to the John Mackey Award midseason watch list... His 41 catches broke the school's single-season record for a tight end held by Stewart (38 in 2000) and his 536 yards were the most by a Penn State TE since 1977.

2008: Played in 12 of 13 games, with one start, serving a one-game suspension vs. Oregon State (Sept. 6) for a violation of team rules... Lost his starting job to Mickey Shuler and caught just 11 passes for 117 yards (10.6 avg.) and one TD... Vs. Temple (Sept. 20): Recorded season highs with four receptions for 50 yards... Vs. Illinois (Sept. 27): Had two receptions for 31 yards, including a 17-yard TD in the fourth quarter... Vs. USC (Jan. 1): In the Rose Bowl in Pasadena, Calif., caught two passes for 22 yards.

2007: Started seven of 11 games played, catching 14 passes for 205 yards (14.6 avg.) and two TDs, with five receptions going for 20 yards or longer... Sat out the season's first two games vs. Florida International (Sept. 1) and vs. Notre Dame (Sept. 8) for a team rules violation... Vs. Buffalo (Sept. 15): Made season debut with two receptions, both for TDs, of 21 and 4 yards... Vs. Iowa (Oct. 6): Posted season highs with three receptions for 48 yards... Vs. Ohio State (Oct. 27): Had season-long 30-yard reception to set up TD on team's opening possession.

2006: Earned freshman All-Big Ten honors from Sporting News, playing in 13 games with eight starts and catching 21 passes for 288 yards (13.7 avg.) and two TDs... Fifteen receptions came in the season's final five games... Vs. Youngstown State (Sept. 16): Recorded his first two collegiate receptions, for 12 yards... At Wisconsin (Nov. 4): Established regular-season career high with five receptions for 62 yards... Vs. Michigan State (Nov. 18): Caught four passes for season-high 87 yards and his first collegiate TD, a 17-yarder... Vs. Tennessee (Jan. 1): In Outback Bowl in Tampa, caught a 2-yard TD pass late in first half of 20-10 victory.

HIGH SCHOOL:
At Uniondale (N.Y.) High, was rated the 11th TE prospect in the nation by Scout.com and the 13th by Rivals.com... As a senior, earned second-team all-state and first-team all-county honors as he posted 600 receiving yards, 325 rushing yards and nine TDs... During junior season, caught 39 passes for 843 yards and six TDs, and also recorded 50 tackles and 16 sacks on defense... Began his prep career at Holy Trinity H.S. in Hicksville, N.Y.

PERSONAL:
Born Andrew Christopher Quarless in Brooklyn, N.Y. nicknamed Drew; has an infant son... At Penn State, worked with local Special Olympics and Habitat for Humanity programs... Enjoys watching stand-up comedy and is a fan of Martin Lawrence's TV shows... Also enjoys playing video games, naming 'Call of Duty' one of his favorites.


View the full website biography of Andrew Quarless.