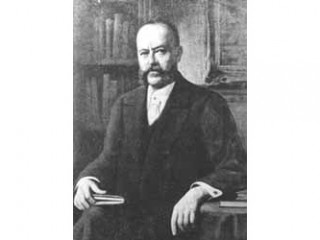 Andrew Fabinyi
Date of birth : 1908-12-27
Date of death : 1978-07-25
Birthplace : Budapest, Hungary
Nationality : Hungarian
Category : Famous Figures
Last modified : 2011-03-24
ANDREW "ANDOR" FABINYI , publisher, was born on 27 December 1908 in Budapest, son of Imre Fabinyi, lawyer, and his wife Margit, nee Nagel. Andor was educated at Minta Gymnasium and Pazmany University. After graduating, he continued his studies part time and was awarded what he described as 'the equivalent of a D. Phil' for his thesis on the psychology of aesthetics.

He worked at Lauffer's Bookshop, Budapest, and in 1932 established an agency for the distribution of British books in Hungary.Concerned at the spread of Nazism, Fabinyi obtained a visa to travel to New Zealand; sailing from Italy in the Viminale, he reached Melbourne on 17 July 1939. There his journey ended when he was offered employment by the Melbourne bookseller F. W. Cheshire. In May 1940 he applied for permanent residence as Andrew Fabinyi. Five ft 8½ ins (174 cm) tall, with black hair and brown eyes, on 26 October that year at the Presbyterian Church, Toorak, he married a librarian Elisabeth Clare Robinson; they were to have five children.In 1941 Fabinyi was rejected for service in the Australian Imperial Force because of his nationality. He was mobilized in the Citizen Military Forces on 28 January 1942 and posted to the 4th Labour Company at Albury, New South Wales. In October 1943 he transferred to the Army Education Service. Naturalized in December 1944, he had charge of A.A.E.S. libraries and rose to warrant officer before his discharge on 13 May 1946.

Returning to F. W. Cheshire Pty Ltd, Fabinyi developed the general bookselling side of the business and was made retail manager. When Cheshire discovered his interest in publishing, a new company—F. W. Cheshire Publishing Pty Ltd—was established and Fabinyi appointed general manager. He believed that 'a real publisher must be eclectic'. Over the next twenty-five years his list covered poetry, such future Australian classics as Robin Boyd's The Australian Ugliness (1960) and Alan Marshall's I Can Jump Puddles (1955), novels by Xavier Herbert, Judah Waten, Joan Lindsay, Barry Oakley, David Martin and Kenneth Cook, non-fiction by Brian Fitzpatrick, Wilfred Burchett, Clive Turnbull and C. P. FitzGerald, studies of Asia by Australian diplomats, books on sculptors and artists and on the collection of the National Gallery of Victoria, literary criticism and agricultural science. A publishing colleague and friend, John Hooker, later wrote: 'Fabinyi's publishing decisions were a mixture of shrewd commercialism (eternally successful school books most of which are still in print) and . . . wildly improbable successes and failures. But under his direction, the Cheshire list grew in all directions, as did his power and influence in the book trade and the literate society at large'. In 1960 he was appointed O.B.E.Under the pseudonym 'Peter Pica', Fabinyi contributed an influential critical column on the design of Australian books to the Australian Book Review. In addition to bringing an appreciation of more sophisticated design and production than was then the antipodean norm, his European bookseller's experience in international sales made him a strong advocate for the export of Australian books and he envisaged a major place for Australian publishing in Asia.An enthusiastic committee-man and the central switchboard for trade intelligence, Fabinyi was president of the Australian Book Publishers' Association in 1965-70. He chaired the Australian Book Trade Advisory Committee (1966-68) and the A.B.P.A. book export development committee (1971-73), and served the wider book community as president of the Australian Book Fair Committee (1955-60), and of the Victorian branch (1955, 1959, 1965-67) and public libraries division (1962) of the Library Association of Australia. In recognition of his contribution to the work of libraries, he was given the L.A.A.'s (Sir) Redmond Barry award in 1974. Fabinyi further promoted the interests of the book and the book trade through articles in newspapers and journals, and in The Development of Australian Children's Book Publishing (1971).

He also wrote Living in Cities and Social and Cultural Issues of Migration, both published in 1970.Fabinyi was president of the Victorian branch of the Australian Institute of International Affairs in 1966-70 and of the New South Wales branch in 1971-73. He held executive positions (from 1960) on the Committee for the Economic Development of Australia and served from 1966 on the national advisory committee (chairman 1973-77) of the United Nations Educational, Scientific and Cultural Organization. In 1971-73 he was a member of U.N.E.S.C.O.'s advisory committee on documentation. He enjoyed the associations he made and regarded the contacts provided as an essential part of the business of publishing.Remaining at Cheshire's through changes of ownership and organization, Fabinyi was a director of the various companies that became the Cheshire group, including Lansdowne Press, Jacaranda Press and Bellbird Books, and was chairman (1968-69) of the group. In 1969 he left to take the post of managing director of Pergamon Press (Australia) Pty Ltd, but, under Robert Maxwell's ownership, did not achieve the satisfaction he required of publishing. Resigning in 1975, he accepted a research fellowship at the University of New South Wales where he hoped to fulfil his often-stated ambition of writing a book on Australian publishing. He maintained his involvement in books as a director of La Trobe University Bookshop (1970-78) and Longman Cheshire (1977-78), and continued his international interests with U.N.E.S.C.O. and the A.I.I.A.

Survived by his wife, three sons and two daughters, he died suddenly of cardiovascular disease on 25 July 1978 at Hornsby, Sydney, and was cremated.


View the full website biography of Andrew Fabinyi.