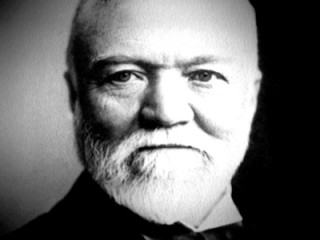 Andrew Carnegie
Date of birth : 1835-11-25
Date of death : 1919-08-11
Birthplace : Dunfermline, Fife, Scotland
Nationality : Scotish-American
Category : Famous Figures
Last modified : 2010-04-28
Andrew Carnegie (25 November 1835 – 11 August 1919) was a Scottish-American industrialist, businessman, entrepreneur and a major philanthropist.
He was one of the most famous leaders of industry of the late 19th and early 20th centuries.

He emigrated to the United States as a child with his parents. His first job in the United States was as a factory worker in a bobbin factory,later he became a bill logger for the owner of the company. Soon after he became a messenger boy. Eventually he progressed up the ranks of a telegraph company. He built Pittsburgh's Carnegie Steel Company, which was later merged with Elbert H. Gary's Federal Steel Company and several smaller companies to create U.S. Steel. With the fortune he made from business, he later turned to philanthropy and interests in education, founding the Carnegie Corporation of New York, Carnegie Endowment for International Peace, Carnegie Mellon University and the Carnegie Museums of Pittsburgh.

Regarded as one of the fathers of modern, efficient industry, Andrew Carnegie worked his way up the corporate ladder, all while buying and trading stocks in various companies. As a result, he became one of the richest men in the world and thereafter devoted most of his time and wealth to philanthropy.
Born in Scotland, Carnegie's father was plagued by not being able to earn enough to support his family. He and his family immigrated to the United States in the latter 1840s, where they joined other Scottish relatives in a colony set up in Pennsylvania. Young Andrew's first job was in a cotton factory, but he still pursued his own self-education by going to night school and reading on his breaks during the day. Within only a few years, he worked his way up in the railroad industry and began investing all he could into other areas of industry, including bridge and furnace companies.
Andrew Carnegie, more than any other, jumped on the opportunity that presented itself in the world of steel. He predicted America could outdo Britain in its production and thereby create an even greater world market for the product. After managing the Keystone Bridge Company, Carnegie eventually opened the Carnegie Steel Company, which used the newest technologies to rapidly and efficiently produce steel in bulk. Included in his company's arsenal, were new ways to keep track of accounting – making sure that spending, profits, and investments were continually monitored.
Carnegie began buying the ore-fields where the steel was harvested. This allowed him to control all the steps from the gathering to the final output – saving even more time and money by eliminating any middlemen who would keep the price of ore at higher levels.
Within only a few years, other companies were forced to take notice and notes on Carnegie's methods. In 1901, Carnegie sold his company, in which he owned well over 50% of the stock for 250 million dollars, which in modern times would be worth several billion. With the Carnegie Steel Company behind him, he devoted his time to philanthropy and encouraged other wealthy members of society to do the same.
He also wrote about political and social issues of the time and even published his most famous article entitled "Wealth" in the North American Review. The autobiography of Andrew Carnegie was published in 1920, following several other books. Carnegie set up several educational trusts in the USA and in Britain, devoting hundreds of millions of dollars to each.
View the full website biography of Andrew Carnegie .