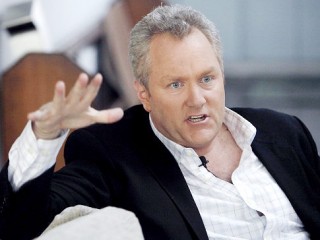 Andrew Breitbart
Date of birth : 1969-02-01
Date of death : 2012-03-01
Birthplace : Los Angeles, California
Nationality : American
Category : Famous Figures
Last modified : 2012-03-14
Andrew Breitbart was a well known American publisher, commentator for The Washington Times, author, and occasional guest commentator on various news programs, who served as an editor for the Drudge Report website. He was a researcher for Arianna Huffington, and helped launch her web publication The Huffington Post.

Washington Times columnist and right-wing web mogul Andrew Breitbart worked under Matt Drudge at The Drudge Report from that site's founding, then helped Arianna Huffington set up her left-wing Huffington Post website in 2005 (payment presumably trumping ideology). At the time of his death, Breitbart ran several popular conservative sites including Breitbart.com and Breitbart.tv, and the Big Hollywood, Big Journalism, and Big Government family of websites. He provided funding and an initial platform for James O'Keefe's 2009 video, which was deceptively edited to portray ACORN as a criminal operation.

Breitbart was the central player in the curious story of Shirley Sherrod, a black USDA bureaucrat who was fired in July 2010 on the basis of a misleadingly-edited recording of a speech she had given. Clips from the speech were published by Breitbart and played repeatedly on Fox News, showing Sherrod as she admitted racial prejudice against white people. When an un-edited version of the same speech emerged from a less ideologically-motivated source, however, it became clear that Sherrod's comments had been intended to illuminate the lesson she had learned -- that race is unimportant, compared to helping people in need.

"A revolutionary eager to overthrow a media establishment that he viewed as a front for left-wing social causes," the LA Times called him after his death. Andrew Breitbart grew up in Brentwood, California, where he was adopted as an infant by Jewish parents. He graduated from Tulane University in 1991 with a degree in American Studies, and then returned to Los Angeles, where in 1995 he met conservative news blogger Matt Drudge. Breitbart worked for Drudge's website, The Drudge Report, as it grew into an online media powerhouse. Breitbart then helped Arianna Huffington create The Huffington Post, a successful Internet news and liberal opinion site. By then Breitbart had grown into a popular right-wing commentator, known for his bursts of righteous indignation and sneers at the left and especially for his hatred of major American news media companies. Breitbart left The Huffington Post and founded his own site for news and political activism, Breitbart.com. It soon expanded to include the sites BigJournalism, BigHollywood, and BigGovernment, all of which became terrifically popular with conservative readers and put Breitbart at the forefront of the Tea Party movement in 2010. His most attention-grabbing coup came in 2011, when he brought down New York Congressman Anthony Weiner by posting a lewd photo of a man's torso in underwear, which he said Weiner had sent from his Twitter account to a woman who was not his wife. (Weiner at first denied the charge, then admitted it and resigned.) Andrew Breitbart also wrote the 2011 book Righteous Indignation: Excuse Me While I Save The World. Andrew Breitbart collapsed and died in 2012 while taking a nighttime walk near his home in Brentwood.

On March 1, 2012, Joel Pollak, editor-in-chief and in-house counsel for Breitbart's website, announced that Breitbart had died unexpectedly at the age of 43 from natural causes in Los Angeles. After collapsing while walking in Brentwood, paramedics—responding to a bystander's alert—rushed him to the Ronald Reagan UCLA Medical Center where he was declared dead.

View the full website biography of Andrew Breitbart.