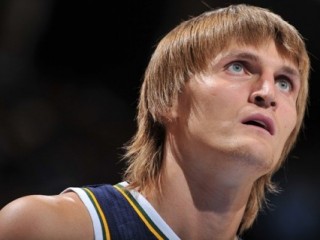 Andrei Kirilenko
Date of birth : 1981-02-18
Date of death : -
Birthplace : Saint Petersburg, Russia
Nationality : Russian-American
Category : Sports
Last modified : 2011-04-12

Andrei Kirilenko is a Russian-American professional basketball player currently playing at the small forward position for the Utah Jazz in the National Basketball Association. He is 206 cm (6'9") tall and weighs 103 kg (227 lb).

Career history:

Spartak St. Petersburg (1997–1998)
CSKA Moscow (1998–2001)
Utah Jazz (2001–present)

CAREER:

2009-10 :
Played in 58 games (35 starts) ... Averaged 11.9 points, 4.6 rebounds, 2.7 assists, 1.43 steals and 28.6 minutes ... Jazz were 24-11 in games he started, including 16-2 stretch (1/11- 2/21) ... Missed 15 games due to a strained left calf ... (3/14, 3/15, 3/19- 3/24, 3/27 -4/14) ... Missed six games due to a lower back strain (11/30, 12/5- 12/12) ... Missed three games due to back spasms (2/22, 2/24, 2/27) ... Scored 12 points with six rebounds (season-high 5 offensive) at Phoenix (3/4) ... Scored 22 points with five steals and five rebounds at GSW (2/19) ... Had season-high eight assists vs. Portland (2/3) ... Had season-high 26 points and eight rebounds at San Antonio (1/20) ... Had 13 points, six boards and six assists at Atlanta (12/18) while passing Greg Ostertag for second in franchise history for blocked shots ... Passed Adrian Dantley for sixth in franchise history for minutes played at New Jersey (12/16).

2008-09 :
Appeared in 67 games (10 starts) while averaging 11.6 points, 4.8 rebounds, 2.6 assists, 1.24 steals and 1.15 blocks … Scored 10+ points 42 times … Recorded 6 double-doubles … Led the team in blocks with 77 … Was inactive 14 times (11/14-11/15, 12/3, 1/21-2/11) and did not dress once (12/2) … Missed 2 games with sprained right index finger (11/14-11/15) … Recorded 19 points, 7 rebounds and 3 assists vs. Phoenix (11/17) … Had season-high 10 assists, along with 9 points, 6 rebounds and 4 steals at Memphis (11/22) … Missed 13 games with a right ankle inflammation/surgery (12/2-12/3, 1/21-2/11) … Scored team-high 22 points and had 11 boards at Milwaukee (12/23) … Had 9 points and a season-high 14 rebounds vs. Dallas (12/26) … Tied career-high in minutes played with 49 at Houston, recording 20 points, 10 rebounds and 5 assists (12/27) … Had season-high 23 points, 12 rebounds and 3 blocks versus Indiana (1/12) … Blocked season-high 4 shots on 3 different occasions, the most recent coming vs. New Orleans (2/21).

Career highlights and awards:

NBA All-Star (2004)
All-Defensive First Team (2006)
2× All-Defensive Second Team (2004–2005)
NBA All-Rookie First Team (2002)
Russian Championship 2000 MVP
EuroBasket 2007 MVP
European Player of the Year: FIBA Europe 2007

PERSONAL:

Born in Izhevsk (Siberia), Russia
Married to Marina (Masha) Lopatova, a Russian pop star under the name MaLo, Masha's first album, "Sahirny" (translates as "Sugary") hit No. 1 in Russia in summer of 2002
Kirilenko was featured in the music video for the album's title track, a No. 1 hit on MTV Russia
Masha also opened a fashion boutique, Fleur de Lis, in The Gateway adjacent to EnergySolutions Arena in April 2007
The couple has two sons, Fedor, and Stepan, born March 6, 2007
His father-in-law (Andrei Lopatov) played for the Russian National team from 1978-1992
Lives in Utah across the street from Mehmet Okur
Also own homes in Salt Lake City and Moscow, Russia
Began playing basketball at age of 7 at a coach's suggestion
Was the first Russian ever selected in first round of NBA Draft
At the time, he was youngest European player ever drafted (18 years, 4 months, 12 days)
Joined several NBA players in participating in the NBA's "Basketball Without Borders" in 2003 and 2005 in Treviso, Italy
Has his own charitable foundation, Kirilenko's Kids (kirilenkoskids.com), dedicated to impacting lives of young children in Utah and Russia
Named the NBA's No. 1 Good Guy for 2006 by The Sporting News for his community efforts
Selected as NBA Northwest Division's Sportsmanship Award winner each of last two seasons
NBA donated $10,000 in his name to Huntsman Cancer Institute in Salt Lake City as result of his selection
Participates in the Jazz's "Read to Achieve" program
Works with kids, teaching them basketball skills at Jr. Jazz clinics during the season
Has his own website, kirilenko.com, which is available in both Russian and English
Nickname is AK-47, given to him by former Jazz teammate Quincy Lewis
Favorite food is sushi
Hobbies include reading books and playing computer games.


View the full website biography of Andrei Kirilenko.