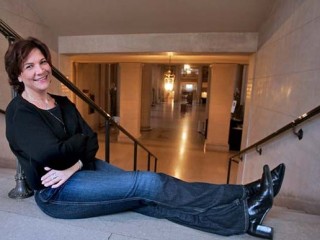 Andrea Gruber
Date of birth : -
Date of death : -
Birthplace : New York City,U.S.
Nationality : American
Category : Arts and Entertainment
Last modified : 2011-11-18
Andrea Gruber (born 1966) is an award winning American dramatic soprano particularly admired for her interpretations of the works of Puccini, Verdi, and Wagner.

To say that Andrea Gruber is an unusual artist would be a monumental understatement. This Metropolitan Opera diva, a soprano whose artistic potential has been defined as infinite, and whose voice has been compared to the power of nature, was, early in her career, a drug addict fighting for her life.
Gruber has discussed her addiction with extraordinary frankness, believing that her story needed to be told. She smoked marijuana at the age of 11 and took LSD during her freshman year in high school. At the Manhattan School of Music, she took cocaine and heroin. Numerous stays at a drug rehabilitation center in Manhattan were in vain. When her dentist prescribed Percocet, she added painkillers to her list. Nevertheless, her immense talent kept her career going. Admitted to the Met Young Artists program in 1989, Gruber made her Met stage debut in 1990.
That year, she sang one of the leading roles in Giuseppe Verdi's Un ballo in maschera, performing with Luciano Pavarotti and earning rave reviews. "I was stoned out of my gourd," Gruber told Daniel J. Walkin of The New York Times. That same year, she took on the role of Leonore in the Scottish Opera production of La Forza del Destino. Despite her young age, critics admired her confidence and fearless personality. "Big, bold, and confident" was the way the London Sunday Times characterized her.

In 1995, following a catastrophic performance of Aida, during which she the Met decided to buy out her contract. "I was so high I couldn't function," Gruber later confessed to the Opera News of her final performance of Aida. Her career effectively over, Gruber continued abusing painkillers, but finally checked into the Hazelden clinic in Minnesota for a long period of treatment and recovery. She joined a twelve-step program and found the strength to return to the stage. But there was another challenge to face: obesity. Scheduled to sing the role of Elisabetta in Verdi's Don Carlo at the Salzburg Festival, Gruber was fired because she weighed 300 pounds.

The tragedy of September 11, 2001, at last enabled Gruber to place her difficulties into a larger context. Realizing how fragile and precious life was, she finally decided, now that she was sober, to focus on her health. "And it occurred to me," she told Opera News, "that there were huge chunks of my time that were being eaten with shame and physical disgust with who I was. I didn't want to waste another second of the little time I had left with something I could get help with. I didn't care if I sang again---it wasn't about that. It was about having a life that was as unburdened as possible." Gastric bypass surgery enabled her to lose 130 pounds. Keeping the weight off was not a problem, and Gruber's battle with obesity was over. September 11 also affected Gruber on a personal level. Seven firemen who were Gruber's friends and neighbors in New York died in the attack. "I was like their little sister," she told the New York Daily News. "They watched over me through all my craziness." Gruber, who lived next door to the fire station, regarded these firemen as family, even attributing her success as Minnie in Giacomo Puccini's opera La fanciulla del west, the story about how a charismatic young woman affects a mining community during the Gold Rush in California, to her role as the fire station's "little sister."

Since 1999, when she sang in Verdi's Nabucco in her San Francisco Opera debut, Gruber's career has blossomed. Subsequent performances as Abigaille in Nabucco, including an magnificent debut at Arena di Verona in 2002, established Gruber as one of the great interpreters of this role. In her Paris Opera debut in 2003, Gruber sang in Puccini's Turandot, creating another memorable role.

While Gruber shines in Italian opera, bringing her tremendous talent, monumental voice, profound musicianship, and emotional power to all her roles, her performing repertoire also includes many great examples of German music. In one of her early performances, she sang in Richard Wagner's Ring cycle. In an interview conducted on the Arena di Verona website, Gruber identified Verdi and Puccini, as well as Wagner and Richard Strauss, as her favorite composers. In 2001 she sang the roles of Elisabeth and Venus in Wagner's Tanháser in her Tulsa Opera debut. In addition to her opera roles, Gruber has been an active concert performer, performing a variety of works for voice and orchestra, including Ludwig van Beethoven's Ninth Symphony and Missa Solemnis, Richard Strauss's Four Last Songs, Benjamin Britten's War Requiem, and Arnold Schoenberg's Gurrelieder.

Back at the Met and enjoying a scintillating career, Gruber has been profoundly grateful for her second chance. But her return to the stage is more than an artistic triumph. Gruber's harrowing years as an addict forced her to reach into the depths of her soul and finally accept herself as a human being. As she told Opera News, "I needed to get a solid base of who I am as a human being and how I have to live my life." Her ordeal has strengthened her dedication to music. "When Gruber talks about her revitalized career," Eric Myers wrote in Opera News, "her joy is almost palpable." Gruber enjoys pop music and cites Janis Joplin, Tina Turner, and Aretha Franklin as major musical influences. And she is proud of the tattoo on her lower back: the first five notes and words of the aria "In questa reggia," from Act II of Puccini's Turandot, one of Gruber's most magnificent roles.

In the 2004-2005 season, Gruber sang the title role in Puccini's Turandot at the Metropolitan Opera and the title role in Verdi's Aida at the Lyric Opera of Chicago. She also sang Turandot at the Royal OperaHouse, Covent Garden and sung the title role of La Gioconda at the Arena di Verona which was recorded on DVD.

In the 2005-2006 season, Gruber sang the title role in Verdi's Aida at the Metropolitan Opera, the role of Donna Leonora di Vargas in La forza del destino with San Francisco Opera, the role of Lady Macbeth in Verdi's Macbeth with Seattle Opera, the title role of Puccini's Turandot at the Teatro Comunale Giuseppe Verdi and with Opera Japonica, the role of Odabella in Verdi's Attila at Teatro di San Carlo, and the role of Minnie in Covent Garden's production of Puccini's La fanciulla del West. She also performed with the Atlanta Symphony Orchestra at Carnegie Hall.
View the full website biography of Andrea Gruber.