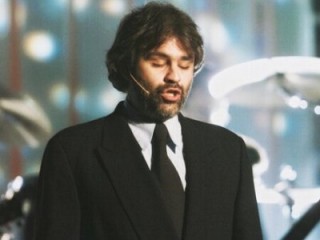 Andrea Bocelli
Date of birth : 1958-09-22
Date of death : -
Birthplace : Lajatico, Tuscany, Italy
Nationality : Italian
Category : Famous Figures
Last modified : 2010-09-22
Andrea Bocelli, born 22 September 1958 is an Italian tenor, multi-instrumentalist and classical crossover artist. Born with poor eyesight, he became totally blind at the age of twelve following a soccer accident.

Since winning the Newcomers section of the Sanremo Music Festival, in 1994, he has recorded fourteen studio albums, of both pop and classical music, two greatest hits albums, and eight complete operas, selling over 70 million copies worldwide. Thus, he is the biggest-selling solo artist in the history of classical music.

In 1998, he was named one of People Magazine's 50 Most Beautiful People. In 1999, his nomination for Best New Artist at the Grammy Awards marked the first time a classical artist had been nominated in the category, since Leontyne Price, in 1961. The Prayer, his duet with Celine Dion for the animated film, The Quest for Camelot, won the Golden Globe for Best Original Song and was nominated for an Academy Award in the same category. With the release of his classical album, Sacred Arias, Bocelli captured a listing in the Guinness Book of World Records, as he simultaneously held the top 3 positions on the U.S. classical albums charts. Five of his albums have since reached the Top 10 on the Billboard 200, and a record-setting 7, have topped the classical albums charts, in the United States.

With over 5 million units sold worldwide, Sacred Arias became the biggest-selling classical album by a solo artist of all time, and with just under 20 million units sold worldwide, his 1997 pop album, Romanza, became the best-selling album by an Italian artist ever, as well as the best-selling album by a foreign artist in Canada, and a number of other countries in Europe and Latin America. The album's first single, "Time to Say Goodbye", topped charts all over Europe, including Germany, where it stayed at the top of the charts for fourteen consecutive weeks, breaking the all-time sales record, with over 3 million copies sold in the country. He is widely regarded as the most popular Italian and classical singer in the world.

In 2006, Bocelli was made a Grand Officer of the Order of Merit of the Italian Republic, and on March 2, 2010, he was honoured with a star on the Hollywood Walk of Fame, for his contribution to Live Theater.

Andrea Bocelli has been called "the fourth tenor." A disciple of Luciano Pavarotti and Zucchero Fornaciari, the blind, Tuscany-born vocalist has emerged as one of the most exciting voices in contemporary opera. His participation in Pavarotti's 1992 hit "Miserere" and Fornaciari's 1993 world tour brought him international attention. Opera, however, represents only one side of his musical persona. Bocelli has been equally successful as a pop ballad singer, having recorded duets with Celine Dion, Sarah Brightman, and Eros Ramazzotti. Al Jarreau, who sang with Bocelli during The Night of Proms in November 1995, praised Bocelli when he said, "I have had the honor to sing with the most beautiful voice in the world."

Bocelli grew up on a farm in Lajatico, a rural village in Tuscany. Beginning piano lessons at the age of six, he later added flute and saxophone. Born with poor eyesight, he became totally blind at the age of 12 following a soccer accident. Despite his obvious musical talents, Bocelli didn't consider a career in music until he had studied law at the University of Pisa and had earned a law doctorate. Inspired to pursue music, he studied with famed tenor Franco Corelli, supporting himself by performing in piano bars. Bocelli's first break as a singer came in 1992 when Fornaciari auditioned tenors to record a demo tape of "Miserere," which he had co-written with Bono of U2. Successfully passing the audition, Bocelli recorded the tune as a duet with Pavarotti. After touring with Fornaciari in 1993, Bocelli performed as a guest star in the Pavarotti International Festival held in Modena in September 1994. In addition to performing solo and in a duet with Pavarotti, Bocelli sang with Bryan Adams, Andreas Vollenweider, and Nancy Gustafson. In November 1995, Bocelli toured Holland, Belgium, Germany, Spain, and France with Night of Proms, which also featured Al Jarreau, Bryan Ferry, Roger Hodgson of Supertramp, and John Miles.

Bocelli's first two albums -- Andrea Bocelli in 1994 and Bocelli in 1996 -- showcased his operatic singing. His third effort, Viaggio Italiano, featured famous arias and traditional songs from Naples. Although released only in Italy, the album sold more than 300,000 copies. With his fourth album, Romanza, released in 1997, Bocelli turned to pop music. The album included the hit "Time to Say Goodbye," recorded as a duet with Sarah Brightman. Bocelli continued to focus on pop balladry with his fifth album, Sogno, released in 1999, which featured a duet with Celine Dion of the David Foster and Carole Bayer Sager-penned tune "The Prayer," sold more than ten million copies, received a Golden Globe Award, and led to Bocelli being nominated for a Grammy as Best New Artist. A collection of holiday arias arrived that same year, followed by Verdi in 2000. In 2001, he released a tribute to his Tuscan roots called Cieli di Toscana. It was followed in 2006 by Amore, which peaked at number three on the Billboard Top 200 chart, and the live DVD/CD Under the Desert Sky.

View the full website biography of Andrea Bocelli.