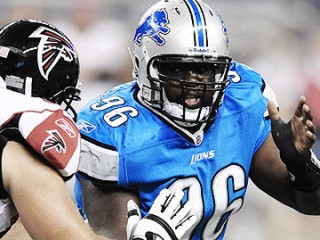 Andre Fluellen
Date of birth : 1985-03-07
Date of death : -
Birthplace : Catersville, Georgia
Nationality : American
Category : Sports
Last modified : 2010-12-11
Andre Fluellen is an American football defensive tackle for the Detroit Lions of the National Football League.

* Drafted by the Detroit Lions in the third round (87th overall) of the 2008 NFL Draft.

PRO: Fluellen progressed for the Lions in his first two years with the club and emerged as a regular in the defensive line rotation, including time at the left end position.
* Has played in 34 career games (five starts).
* Career defensive tallies include 30 tackles (15 solo), 1.5 sacks (10.5 yards lost) and one pass defense.

2010: Serves as a back-up defensive tackle and on special teams.
* Recorded 2 solo tackles, including a tackle-for-loss, in home opener at Chicago (9/12). Was part of an impressive goal-line stand by the defensive line as they prevented the Bears from scoring through all four downs. Recorded tackle for 1-yard loss on 3rd-and-1 from the 1-yard line in first quarter to force field goal.

2009: Backup at both defensive tackle and defensive end positions. Set career-highs with 17 tackles (nine solo) and 1.5 sacks.
* Recorded 4 solo stops on defense in season opener at New Orleans (9/13).
* Recorded first career sack for a loss of six yards vs. Minnesota (9/20). Also added 2 tackles. Was part of a defense that held Vikings' RB Adrian Peterson to 92 rushing yards.
* Split a sack with DE Cliff Avril for a loss of 4.5 yards vs. Pittsburgh (10/11).
* Started at LDE and tied a career-high with four tackles (two solo) at Cincinnati (12/6).

2008: Became more involved in regular defensive line rotation, at both defensive tackle and the left end position, the second half of the season. Finished rookie campaign with 11 tackles (3 solo) in eight games played with two starts.
* Saw first playing time of season at Houston (10/19). Posted one solo stop.
* Served as backup end and under-tackle at Carolina (11/16).
* Recorded first career start at left end vs. Tennessee (11/27).

COLLEGE:
Closed out Florida State career with 81 tackles (38 solo), 5.0 sacks, 18 tackles for loss and 5 pass defenses.
* Named to several preseason All-American and All-Atlantic Coast Conference teams, in addition to earning a berth on the Bednarik Award Watch list (nation's top defensive player) before senior season in 2007.
* As a junior in 2006, Fluellen started 11-of-13 games at the nose guard position and two at the defensive tackle position and finished seventh on the team in tackles, and first among all defensive linemen, with a career-high 28 stops.
* In first season as a regular on the defensive line in 2005, Fluellen started 12-of-13 games at the defensive tackle spot and tied for second on the team in tackles by a defensive lineman with 26 and his 7.5 tackles for loss ranked sixth on a Florida State team that ranked led the nation in that category with 126.
* Appeared in all 12 games as a redshirt freshman and finished the year with six tackles, including one for loss and two passes defensed.
* Recorded two tackles in a game twice (Miami and Duke).

PERSONAL:
Graduated from Cartersville in 2003 and named a three-star player by Rivals.com and the 28th rated defensive tackle in the country. Rated to Rivals.com Georgia Top 50.
* Recorded 93 tackles and 11.0 sacks his senior season.
* As a junior he had 88 tackles, 10.0 sacks, six forced fumbles and scored two touchdowns.
* Had a 345 lb. bench press, a 495 lb. squat and a 330 lb. power clean.
* Played on both the offensive and defensive lines in high school.
* Majored in literature at Florida State and his favorite class was Greek Mythology.

View the full website biography of Andre Fluellen.