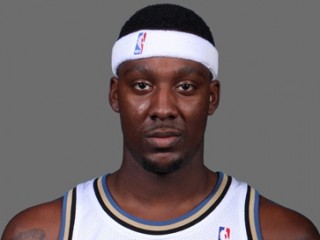 Andray Blatche
Date of birth : 1986-08-22
Date of death : -
Birthplace : Syracuse, New York
Nationality : American
Category : Sports
Last modified : 2011-04-07
Andray Blatche is an American professional basketball player in the NBA for the Washington Wizards.

Career history:

Washington Wizards (2005–present)
→Roanoke Dazzle (2005)

Career Highlights:

2009-10:
Averaged a career-high 14.1 points (.478 fg%) and 6.3 rebounds per game in 81 games (36 starts)…Averaged 22.1 points and 8.3 rebounds in 32 games after the All-Star break…Scored 20+ points 24 times, and notched 16 double-doubles…Recorded five games with 30+ points and 10+ rebounds, all after the All-Star break…Finished the season with a team-high 1,143 points and 509 rebounds…Also led the team with 81 games played, 2,256 minutes played, 478 field goals made, 999 field goals attempted, 85 steals and 234 free throw attempts…With 20 points, a career-high 13 assists and nine rebounds vs. NJN (4/4), finished one rebound shy of his first career triple-double…Scored a career-high 36 points on 17-of-31 from the field and grabbed 15 rebounds at NJN (2/28), to become the first player in the NBA in 2009-10 to have a game with at least 36 points, 15 rebounds, four assists, two steals and two blocks, and the first Washington player to accomplish that feat since Elvin Hayes posted 39 points, 19 rebounds, five assists, two steals and three blocks for the Bullets vs. Seattle on 2/26/75…Scored 26 points and grabbed a career-high 18 rebounds vs. NYK (2/26)...Scored a then-career-high 33 points and grabbed 13 rebounds vs. MIN (2/17/10)..Scored 30 points vs. NJN (10/31/09); his first career game of 30 or more points…Missed one game due to team suspension (1/12 vs. DET)…Did not miss a game due to injury/illness.

2008-09:
Averaged a career-high 10.0 points, 5.3 rebounds and 1.7 assists in a career-best 24.0 minutes per game…Also established new career-highs in games started (36), free throw pct. (.704) and steals per game (0.8)…Averaged 11.8 points and 6.3 rebounds as a starter…Recorded seven double-doubles…Had a season-high 25 points vs. GSW (11/25)…Tied his career-high with 15 rebounds vs. OKC (12/27)…Also tied career-highs with five assists (twice), three steals (three times) and five blocks (11/25)…Missed a total of 11 games due to illness/injury (nine due to a left knee strain, 1/28-2/11; two due to a sore left knee, 4/13-4/15).

Has appeared in eight career playoff games…Averaged 3.7 points and 3.3 rebounds in 14.8 minutes per game in six games for Washington during the 2008 NBA Playoffs…Averaged 4.5 points and 3.5 rebounds in 12.5 minutes per game in two games during the 2007 NBA Playoffs.

PERSONAL:

Son of Angela Oliver…Changed his uniform number to #7 from #32 prior to the 2009-10 season…Did not play organized basketball until high school...Is a fixture at Wizards Basketball Camps and community events, including "Salute To The Stars," "Wizards Halloween Treat," "Abe's Table," and the annual Family-to-Family Holiday Delivery…Has also visited wounded persons at Andrews Air Force Base and Walter Reed Army Medical Center, spent time with families at the Ronald McDonald House of Northern Virginia and hosted a "Reading Time-Out" with students at a local elementary school…Participated in the "We Can!" program to promote a healthy lifestyle among children, and the "Our House, Our Rules" anti-violence writing challenge…Spent four years at Henninger High School in Syracuse, NY, before transferring to South Kent Prep (CT) for a fifth season...As a senior at Henninger, averaged 25.0 points, 18.0 rebounds and 8.0 blocks per game, and led his team to a 20-5 record…Averaged 27.5 points, 16.0 rebounds, and 6.0 blocks during his fifth-year campaign and guided South Kent to a 32-9 record…Earned co-MVP honors at the 2005 Jordan Classic.


View the full website biography of Andray Blatche.