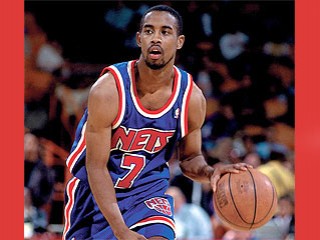 Anderson Kenny
Date of birth : 1970-10-09
Date of death : -
Birthplace : Queens, New York
Nationality : American
Category : Sports
Last modified : 2010-05-14
Kenneth "Kenny" Anderson (born October 9, 1970) is a retired American basketball player. After a college career at Georgia Institute of Technology, he played point guard professionally from 1991–2006, most of which was in the National Basketball Association.

After a long recruiting process, Anderson signed a letter of intent in November 1988 to play at Georgia Tech, selecting the Yellow Jackets over North Carolina, Duke and Syracuse.

Anderson quickly became the team's starting point guard and played two years for Georgia Tech, helping lead the team to the Final Four in 1990 along with swing men Dennis Scott and Brian Oliver, who were nicknamed "Lethal Weapon 3." [6] It was Anderson's shot at the end of regulation during the Round of 16 that forced overtime versus favored Michigan State, with the Yellow Jackets pulling away. Georgia Tech's tournament run ended versus eventual champion UNLV in the Final Four.

With Scott and Oliver gone after that season, Anderson averaged nearly 26 points a game and Georgia Tech secured a #8 seed for the NCAA Tournament, where they lost in the second round to Ohio State. Soon after, Anderson announced that he would forgo his last two years of eligibility to enter the NBA Draft.

He played for the US national team in the 1990 FIBA World Championship, winning the bronze medal.

Anderson was selected by the New Jersey Nets with the second pick in the 1991 NBA Draft. He was the youngest player in the league at that time. He averaged seven points, two rebounds and 3.2 assists per game. In Anderson's second season he nearly doubled his point, rebound and assist averages. In his third season, he averaged 18.8 ppg and 9.6 apg. Anderson and his Nets' teammate, Derrick Coleman, both represented the East squad in the 1994 NBA All-Star Game. He was traded to the Charlotte Hornets in 1996.

Throughout his career Anderson has played for the Hornets (including both Charlotte and New Orleans franchises), Portland Trail Blazers, Boston Celtics, Seattle SuperSonics and the Indiana Pacers, and split a season for the Atlanta Hawks and Los Angeles Clippers.

In 1998, Portland traded Anderson to the Toronto Raptors for Damon Stoudamire, but he refused to report to the Raptors because he did not want to play in Canada. Without playing a single game for them, Anderson forced the Raptors' hand and they traded him to the Celtics for Chauncey Billups.

Anderson was released from Lithuania's Zalgiris Kaunas after the 2005-06 season.

Noted on The Jim Rome Show Anderson was named as the new coach of the CBA's Atlanta Krunk. The team is owned by Freedom Williams of C+C Music Factory.

In 2008, Anderson made a TV appearance on Pros vs Joes.

In September 2008, he was inducted into the New York City Basketball Hall of Fame along with NBA stars Sam Perkins and Rod Strickland, coach Pete Gillen and pioneers Lou Bender and Eddie Younger.

In 2010, Kenny entered into a partnership with 24 Hour Fitness, the largest privately owned fitness company in the world, to create the Kenny Anderson Basketball Academy at select 24 Hour fitness locations. The first are to set to open in Florida in late spring/early summer 2010.

Anderson graduated in 2010 from St. Thomas University in Miami, with a degree in orginizational leadership, after having completed online courses.
View the full website biography of Anderson Kenny.