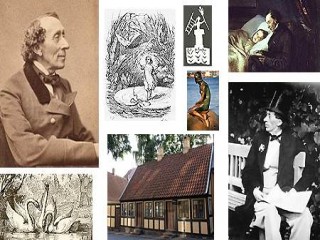 Andersen, Hans Christian
Date of birth : 1805-04-02
Date of death : 1875-08-04
Birthplace : Odense, Denmark
Nationality : Danish
Category : Arts and Entertainment
Last modified : 2010-04-01
Hans Christian Andersen was born in the town of Odense, Denmark, on Tuesday, April 2, 1805. "Hans" and "Christian" are traditional Danish names.

Andersen's father considered himself related to nobility. According to scholars at the Hans Christian Andersen Center, his paternal grandmother had told his father that their family had in the past belonged to a higher social class, but investigations prove these stories unfounded. The family apparently was affiliated with Danish royalty, but through employment or trade. Today, speculation persists that Andersen may have been an illegitimate son of the royal family. Whatever the reason, King Frederick VI took a personal interest in him as a youth and paid for a part of his education. According to writer Rolf Dorset, Andersen's ancestry remains indeterminate. 1816. Hans Christian was forced to support himself. He worked as a weaver's apprentice and later, for a tailor. At 14, he moved to Copenhagen to seek employment as an actor. Having an excellent soprano voice, he was accepted into the Royal Danish Theatre, but his voice soon changed. A colleague at the theatre told him that he considered Andersen a poet. Taking the suggestion seriously, he began to focus on writing.

Andersen had a half-sister, Karen Marie, with whom he managed to speak on only a few occasions before her death.

Career

In 1829, Andersen enjoyed considerable success with a short story titled "A Journey on Foot from Holmen's Canal to the East Point of Amager". He also published a comedy and a collection of poems that season. Though he made little progress writing and publishing immediately thereafter, in 1833 he received a small traveling grant from the King, enabling him to set out on the first of his many journeys through Europe. At Jura, near Le Locle, Switzerland, he wrote the story, "Agnete and the Merman". He spent an evening in the Italian seaside village of Sestri Levante the same year, inspiring the name, The Bay of Fables. (See Voyagefever.com — an annual festival celebrates it). In October, 1834, he arrived in Rome. Andersen's first novel, The Improvisatore, was published at the beginning of 1835, becoming an instant success. During these traveling years, Hans Christian Andersen lived in an apartment at number 20, Nyhavn, Copenhagen. There, a memorial plaque was unveiled on May 8, 1835, a gift by Peter Schannong.

Andersen's Fairy Tales

It was during 1835 that Andersen published the first installment of his immortal Fairy Tales (Danish: Eventyr). More stories, completing the first volume, were published in 1836 and 1837. The quality of these stories was not immediately recognized, and they sold poorly. At the same time, Andersen enjoyed more success with two novels: O.T. (1836) and Only a Fiddler. His Specialty book that is still known today was the Ugly Duckling (1837).

Jeg er en Skandinav

After a visit to Sweden in 1837, Andersen became inspired by Scandinavism and committed himself to writing a poem to convey his feeling of relatedness between the Swedes, the Danes and the Norwegians. It was in July 1839 during a visit to the island of Funen that Andersen first wrote the text of his poem Jeg er en Skandinav (I am a Scandinavian). Andersen designed the poem to capture "the beauty of the Nordic spirit, the way the three sister nations have gradually grown together" as part of a Scandinavian national anthem. Composer Otto Lindblad set the poem to music and the composition was published in January 1840. Its popularity peaked in 1845, after which it was seldom sung.

In 1851, he published to wide acclaim In Sweden, a volume of travel sketches. A keen traveler, Andersen published several other long travelogues: Shadow Pictures of a Journey to the Harz, Swiss Saxony, etc. etc. in the Summer of 1831 (A Poet's Bazaar (560), In Spain , and A Visit to Portugal in 1866 (The latter describes his visit with his Portuguese friends Jorge and Jose O'Neill, who were his fellows in the mid 1820s while living in Copenhagen.) In his travelogues, Andersen took heed of some of the contemporary conventions about travel writing; but always developed the genre to suit his own purposes. Each of his travelogues combines documentary and descriptive accounts of the sights he saw with more philosophical excurses on topics such as being an author, immortality, and the nature of fiction in the literary travel report. Some of the travelogues, such as In Sweden, even contain fairy-tales.

In the 1840s Andersen's attention returned to the stage, however with no great success at all. His true genius was however proved in the miscellany the Picture-Book without Pictures (1840). The fame of his Fairy Tales had grown steadily; a second series began in 1838 and a third in 1845. Andersen was now celebrated throughout Europe, although his native Denmark still showed some resistance to his pretensions. Between 1845 and 1864, H. C. Andersen lived in 67, Nyhavn, Copenhagen, where a memorial plaque is placed.

Meetings with Dickens

In June 1847, Andersen paid his first visit to England and enjoyed a triumphal social success during the summer. The Countess of Blessington invited him to her parties where intellectual and famous people could meet, and it was at one party that he met Charles Dickens for the first time. They shook hands and walked to the veranda which was of much joy to Andersen. He wrote in his diary "We had come to the veranda, I was so happy to see and speak to England's now living writer, whom I love the most."

Ten years later, Andersen visited England, primarily to visit Dickens. He stayed at Dickens' home for five weeks, oblivious to Dickens' increasingly blatant hints for him to leave. Dickens' daughter said of Andersen, "He was a bony bore, and stayed on and on." Shortly after Andersen left, Dickens published David Copperfield, featuring the obsequious Uriah Heep, who is said to have been modeled on Andersen. Andersen himself greatly enjoyed the visit, and never understood why Dickens stopped answering his letters.

Death

In the spring of 1872, Andersen fell out of bed and was severely hurt. He never fully recovered, but he lived until August 4, 1875, dying of insidious causes in a house called Rolighed (literally: calmness), near Copenhagen, the home of his close friends Moritz Melchior, a banker, and his wife. Shortly before his death, he had consulted a composer about the music for his funeral, saying: "Most of the people who will walk after me will be children, so make the beat keep time with little steps." His body was interred in the Assistens Kirkegård in the Nørrebro area of Copenhagen.

At the time of his death, he was an internationally renowned and treasured artist. He received a stipend from the Danish Government as a "national treasure". Before his death, steps were already underway to erect the large statue in his honour, which was completed and is prominently placed at the town hall square in Copenhagen.

Legacy

In the English-speaking world, stories such as "Thumbelina", "The Snow Queen", "The Ugly Duckling", "The Little Mermaid", "The Emperor's New Clothes", and "The Princess and the Pea" remain popular and are widely read. "The emperor's new clothes" and "Ugly duckling" have both passed into the English language as well-known expressions.

In the Copenhagen harbor there is a statue of The Little Mermaid, placed in honor of Hans Christian Andersen.
April 2, Andersen's birthday, is celebrated as International Children's Book Day.

The year 2005 was the bicentenary of Andersen's birth and his life and work was celebrated around the world. In Denmark, particularly, the nation's most famous son has been feted like no other literary figure.

In the United States, statues of Hans Christian Andersen may be found in Central Park, New York, and in Solvang, California. The Library of Congress Rare Book and Special Collections Division holds a unique collection of Andersen materials bequeathed by the Danish-American actor Jean Hersholt. Of particular note is an original scrapbook Andersen prepared for the young Jonas Drewsen.

The city of Bratislava, Slovakia features a statue of Hans Christian Andersen in memory of his visit in 1841.

In the city of Lublin, Poland is the Puppet & Actor Theatre of Hans Christian Andersen.

A $12.5-million theme park based on Andersen's tales and life opened in Shanghai at the end of 2006. Multi-media games as well as all kinds of cultural contests related to the fairy tales are available to visitors. He was chosen as the star of the park because he is a "nice, hardworking person who was not afraid of poverty", Shanghai Gujin Investment general manager Zhai Shiqiang was quoted by the AFP news agency as saying.
Jonas Collin, who, following a chance encounter with Andersen, immediately felt a great affection for him, sent him to a grammar school in Slagelse, covering all his expenses. Andersen had already published his first story, The Ghost at Palnatoke's Grave in 1822. Though not a keen student, he also attended school at Elsinore, until 1827.

He later said his years in school were the darkest and bitterest of his life. At one school, he lived at his schoolmaster's home. There he was abused in order "to improve his character", he was told. He felt alienated from his classmates, being older than most of them. Considered unattractive, he suffered also from dyslexia. He later said the faculty had discouraged him from writing in general.
View the full website biography of Andersen, Hans Christian.