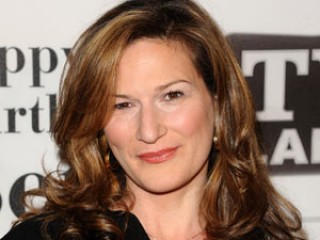 Ana Gasteyer
Date of birth : 1967-05-04
Date of death : -
Birthplace : Washington, D.C.
Nationality : American
Category : Arts and Entertainment
Last modified : 2011-06-20
Ana Kristina Gasteyer is an American actress of stage, film and television. She is best known for her comedic roles when she was a cast member on Saturday Night Live from 1996 to 2002.

Born May 4, 1967 in Washington, D.C. to Maria Roumell-Gasteyer, an artist, and Phil Gasteyer, a lobbyist who later became the mayor of the village of Corrales, New Mexico. Ana Kristina Gasteyer's musical and dramatic talents were nurtured from early in her childhood. "I played violin from the age of five," she said, "and I had an ear from a really early age."

Gasteyer attended the prestigious private Sidwell Friends School in suburban Maryland, where she became a friend of classmate Amy Carter, the only daughter of President Jimmy Carter. Gasteyer's connection to the Carter family led to her playing violin before Egyptian President Anwar Sadat and Israeli Prime Minister Menachem Begin during a break in their 1978 negotiations over the groundbreaking Camp David Accords. "It was real low-key," Gasteyer later remembered. "We walk into this little bungalow [at Camp David], and basically there's [President Carter] and some guy, and another guy in a turban."

For many 10-year-old violinists, that performance might have marked a career pinnacle. For Gasteyer, it was only the beginning. She earned her first professional acting job, as a child ghost in Verdi's Macbeth, when she was 13.

She was also a good student. After graduating in 1989 from Northwestern University's School of Communication, where she earned her bachelor of science in speech, theater, and performance studies, Gasteyer moved to Los Angeles to join the legendary improv troupe The Groundlings. "A lot of improvisation can be very masculine and competitive and smart oriented, much more than acting oriented, and I felt like that was the first time I understood that there is a kind of female character sensibility that was more about slice-of-life—more about your funny aunt that people might find interesting." While developing her craft as an actress and comedian with The Groundlings, Gasteyer also made several guest appearances on television series in 1995 and 1996, popping up in bit parts on episodes Party of Five, NYPD Blue and even the legendary "Soup Nazi" episode of Seinfeld.

In 1996, Ana Gasteyer joined Saturday Night Live as a repertory player, kicking off a run that saw her remain a regular cast member on the show for the next six years. She became well known for her celebrity impressions —most notably for her hilarious takes on Barbara Streisand, Hillary Clinton and Martha Stewart—and also wrote a large number of sketches for the show. She created several popular original characters: Cinder Calhoun, a politically correct singer; Bobbi Moughan-Culp, the high school music teacher who performed alongside Will Ferrell's Marty Culp; Margaret Jo, the co-host of an NPR radio show alongside Molly Shannon.

Gasteyer married Charlie McKittrick on November 9, 1996. Their daughter Frances Mary was born in June 2002, making Gasteyer the first Saturday Night Live cast member to perform regularly while pregnant. In August 2002, Gasteyer announced she would not be returning for another season on SNL.

After leaving Saturday Night Live, Gasteyer shifter her professional focus to the theater. She did several off-Broadway shows and benefit concerts before debuting on Broadway in The Threepenny Opera alongside Alan Cumming and Cyndi Lauper. In 2005, Gasteyer originated the role of Elphaba in Wicked in Chicago. Her Wicked producer said, "we didn't cast her for her comic abilities. We cast her because we thought she was a terrific actress and we knew how well she could sing." Gasteyer later reprised the role of Elphaba on Broadway.

Gasteyer has also made several memorable supporting appearances in films, including former SNL colleague Tina Fey's Mean Girls (as Lindsey Lohan's mother) in 2004 and Reefer Madness in 2005.

Ana Gasteyer may no longer be a weekly presence on Saturday Night Live, but she is quite happy with her current opportunities in theater. "I want to act on stage now because& I love the discipline," she said. "In spite of what I did for years as an improviser and on live TV, I really love the slow process of stage work. There is such an opportunity to improve night after night after night. I really feel myself grow. Also, I worry less when I'm in a play, the nitty-gritty of it keep the nuts part of my brain quiet; it's such a gift for a an anxious person, to have a satisfying job everyday, to be busy but not stressed."

View the full website biography of Ana Gasteyer.