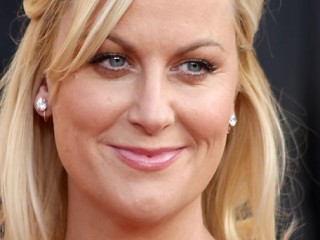 Amy Poehler
Date of birth : 1971-09-16
Date of death : -
Birthplace : Newton, Massachusetts, U.S.
Nationality : American
Category : Arts and Entertainment
Last modified : 2011-05-25
Amy Meredith Poehler is an American comedian, actress and voice actress. She was a cast member on the NBC television entertainment show Saturday Night Live from 2001 to 2008.

Amy Poehler grew up in Burlington, Massachusetts with parents Eileen and William Poehler, both schoolteachers. At Boston College, the petite (5-foot 2-inch) Poehler became a member of the college's improvisational comedy troupe, My Mother's Fleabag.

After graduation, she moved to Chicago in 1993 to pursue a professional career in comedy, joining the comedy theaters ImprovOlympics and Second City, which have produced famous alumni including Stephen Colbert, Chris Farley, Mike Myers and Tina Fey. Poehler and Fey, who would later become famous together on Saturday Night Live (SNL), met each other through an improv group called Inside Vladimir, which someone had named after an adult video found at a local convenience store. "I believe there was some kind of Russian theme, but the story was lost on me very quickly," Poehler recalled. The two became friends immediately.

Poehler soon became part of a comedic troupe called the Upright Citizens' Brigade, a spin-off of ImprovOlympics. In 1996, she and her fellow comics moved UCB to New York City, where the troupe scored regular gigs on The Conan O'Brien Show and, later, a show of its own on Comedy Central in 1998. After a few years in New York, Poehler got her big break when she was hired as a featured performer on Saturday Night Live.

Amy Poehler debuted in September 2001, appearing in the first SNL show to air after the 9/11 terrorist attacks. She played a horrified employee in a sketch where Will Ferrell shows up to the office in a patriotic thong. She was promoted from featured player to full cast member midway through her first season, becoming the first woman and only the third person ever (after Harry Shearer and Eddie Murphy) to do so. When Jimmy Fallon left the show in 2004, Poehler joined Tina Fey as a co-anchor of Weekend Update.

Poehler and comedian Will Arnett married in 2003. The couple worked together in the series Arrested Development, playing a couple that accidentally gets married, and again in the 2007 film Blades of Glory, as a brother-sister figure skating team. "They commit so hard, and they'll do anything," Tina Fey said of the couple. "They're both fantastic-looking people, but they don't care. They'll look goofy."

In 2004, Poehler starred in the film Mean Girls, famously playing the surgically-enhanced "cool mom" of Rachel McAdams, who is only seven years her junior in real life. In 2008, Poehler and Fey teamed up to star in Baby Mama, where Poehler plays a surrogate mother carrying a child for an uptight Fey. The week the movie premiered, Poehler and Arnett announced that they were expecting their first child.

As her belly grew throughout her pregnancy, Poehler had one of her busiest years on SNL, portraying Hillary Clinton in a series of skits about the 2008 election. When John McCain announced Sarah Palin as his running mate, Poehler performed alongside Fey's spot-on impression of the nominee. When the real Sarah Palin appeared on the show, a nine-months-pregnant Poehler performed a gangster rap about the Alaska governor while Palin swayed to the beat beside her.

Poehler gave birth to son Archie on October 25, 2008—fittingly, on a Saturday night. "Amy Poehler is not here tonight because she's having a baby," her Weekend Update co-anchor Seth Myers announced on air. Poehler left SNL in December 2008 but returned immediately to television on a new show called Parks and Recreation, playing an over-eager bureaucrat in a fictional Midwestern town. She also launched a Web series called Smart Girls at the Party, featuring interviews with "girls who are changing the world by being themselves."

Poehler announced in March 2010 that she and Arnett were expecting their second child in the fall. She has parenthood down to a few simple tips: "Always remember your kid's name. Always remember where you put your kid. Don't let your kid drive until their feet can reach the pedals. Use the right size diapers & for yourself. And, when in doubt, make funny faces."

In 2011 Poehler received the honor of being named one of TIME magazine's "100 most influential people in the world".

View the full website biography of Amy Poehler.