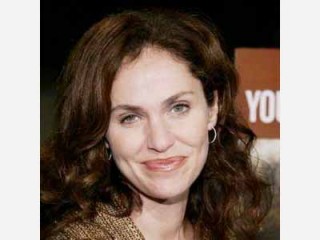 Amy Brenneman
Date of birth : 1964-06-22
Date of death : -
Birthplace : New London, Connecticut, U.S.
Nationality : American
Category : Arts and Entertainment
Last modified : 2010-06-21
Though she hailed from a family steeped in the law, actress Amy Brenneman displayed her natural gifts for performing at an early age. After spending several years in a traveling company that performed classic plays in small towns across America, Brenneman made a name for herself with a memorable, but ultimately short-lived stint as a morally ambiguous cop on the gritty "NYPD Blue" (ABC, 1993-2005). She parlayed that early success into several feature roles; most notably in the crime thriller "Heat" (1995), before returning to the small screen for "Judging Amy" (CBS, 1999-2005), a legal drama partially based on her mother's life and career that Brenneman helped create and produce. Over the course of six seasons, Brenneman received consistent critical acclaim, as well as a few Emmy Award nominations. Despite continued work in features, including a noted performance as part of the ensemble cast in "Things You Can Tell Just by Looking at Her" (Showtime, 2001), Brenneman was a prominent regular on shows like "Private Practice" (ABC, 2007- ), where she made the greatest strides of her career.

Born on June 22, 1964 in New London,CT, Brenneman was raised upstate in Glastonbury by her father, Russell, an environmental lawyer, and her mother, Frederica, a judge who served on the Connecticut State Supreme Court – the second woman ever to be put on the Supreme bench in that state. She is a TV series creator, producer and actress. Brenneman began acting while in grammar school and was soon performing in the community-based program, Creative Experiences. She continued with the program while in high school, where she also ran track and performed well in her studies. After graduation, she followed her parents' footsteps and attended Harvard University, where she received her bachelor's in comparative religion in 1987. While at the university, Brenneman took a semester off to study sacred native dance in Nepal, lived in Paris for several months where she cared for two autistic children, and co-founded the Cornerstone Theater Company, a troupe that specialized in performing the classics in rural towns across the United States. Following her graduation from Harvard, she continued traveling with Cornerstone, appearing in the company's production of Federico Garcia Lorca's "The Shoemaker's Prodigious Wife" (1990).

Brenneman next starred in a Yale Repertory Theatre Production of "Saint Joan of the Stockyards" (1992) and landed her first series role on "Middle Ages" (CBS, 1993), a short-lived comedic drama about a group of Chicagoans trying to balance their personal and professional lives. She scored her breakout role the following year, playing Officer Janice Licalsi on the controversial and award-winning cop drama, "NYPD Blue" (ABC, 1993-2005). Her character started the first season as a uniform officer whose father was on the books of a local mobster. The crime boss blackmails Licalsi into working for him, which involves ordering her to kill Detective John Kelly (David Caruso). As she enters into a relationship with Kelly in order to get close, Licalsi instead falls in love, which leads to her killing the mob boss and his driver instead. Eventually, she confesses to the crime and is convicted of manslaughter, thanks to Kelly hiring a slick and expensive attorney. Though only part of the show for 18 of its 261 episodes, Brenneman made a lasting impact, earning Emmy Award nominations in 1994 and 1995, and particular infamy for a memorably controversial nude scene with Caruso.

After her departure from "NYPD Blue," Brenneman carved out a prolific career in film and television, often playing strong and unpredictable women. Following a small turn in "Casper" (1995), she appeared in Michael Mann's atmospheric crime thriller "Heat" (1995), playing the new love interest of a master thief (Robert De Niro) looking to make one last score while, at the same time, trying to outwit a hotshot detective (Al Pacino). Meanwhile, Brenneman married director Brad Silberling that same year, whom she met while both were working on "NYPD Blue." In the disaster flick "Daylight" (1996), she was one of several New Yorkers led through the perilous tunnels of Manhattan by a former city official (Sylvester Stallone) after a chemical explosion traps them in the Holland Tunnel. She next had a supporting role as the stepmom of a high school girl (Reese Witherspoon) terrorized by a drug dealer (Mark Wahlberg) after she spurns his love in the mediocre psychological thriller, "Fear"(1996). She turned to independent cinema when she co-produced and starred in "Nevada" (1997), a revisionist Western about a mysterious woman (Brenneman) who tries to start a new life in a small Nevada town after leaving her husband (Angus MacFadyen) and children in Idaho.

In "Your Friends and Neighbors" (1998), Neil LaBute's scathing ensemble black comedy about faltering relationships, Brenneman gave a wounded portrayal of a woman trapped in a loveless marriage to a man (Aaron Eckhart) who satisfies himself better than she can, which prompts her to seek comfort in the arms of his best friend (Ben Stiller). But despite making strides in features, Brenneman found her true calling on television. She landed a recurring guest role as Faye, the strong-willed love interest of "Frasier" (NBC, 1993-2004), which she followed with the lead role in "Mary Cassatt: American Impressionist" (HBO, 1999), as the noted 19th century American painter whose work in Paris with the Impressionists influenced feminist ideals. Brenneman next starred in the former pilot-turned-television movie "ATF" (ABC, 1999), playing a loose cannon field agent who infiltrates a dangerous militant group, while blaming her embattled boss (Kathy Baker) for the death of her twin brother during the botched government raid at Waco.

Later that year, Brenneman scored a major hit when she served as creator, executive producer and star of the popular legal drama, "Judging Amy" (CBS, 1999-2005). Based partially on the life and career of Brenneman's own mother, the series followed Judge Amy Gray, a recent divorcee who moves with her young daughter (Karle Warren) from New York City to Hartford, CT, where she lives in the home she grew up in with her mother (Tyne Daly) and gifted younger brother (Dan Futterman). The show – which was often compared to "Providence" (NBC, 1999-2002) in both theme and formula, as well as for the coincidental physical similarities between Brenneman and Melina Kanakaredes – was an unexpected hit, though some critics decried the show's lack of substance and easy divergence into cliché. Nonetheless, "Judging Amy" lasted a solid six seasons and earned Brenneman several award nominations, including three straight nods at the Emmys and Golden Globes for best actress from 2000-02.

During her run on "Judging Amy," Brenneman appeared sporatically in features, though often with the same lesser results as before. She had an unmemorable turn in Donal Lardner Ward's unremarkable directorial debut "The Suburbans" (1999), playing the longtime girlfriend of a has-been rocker (Ward) whose titular band gets an unexpected second chance at stardom 15 years after their lone hit. Brenneman next joined an ensemble of strong actresses – including Holly Hunter, Glenn Close, Calista Flockhart and Cameron Diaz – in "Things You Can Tell Just by Looking at Her" (2001), an episodic drama that explored the lives and loves of five unconnected women in the San Fernando Valley. The film was work-shopped at the Sundance Institute and was eventually screened at the 1999 festival before being picked up by Showtime Networks. After her series was finally canceled, Brenneman focused on features for the next few years, first co-starring in "Off the Map" (2005), a well-reviewed drama about an eccentric family (Joan Allen, Sam Elliott, Valentina DeAngelis and Brenneman) living on the fringe of society in the New Mexico desert, whose lives are altered by an IRS agent (Jim True-Frost) suffering from inner demons.

Brenneman reunited with "Things You Can Tell" director Rodrigo Garcia for his anthologized drama about nine different women in "Nine Lives" (2005), playing the ex-wife of a man (William Fichtner) who suddenly finds herself in love with him again after the death of his second wife. Returning to her bread-and-butter, she was on an episode of "Grey's Anatomy" (ABC, 2005- ), which served as a backdoor pilot for the spin-off series, "Private Practice" (ABC, 2007- ), where Brenneman was a series regular. She was cast as Dr. Violet Turner, a psychiatrist at the Oceanside Wellness Centre, a private hospital run by former Seattle Grace surgeon, Dr. Addison Montgomery (Kate Walsh). Meanwhile, Brenneman continued to appear in films, including "The Jane Austen Book Club" (2007), in which she played a recent divorcee and member of a group of Jane Austen enthusiasts who discover that their lives are playing out like one of the author's novels. In the critically derided thriller "88 Minutes" (2008), she played the assistant of a forensic psychologist (Al Pacino) who receives a mysterious phone call saying he has less than 90 minutes to live. She co-starred in "Downloading Nancy" (2009), a techno-thriller about an unhappy wife (Maria Bello) who falls in love with the man she hired over the Internet to kill her.

View the full website biography of Amy Brenneman.