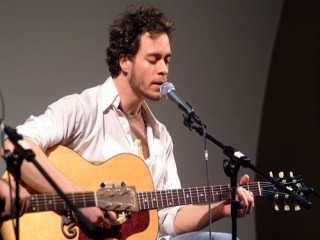 Amos Lee
Date of birth : -
Date of death : -
Birthplace : Philadelphia, Pennsylvania, U.S.
Nationality : American
Category : Arts and Entertainment
Last modified : 2011-02-22
Amos Lee (born 1978) is an American singer-songwriter and guitarist from Philadelphia, Pennsylvania. His musical style encompasses folk, soul, and jazz.

With his laid-back vocal delivery and acoustic songwriting, Amos Lee draws inspiration from soul music, contemporary jazz, and '70s folk artists like James Taylor. The Philadelphia native first became serious about performing while attending the University of South Carolina during the mid-'90s. After graduating with a degree in English, he taught elementary school before deciding to pursue a music career full-time. A period of waiting tables and bartending followed as Lee honed his songwriting skills. He eventually landed some high-profile gigs as an opening act, including an extended tour with pianist/vocalist Norah Jones, whose bassist, Lee Alexander, agreed to produce Lee's first album.

With Alexander's help, Amos Lee released his self-titled debut on Blue Note in 2005. The album won Lee a small following for his blend of acoustic funk, folk, and light jazz, and he returned one year later with a sophomore effort, Supply and Demand. Last Days at the Lodge followed in 2008, cracking the Top 40 upon its release and becoming Lee's highest-charting album to date. His audience grew accordingly, prompting Lee to ask some of his most famous fans -- including Willie Nelson, Iron & Wine's Sam Beam, Calexico, and Lucinda Williams -- to appear on his next record. The result, Mission Bell, was recorded in 2010 and released early the following year.

Amos Lee - Arms of a woman :



View the full website biography of Amos Lee.