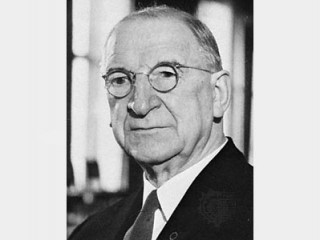 Éamon De Valera
Date of birth : 1882-10-14
Date of death : 1975-08-29
Birthplace : New York City, New York, U.S.
Nationality : American-Irish
Category : Politics
Last modified : 2010-07-16
Éamon de Valera, born George De Valero on 14 October 1882 – died 29 August 1975 was one of the dominant political figures in 20th century Ireland. His political career spanned over half a century, from 1917 to 1973; he served multiple terms as head of government and head of state, and is credited with a leading role in the authorship of the present-day Constitution of Ireland.

De Valera was a leader of Ireland's struggle for independence from Britain, and the anti-Treaty opposition in the ensuing Irish Civil War (1922–1923), in which he opposed Michael Collins, but was defeated. In 1926, he founded Fianna Fáil, and became prime minister (1932-48, 1951-54, and 1957-58). His political creed evolved from militant republicanism to a social and cultural conservatism that reflected his pious Catholicism. As Bew (2007) concludes, in the Constitution of 1937 he was "trying to placate left-wing Republicans with national phrases and pious people with expressly Catholic bits" and "patriarchal Catholicism."


"Sidelights"

Born in New York City, Eamon De Valera moved to his mother's native Ireland in 1885 after the death of his father. A determined fighter for Ireland's complete independence from English rule, De Valera began his career as a teacher of mathematics, physics, Latin, and French in Ireland. Soon, though, he joined the Gaelic League, the fountainhead of the Irish nationalist political and literary movement, and the Irish Volunteers, of which he was president for several years. De Valera participated in the Easter Week Rebellion of 1916, was captured, and sentenced to death. Unlike his compatriots, though, De Valera's sentence was commuted to life imprisonment and he was later freed in the general amnesty of 1917. As one of the survivors of the Easter Week Rebellion, De Valera became a hero. He was elected president of the nationalist group Sinn Fein and was a representative of the Dial Eireann, the lower house of the first parliament to meet in Ireland in over one hundred years. In 1919, De Valera was elected president of the Irish Republic by the Dial. In his official capacity, he traveled to the United States and raised more than $6 million to aid Ireland in its fight with England in the Civil War of 1919. When peace was declared in 1921, De Valera strongly denounced the treaty creating the Irish Free State as it did not incorporate the six counties of Northern Ireland. Civil broke out again and De Valera became the leader of the Irish Republican Army (IRA). He was arrested and imprisoned for the third time in his revolutionary career. When released, he formed his own political party, Fianna Fail. In 1932, De Valera's party obtained a majority in the Dial, bringing him into power as the president of the executive council and minister of external affairs. In 1938, De Valera became Taoiseach (prime minister) of Ireland and held the office off and on until 1959. In 1959, he again became president of Ireland and served as such until 1973. This tireless fighter for independence wrote many books on Ireland's plight, including Ireland's Case Against Conscription, The Foundation of the Republic of Ireland in the Vote of the People, and Ireland's Stand, 1939-1945.

PERSONAL INFORMATION

Family: Born October 1, 1882, in New York, NY, as Edward (he changed his name to its Gaelic form, Eamon, as an adult); died August 30, 1975 outside of Dublin, Ireland; son of Vivion Juan de Valera (Spanish immigrant) and Katherine Coll (Irish immigrant); married; children: six. Education: Graduated from the Royal University of Ireland, 1904.

CAREER

Teacher, author, former prime minister and president of the Irish Republic. Led party of insurgents in Irish nationalist uprising, 1916; imprisoned, 1916-17, 1918-19; president of Sinn Fein, 1918-26 and of the provisional Republican government, 1918-22; leader of opposition to Anglo-Irish treaty (Dec. 1921) and imprisoned by Irish Free State, 1923-24; established and presided over Fianna Fail Republican opposition party, 1924; led Fianna Fail into Free State parliament, 1927; president of executive council and minister for external affairs, 1932-37; prime minister, 1937-48, 1951-54, 1957-59; president of Ireland, 1959-73; Chancellor of the National University of Ireland, 1921-1975.

WRITINGS BY THE AUTHOR:

* Ireland's Case Against Conscription, Maunsel & company ltd. (Dublin and London), 1918.

* The Foundation of the Republic of Ireland in the Vote of the People, New York, 1919?.

* India and Ireland, Friends of Freedom for India (New York, NY), 1920.

* Ireland's Request to the Government of the United States of America for Recognition as a Sovereign Independent State, Irish Diplomatic Mission (Washington, DC), 1920.

* The Unity of Ireland, Oifig an Tsolathair: The Stationery office (Dublin, Ireland), 1939.

Also author of Ireland's Stand, 1939-1945 and of political speeches.
View the full website biography of Éamon De Valera.