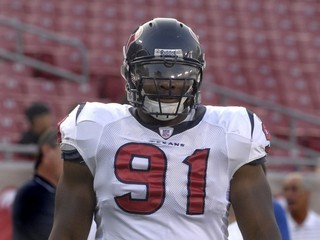 Amobi Okoye
Date of birth : 1987-06-10
Date of death : -
Birthplace : Anambra, Nigeria
Nationality : American
Category : Sports
Last modified : 2010-12-09
Amobi Okoye is an American football defensive tackle for the Houston Texans of the National Football League.
Selected by Houston Texans in first round (10th pick overall) of the 2007 NFL Draft…Signed by the Texans July 27, 2007.

HONORS: NFL Defensive Rookie of the Month (September, 2007), 2007 PFW/PFWA All-Rookie Team.

PRO: Young, quick and intelligent defensive linemen that will look to improve upon an injury-riddled sophomore campaign…is already tied for 10th in team history with 8.0 career sacks…has registered 92 tackles, 62 solos to go along with two forced fumbles and one fumble recovery...owns the team rookie sack record with 5.5 in 2007.

2009 (Houston 16/16):
Started at DT and recorded four solo tackles vs. the New York Jets (9/13)... had one solo tackle starting at defensive tackle at Tennessee (9/20)...had one pass defensed and four tackles (three solo), including one for a loss vs. Jacksonville (9/27)...made three tackles (one solo) and recorded one sack for a loss of five yards vs. Oakland (10/4)...made five tackles (three solo) includuing 0.5 sack at Arizona (10/11), in addition to a tackle for loss, quarterback hit and pass defensed...started at DT and assisted on a tackle at Cincinnati (10/18)...had one solo tackle and two hits on the quarterback vs. San Francisco (10/25)...had three tackles (one solo) and a pass defensed in the Texans win at Buffalo (11/1)...started at defensive tackle at Indianapolis (11/8)...made four tackles (three solo) vs. Tennesseee (11/23)...registered two solo tackles and a quarterback hit vs. Indianapolis (11/29)...assisted on one tackle at Jacksonville (12/6)...made two tackles (one solo) vs. Seattle (12/13)...had two solo tackles for a loss at St. Louis (12/20)...had two solo tackles and a hit on the quarterback at Miami (12/27)...made three tackles (two solo) vs. New England (1/3).

2008 (Houston 14/12):
Played in 14 games with 12 starts…registered 24 total tackles, including one sack, one forced fumble and one fumble recovery…started vs. Cincinnati (10/26) and recovered the first fumble of his career after DE Mario Williams forced the ball out of Bengals quarterback Ryan Fitzpatrick's hands in the third quarter…started and registered two total tackles at Minnesota (11/2)…recorded five total tackles, including his first sack of the season when he tackled Oakland QB JaMarcus Russell for a 13-yard loss in the fourth quarter at Oakland (12/21)…also forced a fumble on the sack…it was his first forced fumble of the season and the second of his career.

2007 (Houston 16/14):
Saw action in all 16 games, with 14 starts…totaled 32 tackles, 23 solo, 5.5 sacks for 33.5 yards and a forced fumble…started his first NFL game and totaled one solo stop vs. Kansas City (9/9)…started and finished with a season-high 2.0 sacks for 23 yards vs. QB Jake Delhomme and four total tackles and a forced fumble at Carolina (9/16)…added another sack to his rookie total by downing QB Peyton Manning, along with three solo stops vs. Indianapolis (9/23)…registered his third consecutive game with a sack, taking down QB Joey Harrington at Atlanta (9/30)…earned NFL Defensive Rookie of the Month in September for his efforts…recorded a season-high five total tackles and his fifth sack of the season on QB Josh McCown at Oakland (11/4)…registered a half sack vs. Tampa Bay (12/9).

COLLEGE:
Played in 48 games at Louisville, starting 24 times…finished with 121 tackles (68 solos), 10.5 sacks for minus 42 yards and 23 stops for losses totaling 81 yards…the youngest athlete to appear in a collegiate game in 2003 at age sixteen…15 tackles behind the line of scrimmage in 2006 tied Michael Josiah (2001) and Ted Washington (1990) for 11th place on the school's season record list…unanimous All-Big East Conference first-team choice in 2006…recorded a career-high 58 tackles (38 solos) and ranked second on the team with eight sacks and 15 stops for losses…also caused three fumbles…graduated with a degree in Psychology.

PERSONAL:
Visited Nigeria along with other NFL players in the spring of 2008 to donate medical supplies and hand out scholarships…attended Robert E. Lee (Huntsville, Ala.) High School…took up football as a sophomore…started 13 games on the defensive line as a 13-year old and played both ways, earning honorable mention all-state honors as a junior…a three-year letter winner, he logged 60 tackles and nine sacks, picking up first-team all state honors on both sides of the ball as a senior…born in Anambra, Nigeria and moved to the United States as a preteen…tested into the ninth grade as a 12-year-old when his family moved to Huntsville from Nigeria.

View the full website biography of Amobi Okoye.