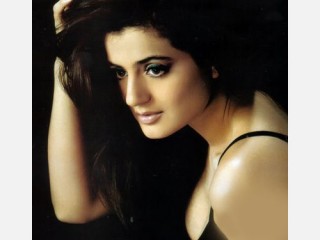 Amisha Patel
Date of birth : 1975-06-09
Date of death : -
Birthplace : Mumbai, Maharashtra, India
Nationality : Indian
Category : Arts and Entertainment
Last modified : 2011-02-21

Ameesha Patel, born Amisha Patel is an Indian actress who appears in mainly Bollywood movies. Making her acting debut in the blockbuster Kaho Naa... Pyaar Hai (2000), Patel won critical praise for her performance in Gadar: Ek Prem Katha (2001), which became one of the biggest hits in the history of Hindi cinema, earning her a Filmfare Special Performance Award.

Amisha Patel is one of the finest actresses in bollywood today. She took bollywood by storm in 2000 with her bubbly boisterous performance in Rakesh Roshan's "Kaho Naa... Pyaar Hai".

Amisha was born on June 9th 1976 in Mumbai to Amit Patel and his wife Asha Patel. Interestingly Amisha Patel's name is a blend of first three letters of her father's name Amit and the last three letters from her mother's name Asha. Amisha is also the granddaughter of late Rajni Patel, the famous lawyer-turned political leader. Amisha has a brother named Ashmit Patel, a promising bollywood actor.

Amisha Patel began learning bharatanatyam, an Indian classical dance form, at the age of five. Amisha finished her high school from Cathedral and John Connon High School in Mumbai; and she served as the head girl in her class during the academic year 1992-1993. She later flew to the United States to graduate in economics with a gold medal from Tufts University in Medford, Massachusetts. After her graduation, Amisha Patel took up work with Morgan Stanley. At the same time she plunged into modeling appearing in several commercial campaigns. Amisha Patel has also modeled for well-known Indian brands like Bajaj Sevashram, Fair & Lovely, Cadburys Jai Lime, Fem, Lux and many more.

Amisha Patel soon returned back to her homeland Mumbai and quickly joined Satyadev Dubey's theatre group, where she participated in several of their stage plays. Later Amisha had a chance meeting with Rakesh Roshan, the ace bollywood filmmaker at one of the family parties. Little did she know then that this meeting would completely change the course of her destiny. Amisha didn't even imagined then that she would soon become one of the biggest stars in bollywood in the coming years.

Amisha Patel finally made her debut with Rakesh Roshan's "Kaho Naa... Pyaar Hai" in 2000. The movie also served as a launching vehicle for Hrithik Roshan. The Hindi film became one of the biggest musical blockbuster hits in 2000 and Amisha Patel became a superstar overnight. Her performance has been critically hailed and brought her numerous awards.

Her second bollywood film "Gadar: Ek Prem Katha" (2001) starring Sunny Deol too became the biggest blockbuster hit grossing an over Rs.970 million in India alone. Amisha gave a stunning performance as a Muslim girl falling for a Hindu boy against the backdrop of Indo-Pak riots in 1947. Her histrionic talents have won her accolades, honors and awards including a Filmfare Special Performance Award.

Amisha Patel has since appeared in several notable films including "Humraaz" (2002) starring Akshaye Khanna and Bobby Deol, "Parwana" (2003) starring Ajay Devgan, "The Rising: Ballad of Mangal Pandey" (2005) starring Aamir Khan, "Vaada" (2005) starring Arjun Rampal Vikram Bhatt's "Ankahee" (2006), "Bhool Bhulaiyaa" (2007) starring Akshay Kumar and many more movies.

Amisha Patel has also delighted the audiences down south with her sizzling performances in Telugu films such as "Badri" starring Pavan Kalyan, "Naani" (2004) starring Mahesh Babu and "Narasimhudu" (2005) starring Jr NTR. This hot bollywood actress has also acted in a couple of Tamil films "Enna Vilai Azhagae" (2000) and "Pudhiya Geethai" (2003).

Amisha Patel is currently dating Kanav Puri, a London-based industrialist. Earlier she has had romantic links with bollywood director, Vikram Bhatt, who reportedly stood by her thick and thin during her personal crises on home front.

Amisha's Movies

Amisha Patel got lucky when Kareena Kapoor opted out of Hrithik Roshan's debut Kaho Na Pyaar Hai (2000). The movie was a blockbuster and Amisha became famous overnight. She also worked her acting skills in the Telugu movie Badri with Pawan Kalyan.

In 2001, she gave a fantastic performance as Sakeena in Gadar: Ek Prem Katha. She won the Filmfare Special Performance Award. She worked with Hrithik Roshan again in Aap Mujhe Acche Lagne Lage (2002) that flopped. Humraaz (2002) was a hit.

She acted in several movies like Pudhiya Geethai (2003), Naani (2004), Elaan (2005), Narasimhudu (2005), Mangal Pandey: The Rising (2005), Teesri Aankh (2006) and Aap Ki Kathir (2006).

Her luck changed for the better with Honeymoon Travels Pvt Ltd (2007) in which she played the bubbly, garish Pinky Kapoor. Bhool Bhulaiyya (2007) with Akshay Kumar and Shiney Ahuja also did well. She made a brief appearance in Thoda Pyaar Thoda Magic in the song Lazy Lamhe.

In 2009, Amisha will be appearing in comedies Run Bhola Run with Govinda and Chatur Singh Two Star with Sanjay Dutt.


View the full website biography of Amisha Patel.