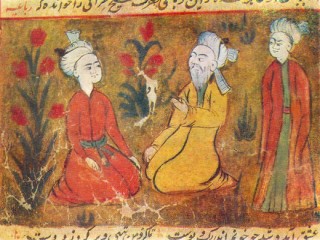 Amir Khusro
Date of birth : -
Date of death : -
Birthplace : Patiyali, Uttar Pradesh
Nationality : Hindi
Category : Famous Figures
Last modified : 2010-10-21
Amir Khusro(1253-1325 CE), one of the most versatile personalities of medieval India, was born in 1253 in a place called Patiyali, Uttar Pradesh. His real name was Ab'ul Hasan Yamin al-Din Khusrow whereas Amir Khusro was his pen name. Also known as Amir Khusro Dehlavi, this creative classical poet was associated with the royal empires of more than seven rulers of Delhi. The life history of Amir Khusrao is truly an inspiring one and he is considered to be one of the first recorded Indian dignitaries who is also a household name.

Known for his immense contribution in literature and music, this legendary personality was born of a Turkish father and an Indian mother in a village in India. He lost his father at a young age and then moved in with his maternal grandparents. His grandfather served as an attendance master of soldiers at the royal palace of emperor Ghayasuddin Balban. Khusro was exposed to all famous literary figures of his time when he accompanied his grandfather to the royal courts to attend the private congregations. Amir KhusroThis inspired him to take up poetry and indulge in fine arts like music. He also learnt horse riding and received training in martial arts. The famous Sufi saint Hazrat Nizamuddin Auliya was his spiritual mentor.

Amir Khusro is often acknowledged for creating "Khayal" of north Indian classical music known as Hindustani. He modified raga Dhrupad and added Persian tunes and beats to it. He created Qawali on the likes of bhajans. The poems he wrote were in Persian and a combination of Bhojpuri and Persian, which he called as Hindvi. These poems later were developed into Hindi and Urdu.

Probably Khayal originated from Qawalis that he created on the lines of Bhajans. He wrote poetry in Persian as well as what he called Hindvi ... a combination of local Bhojpuri and Persian, which later evolved into Hindi and Urdu. Many of his poems are even today used in Hindustani Classical as bandishes and as Ghazals by Ghazal singers.
View the full website biography of Amir Khusro.