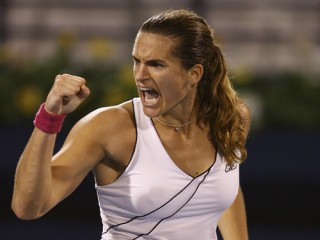 Amelie Mauresmo
Date of birth : 1979-07-05
Date of death : -
Birthplace : St. Germains en Laye, France
Nationality : French
Category : Sports
Last modified : 2011-04-27
Amélie Simone Mauresmo is a former professional tennis player, and a former World No. 1. Mauresmo won two Grand Slam singles titles at the Australian Open and at Wimbledon.

Mauresmo first attained the top ranking on 13 September 2004, holding it for five weeks on that occasion. She was the fourteenth World No. 1 in women's tennis since the computer rankings began. She is well known for her powerful one-handed backhand and strong net play. She officially announced her retirement from professional tennis on December 3, 2009, ending a career of ten years. She returned to Wimbledon in 2010, acting as a grass court advisor for Frenchman and 2007 Wimbledon doubles champion Michaël Llodra.

Singles Titles

2009: Paris
2007: Antwerp
2006: Australian Open, Paris, Antwerp, Wimbledon
2005: Antwerp, Rome, Philadelphia, WTA Championships
2004: Berlin, Rome, Montréal, Linz, Philadelphia
2003: Warsaw, Philadelphia
2002: Dubai, Montréal
2001: Paris, Nice, Amelia Island, Berlin
2000: Sydney
1999: Bratislava

Doubles Titles

2009: Miami
2006: Eastbourne
2000: Linz

PERSONAL:
Currently without a coach; formerly coached by Loic Courteau (from Rome in May 2002 until September 2008)
Mother is Françoise; father, Francis, passed away on March 12, 2004; has older brother, Fabien, an engineer like his father
Says she decided just before age 4 to play tennis after watching Yannick Noah win 1983 Roland Garros on TV; was very honored when Noah picked her to compete on the 1998 French Fed Cup team
Likes speed of downhill skiing, go-karts, horseback riding, water-surfing in Biarritz and listening to music by Dido
Has two Golden Retrievers (a mother and son)
Enjoys red wine and has a wine cellar at home
Sweetest memory of career was becoming the first French player to reach No.1 (in September 2004).

View the full website biography of Amelie Mauresmo.