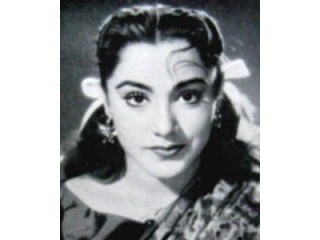 Ameeta
Date of birth : -
Date of death : -
Birthplace : Mumbai, India
Nationality : Indian
Category : Arts and Entertainment
Last modified : 2011-07-08
Ameeta was a well-known film actress in the 1950s and 1960s, appearing in Hindi films. Mainly a supporting actress and B grade leading lady, she had a brief period of A grade stardom in the late 1950s and early 1960s after playing prominent roles in successful films such as Tumsa Nahin Dekha (1957), Goonj Uthi Shehnai (1959) and Mere Mehboob (1963).

After her debut in the film Anmol Sahara (1952), in a small part, Ameeta spent the next few years playing various supporting roles in films such as Shri Chaitanya Mahaprabhu (1953) and Aab E Hayat (1955). Her strikingly pretty looks and fresh-faced appeal, combined with some confident performances, meant that she quickly graduated as second lead to prominent heroines like Nalini Jaywant and Madhubala in films such as Munimji (1955) and Shirin Farhad (1956).

Around this period Ameeta made a questionable choice in her fledgling career. She was approached by the legendary film maker, Mehboob Khan, to play a role in his much anticipated production, Mother India (1957). The film had high expectations and had a stellar cast which included Nargis, Sunil Dutt, Rajendra Kumar and Raaj Kumar. It was being produced in Technicolor, a rarity in India then. The role Ameeta was approached for was as Rajendra Kumar's sweetheart. It had already been rejected by Mala Sinha and Ameeta too backed out, feeling that in a film starring the celebrated and charismatic Nargis, she would be overlooked. However being associated with such a prestigious film as a relatively new and unknown actress could have raised her profile greatly and given her career a much needed boost. The part Ameeta rejected was eventually played by the actress Kumkum and Mother India went on to be one of the most successful films in the history of Indian cinema.
Recognising her star potential, she soon became the protege of Filmistan Studios' owner Tolaram Jalan, who relaunched her with Tumsa Nahin Dekha (1957). The film was primarily produced as a vehicle for promoting Ameeta as a new star. Great care was taken with her make-up, wardrobe and lighting, to present Ameeta in the most flattering and adventagous way possible. Furthermore, much of the film's extensive publicity also centred around the actress. Ironically, the film's huge success at the box office made the then struggling Shammi Kapoor an overnight sensation instead.

Though Shammi Kapoor effectively stole the attention and applause for Tumsa Nahin Dekha, the films prolific run at the box-office resulted in Vijay Bhatt casting Ameeta in the highly coveted feminine lead for Goonj Uthi Shehnai (1959), a role originally intended for super-star Meena Kumari. The film co-starred a then up-and-coming Rajendra Kumar and coupled with an exceptional music score, it became one of the top grossing films of 1959. Yet despite a mature and sensitive performance, Ameeta was overlooked and Rajendra Kumar was given credit for the film's emphatic success.

In fact, although she proved lucky as a leading lady for Shammi Kapoor and Rajendra Kumar, both of whom went on to scale the heights of super-stardom, Ameeta herself never really benefited or capitalised on these successful films. Although showing strong potential and displaying all the requisite qualities of the emerging breed of Mod heroines, fully fledged stardom failed to materialise.
Roles in multi star-cast films like Raakhi (1962), which also featured Ashok Kumar, Waheeda Rehman, and Pradeep Kumar, failed to cement her star status, and she was repeatedly sidelined by her co-stars.

Her last prominent role in a big budget successful movie was as Naseem Ara in Mere Mehboob (1963). Ameeta played one of the films two heroines, alongside Sadhana and opposite Rajendra Kumar. Despite the presence of Sadhana, who was by then the bigger star, Ameeta was given a new glamorous look, was photographed well with luminous Technicolor close-ups, and had two of the films popular songs picturised on her. Although it was an important role unlike her co-stars Rajendra Kumar, Ashok Kumar, Sadhana and Nimmi, she was billed below the title, further diminishing her tenuous star status. Yet again despite the films big box-office success and a well-received performance resulting in her only Filmfare award nomination as Best Supporting Actress, Mere Mehboob did not really further her career, and major stardom continued to elude her.

Even after the impressive success of films like Mere Mehboob (1963), by 1964, inexplicably, Ameeta was still languishing in B grade projects like Samson (1964) and Namasteji (1965). Though Samson proved yet another resounding success at the box office, it's B-grade action status did not help improve Ameeta's star image nor did it encourage more prolific film makers to cast her as the lead in big budget productions. Having previously appeared alongside more illustrious leading men, such as Dev Anand (Munimji 1955), Bharat Bhushan (Sawan 1959), Manoj Kumar (Piya Milan Ki Aas 1961, Maa Beta 1962), and Ashok Kumar (Raakhi 1962) she was now acting opposite the likes of action hero Dara Singh and comedian Johnny Walker, a clear demotion.

Despite some considerable success at the box office in starring roles, Ameeta never gained a strong foothold in the industry or consolidated a position as an A grade leading lady. Although in possession of an angelic face, voluptuous figure and a considerable acting range, she never achieved the career heights or fan following of her contemporaries; Asha Parekh, Mala Sinha, Saira Banu, Sadhana, Nanda and Waheeda Rehman, all joined established stars like Nutan, Meena Kumari, and Vyjayanthimala to become the most successful and popular actresses of the 1960s.

In the late 1950s and early 1960s, Ameeta had vied for the leading roles in prestigious films. When the widely popular comedian Mehmood launched his own production of Chotte Nawab (1961), he sidelined all the established heroines of the day and cast Ameeta as his female lead. (Today, the film is remembered only as R.D. Burman's debut as music composer.) She had even been considered a more viable star option, when she replaced Asha Parekh after she was dropped from the lead in Goonj Uthi Shehnai (1959). The writer/director Nasir Hussain, who had worked with Ameeta in her earlier successes Munimji (1955) and Tumsa Nahin Dekha (1957), complained that she had never fit his concept of a heroine, and instead built Asha Parekh, into a major star. Promoting Asha as his new star discovery, he cast her as the female lead in seven films, including the highly successful Dil Deke Dekho (1959), Jab Pyar Kisi Se Hota Hai (1961), Teesri Manzil (1966), and Caravan (1971). By contrast, despite an initial advantage over Asha Parekh, Ameeta's career never really took off. Apart from a brief period of starring roles in good films, like her contemporary actresses Shubha Khote and Kumkum, Ameeta's image never graduated from B-grade leading lady or second lead in bigger film productions.

By the mid-sixties, while Asha Parekh had reached the zenith of success and popularity as a leading lady, Ameeta had descended into negative and villainous characters in films like Rishte Naate (1965), and Aasra (1966). Worse still, she was seen in supporting roles to fledgling starlets Rajshree and Babita, in films like Around the World (1967) and Haseena Maan Jayegi (1968). A sad end to the career of an actress who had once shown great promise as the leading lady of prominent stars such as Rajendra Kumar and Shammi Kapoor.

After her last film Haseena Maan Jayegi (1968) a disillusioned Ameeta left the film industry and settled down to married life. Today she is all but forgotten and remains extremely bitter about her experiences as an actress, becoming a virtual recluse.
In the early 1990s Ameeta's daughter, Sabeeha pursued a career as an actress. After co-starring with some popular leading actors like Sanjay Dutt and Akshay Kumar in lead roles in films such as Khiladi (1990) and Quayamat Ki Raat (1992), she also disappeared from the Hindi movie scene.
View the full website biography of Ameeta.