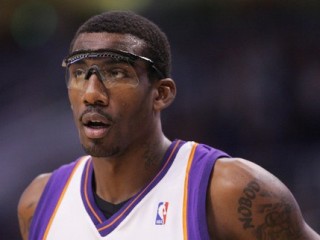 Amar'e Stoudemire
Date of birth : 1982-11-16
Date of death : -
Birthplace : Lake Wales, Florida, U.S.
Nationality : American
Category : Sports
Last modified : 2010-08-06

Amar'e Stoudemire is an American professional basketball center and power forward for the New York Knicks. Taken in the first round with the ninth overall pick in the 2002 NBA Draft, he spent the first eight years of his career with the Phoenix Suns. He is listed by NBA.com as 6 feet 10 inches (208 cm) and 240 pounds (110 kg).

Selected out of high school by Phoenix in the first round (ninth overall) of the 2002 NBA Draft…Acquired from Phoenix, via sign-and-trade, in exchange for a protected future second-round draft pick on Jul. 9, 2010.

Career history:
2002–2010 Phoenix Suns
2010–present New York Knicks

Career highlights and awards:
NBA Rookie of the Year (2003)
6× NBA All-Star (2005, 2007–2011)
All-NBA First Team (2007)
3× All-NBA Second Team (2005, 2008, 2009)
NBA All-Rookie First Team (2003)

CAREER:

2009-10 (Suns): Marked eighth and final season with Suns with All-NBA Second Team honors and with fifth career NBA All-Star Game appearance (second start)...Averaged 23.1 points, 8.9 rebounds, 1.01 blocks and .557 shooting (704-1,264) over 34.6 minutes in 82 games (all starts)...Appeared in all 82 games for third time in career, after eye surgery limited him to 53 games the prior season...Season Highs: Points: 44 (Mar. 19 vs. Utah); Assists: 4 (Nov. 17 at Houston); Rebounds: 21 (Dec. 5 vs. Sacramento)...Led Suns in scoring 49 times, rebounding 39 times...Authored two 40-plus scoring games, 15 30-plus efforts...Had 30 double-doubles and one 20-plus rebound game...Averaged 21.2 points in 53 games prior to the All-Star break, 26.6 points in 29 games afterward...Joined Toronto's Chris Bosh as only NBA players to average 22 points and eight rebounds...On The Leader Board: Finished 10th in NBA in scoring (23.1), 17th in rebounding (8.9), seventh in field goal percentage (.557) and 34th in blocks (1.01)...Western Conference Player of the Month for March (27.4 points, 9.9 rebounds)...Led NBA in points in the paint (1,110) and was second in dunks (187, trailing Orlando's Dwight Howard, 197)...Went 487-632 from the line (.771) and ranked fifth in NBA in attempts. Had six games with at least 15 attempts...All-Star: Made his fifth NBA All-Star Game appearance (second start), scoring 12 points (5-10 FGA) with game-high 10 rebounds in 20 minutes for West at Dallas, Feb. 14...Key Games: Hauled in season-high 21 rebounds (nine offensive) on Dec. 5 vs. Kings for lone 20-plus board effort of season...Logged season-high 45 minutes on Dec. 17 at Portland (27 points, 11 reb)...Scored 10,000th career point on Jan. 16 at Charlotte...Scored 41 points at San Antonio, Feb. 28...Poured in season-high 44 points (14-16 FGA, 16-18 FTA) vs. Jazz, Mar. 19...In The Playoffs: Started all 16 games in Suns' Mar. to Western Conference Finals, with 22.2 points over 36.5 minutes...Averaged 25.0 points in West Finals vs. Lakers, tying career Playoff high with 42 points (14-22 FGA, 14-18 FTA) in Suns' win in Game Three at Phoenix (May 23, 2010).

2008-09 (Suns): NBA All-Star season was cut short due to eye surgery...Averaged 21.4 points, 8.1 rebounds and .539 shooting over 36.8 minutes in 53 games (all starts)...Led Suns in scoring (21.4) and was second in rebounding (8.1 to Shaquille O'Neal's 8.4), but didn't qualify for NBA Leader Board in either category...Finished ninth in NBA in field goal percentage (.539) and 38th in free throw percentage (career-high .835)...Had two 40-plus scoring games and 16 double-doubles...Western Conference Player of the Week for period ending Nov. 9 (sixth career)...Scored a season-high 49 points on Nov. 5 at Indiana (17-21 FGA, 15-15 FTA), adding 11 rebounds, six assists and five steals, joining Hall of Famer Rick Barry (1974) as only NBA players to record a game of 49-10-5-5...Season-high 20 rebounds on Dec. 6 vs. Jazz...Voted as a starter onto West squad for NBA All-Star 2009 at Phoenix, scoring 19 points (7-10 FGA) in 25 minutes, Feb. 15...Suffered a detached retina (right eye) following collision with Clippers' Al Thornton at LA, Feb, 19. Finished out the game and wound up with 42 points (15-20 FGA) in 36 minutes...Underwent surgery to repair detached retina on Feb. 20, and missed season's final 29 games.

PERSONAL:

Full name Amar'e Carsares Stoudemire...Nicknamed STAT (Standing Tall and Talented) and has that name tattooed on his right arm...Has a son, Amar'e Jr., and a daughter, Ar'e...Father passed away when he was 12 years old...Son of Carrie Stoudemire, has four brothers: Hazell, Jr., Marwan, Jerrell and Calvin; and three sisters: Delillah, Chiquitta and Dasia...His restaurant, Stoudemire's Downtown, is a 10,000 square foot sports and entertainment restaurant within walking distance of US Airways Center...Visited Israel in summer 2010...Made a cameo appearance on the season finale of the NBC hit reality series "The Apprentice" in December 2004...Winner of "Wheel of Fortune's" NBA Week in 2003 and donated earnings to the Boys and Girls Club....Has twice been featured as the cover athlete for Sony's video game NBA '06 and NBA '08...Didn't start playing basketball until he was 14 years old...Named to Parade Magazine All-America High School Boys Basketball First Team and to 2002 USA Today Boys Basketball First Team...Named Mr. Basketball by the state of Florida following senior season in 2001-02...As a senior at Cypress Creek, averaged 29.1 points and 15 rebounds...Scored 10 points in the 2002 McDonald's All-America Game, played at the Garden on Apr. 4, 2002...Did not play high school basketball as a junior due to ineligibility caused by transfers from numerous high schools...Prior to his early entry into the NBA Draft, had planned to attend the University of Memphis...

View the full website biography of Amar'e Stoudemire.