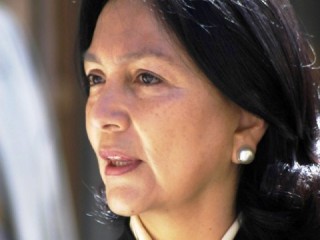 Amalia Garcia
Date of birth : 1951-10-06
Date of death : -
Birthplace : Zacatecas, Mexico
Nationality : Mexican
Category : Politics
Last modified : 2011-09-27
Mexican politician Amalia Dolores García Medina, elected governor of the state of Zacatecas in 2004, is also the first woman to lead a major political party in her country. Since 1999 she has helmed the Democratic Revolution Party, or PRD, one of her country's three main political parties. Political analysts describe the lifelong activist as a savvy alliance-builder and possible future presidential contender. "She is the model of what a modern Mexican politician ought to be," professor of political science Luis Miguel Rionda told Dallas Morning News writer Ricardo Sandoval. "She knows how to dialogue with the different factions of her party and with leaders from other parties. Not many in Mexico can do that today."

García's political skills seem to be inherited ones. Her father, Francisco García Estrada, became governor of Zacatecas in 1956, when she was five years old; prior to that, her grandfather had been mayor of Zacatecas City. When her father became an ambassador, he took the family with him, and García grew up in the capital cities of Guatemala, the Dominican Republic, the Philippines, and then Poland. It was in Warsaw in 1968 when she and her family saw news reports of the Tlatelolco massacre in Mexico City on Polish television. Some 5,000 university students and their supporters had gathered in a large plaza in the Tlatelolco area of the city, but the army fired live rounds into the crowd and scores died. García urged her parents to return home, which they did, and the tragic incident spurred a lifelong commitment to social and political reform for her.
García's college years were spent in Zacatecas City, and then at the National Autonomous University in Mexico City, where she was active in the student-rights movement. She graduated with a degree in sociology in 1972, and went on to earn a history degree from Autonomous University of Puebla in 1976. An active member of the Mexican Communist Party and later the Socialist Party organization, she was involved in various projects, including membership on a committee that worked to call attention to the plight of political prisoners in Mexico.
García came of age in a Mexico that was undergoing tremendous social and political changes. Only in the mid-1970s did the country finally rescind a law that allowed husbands to forbid their wives to work outside the home. Women were still a rare presence inside the political sphere when García was a young woman. But her generation was also moving forward and pushing for more reform, especially in the political arena: her father's party, the Institutional Revolutionary Party (PRI), had controlled the country since 1929, and its members held nearly every important office. Yet the PRI had also gained a reputation for deeply entrenched corruption.
A new political party, the Democratic Revolution Party (PRD) emerged after allegations of widespread voting fraud on the part of the PRI in the 1988 presidential election. García was a founding member of the new party, which quickly gained popular support for its center-left platform that supported both free-market economic reforms and progressive social issues. In the early 1990s, she served as an at-large congresswoman, and then became a federal senator. As a legislator she championed passage of new laws that mandated harsher penalties for assaults on women.
García also successfully urged adoption of a PRD rule stating that no more than 70 percent of a PRD administration could be dominated by any one gender-in effect, an affirmative action policy for women within the party structure. She ran for the party presidency in 1996, but lost to a colleague, and spent the next three years working to build alliances in various electoral districts with the National Action Party, or PAN, the third main party in Mexican politics. In 1999, she stood again for the party leadership post, and this time she won it. Her ballot victory made her the first woman to lead a major political party in Mexican history.

García took over the PRD leadership at a time when the party was bitterly divided into factions led by its two founders, now political adversaries, but she continued to lead efforts to build alliances with PAN. By 2000, PRD governors ruled over four of Mexico's 31 states thanks to that strategy, and the PRI's control seemed to be eroding. "We are changing an authoritarian regime that's now obliged to talk and dialogue with other powers," she pointed out in an Austin American-Statesman interview with Susan Ferriss. "That's new in Mexico."

García stood for election herself in 2004, defeating a PRI candidate for the same governor's office her father once held, and was sworn in for a six-year term. But much had changed in Zacatecas by then: an overwhelming number of its residents leave to seek work in the United States; statistics show that about half of its three million residents are living in the United States, many of them fathers, brothers, and sons. In 2003, they sent back some $480 million to the state of Zacatecas alone to support families there.

García was committed to improving economic conditions and job growth in Zacatecas by encouraging new initiatives. Both before and after her election she traveled regularly to meet with constituents living in cities like Dallas and Los Angeles. While there, she encouraged Mexican-American business leaders there to invest in enterprises back in Zacatecas and other states, but her visits were also in recognition that her official constituency now lived on both sides of the border: a recently enacted Mexican law allowed those living in the United States to return home to vote in elections, and the 2004 balloting that gave her the governorship was the first to include these votes. "I consider Zacatecas as a binational state," she told New York Times journalist Ginger Thompson. "Although the reasons our people have migrated are painful, these people have guaranteed our social stability."

"La Gobernadora" García is only the third woman elected to lead a Mexican state since women earned the right to vote in 1953, and observers of Latin American politics predict she may enter the 2012 presidential race. Her daughter, Claudia Sofia Corichi García, is a PRD staffer and also likely to make a run for office someday.
View the full website biography of Amalia Garcia.