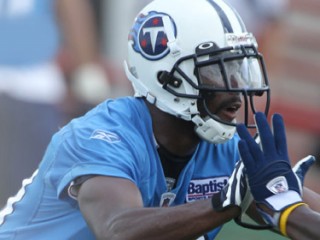 Alterraun Verner
Date of birth : 1988-12-13
Date of death : -
Birthplace : Orange, California
Nationality : American
Category : Sports
Last modified : 2010-12-17
PRO:
The Titans used their fourth-round selection in 2010 on UCLA cornerback Alterraun Verner, a speedy cover corner with ball-hawking skills. The unquestioned leader of the Bruins' secondary, Verner's ability to consistently come up with the big play is evidenced by his 42 pass deflections, three forced fumbles, 10 tackles for loss and 13 interceptions, including four he returned for a touchdowns during his career.

CAREER HIGHLIGHTS:
• As a senior, Verner was named third-team All-American after finishing fifth on the team with 65 tackles and second in the Pac-10 with five interceptions.
• In 2008, Verner started every game, earning fourth-team All-American and first-team All-Pac 10 and Academic All-Pac 10 Conference honors. He picked off two passes and deflected 18 others, leading the nation with an average of 1.67 passes defended per game.

TITANS TIDBITS:
• As a senior, Verner was honored when UCLA asked him to be featured in a commerical highlighting the school's math program and student-athletes. He was the first current student-athlete ever to do a UCLA moment commerical. Other UCLA greats to be featured in the series include NBA Hall of Famer Kareem Abdul-Jabbar and former Heisman Trophy winner Gary Beban.
• Verner served as a peer tutor to his high school football team in the subjects of math and history. He also served as a motivational speaker to city youth teams on the importance of staying in school.
• Verner did an internship with California Bank and Trust during the summer of his junior year. He surveyed various positions and learned the inner workings of the financial institution.

CAREER TRANSACTIONS:
• The Carson, Calif., native was selected by the Titans in the fourth round (104th overall) of the 2010 NFL Draft.

COLLEGE:
• In four seasons at UCLA (2006-09), Verner started 35 of 50 games and recorded 272 tackles with 11.0 stops for losses of 19 yards and three forced
fumbles. He tied for seventh in school history with 13 interceptions during his career, with his five interceptions during his senior year representing the most by a Bruin in a season since 1997. He also holds the school career-record with four interception returns for touchdowns.

AS A SENIOR (2009), started all 12 games for the second consecutive season and ranked fifth on the team with 65 tackles, including three stops for losses of four yards. The team captain finished second in the Pac-10 with five interceptions for 158 yards in returns (31.6 avg). Named third-team All-American by the AP and The NFL Draft Report and added All-Pac 10 first-team and Academic All-Pac 10 second-team honors. Was a semifinalist for the Thorpe Award, a quarterfinalist for the Lott Trophy and was a member of the Watch List for the Bednarik and Nagurski Awards.
• Against San Diego State (9/5), collected two tackles and scored on a 70-yard return on a recovery of a blocked field goal.
• Against Kansas State (9/19), posted five tackles and two interceptions for 47 yards.
• Against Arizona State (11/21), recorded three solo tackles and returned an interception 68 yards for a touchdown.
• At Southern Cal (11/28), notched two solo tackles and an interception he returned for 17 yards.

AS A JUNIOR (2008), started all 12 games and finished second on the team with 73 tackles that included 2.5 stops for losses of eight yards and a
forced fumble. Intercepted two passes and posted a league-high 18 pass deflections. Led the nation in passes defended, averaging 1.67 per game. Earned second-team All-Pac 10 honors from the league's coaches and was a first-team Academic All-Pac 10 choice.
• Against Tennessee (9/1), posted six tackles, an interception and two passes defensed.
• At BYU (9/13), collected a career-high 13 tackles, including a tackle for loss and a pass defensed.
• Against Washington State (10/4), finished with seven solo tackles and an interception.

AS A SOPHOMORE (2007), started 10 of the 13 games he appeared in and recorded 75 tackles, which ranked fourth on the team. Also posted three stops for losses of four yards and also caused a fumble. Led the Bruins with 15 passes defensed and intercepted four other passes for 76 yards (19.0 avg) in returns. Returned four punts for a total of nine yards (2.2 avg). Named Academic All-District VIII and Academic All-Pac 10 Conference first-team choice and added All-Pac 10 honorable mention
from the league's coaches.
• Against California (10/20), notched six tackles and two interceptions, including one he returned 76 yards for a touchdown in the fourth quarter.
• At Washington State (10/27), registered seven tackles and an interception.

AS A FRESHMAN (2006), appeared in all 13 games as the team's nickel back and top reserve at cornerback. Finished fourth on the team with 59 tackles that included 1.5 stops for losses of two yards, a forced fumble and a fumble recovery that he advanced 18 yards. Also deflected six passes and became the first freshman and sixth overall player in school history to return two interceptions for touchdowns in the same season. Named a Freshman All-American first-team pick by College Football News.com and Scripps/FWAA, adding second-team honors from The Sporting News, Scout.com and Rivals.com. Was chosen the Pac-10 co-Freshman of the Year by the league's coaches and was co-winner of UCLA's John Boncheff, Jr. Memorial Award, given to the Bruins' Rookie of the Year.
• Against Utah (9/2), posted two tackles and returned an interception 34 yards for a touchdown.
• Against Arizona (10/7), tallied four solo tackles and returned an interception 89 yards for a touchdown.
• Majored in Mathematics/Applied Sciences at UCLA.

PERSONAL:
• Splits time between Nashville and Carson, Calif.
• Attended Mayfair High School (Lakewood, Calif.) and led his team to a 10-2 record during his senior season. Caught 50 passes for 907 yards and 13 touchdowns, recorded 56 tackles with four interceptions, including one that he returned 102 yards for a touchdown. Also gained 407 yards with a touchdown on seven kickoff returns and 100 yards on four punt returns.
• During his junior season, he was an All-CIF SS Division VI first-team choice on offense by pulling down 32 passes for 705 yards with 11 touchdowns.
• Earned Academic All-Suburban League honors as sophomore. Posted 15 receptions for 250 yards and one touchdown and was credited with 25 tackles on defense.
• Lettered four times in track and field, as he competed in the high jump, pole vault, 100m, 4x100-meter relay, 4x400 relay, 110m hurdles, 300m intermediate hurdles, long jump, 800m run and 4x200m relay events. Earned team Most Valuable Performer honors as a freshman. Served as track team co-captain as a sophomore and junior, winning the league titles in the high jump, 4x100m relay and 4x400m relay.
• Was a four-time school Honor Roll and three-time Academic All-Pac 10 selection, compiling a 3.08 grade point average in Mathematics/Applied Sciences at UCLA. Added Scholar-Athlete honors after attaining a 4.17 grade point average in high school.
• List of favorites: (movie) "Back to the Future"; (TV show) "Dragonball-Z"; (actor) Denzel Washington/Shia LeBoef; (music artist) Eminem, Lil' Wayne; (school subject) Math, physics, chemistry; (books) Harry Potter books and Dan Brown books; (food) "Anything my dad cooks"; (sports hero) Jerry Rice; and (sports teams as a child) L.A. Lakers, San Francisco 49ers or "wherever Jerry Rice was."
• Born Alterraun Ennis Verner on Dec. 13, 1988 in Orange, Calif.

View the full website biography of Alterraun Verner.