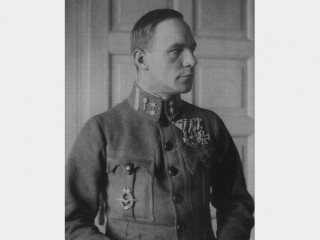 Alois Brunner
Date of birth : 1912-04-08
Date of death : -
Birthplace : Rohrbrunn, Austria
Nationality : Austrian
Category : Famous Figures
Last modified : 2010-11-25
Nazi German officer Alois Brunner helped engineer the Nazi destruction of European Jews, sending over 125,000 people to death camps.
SS (Schutzstaffel) Captain Alois Brunner served Adolf Eichmann in organizing the Nazi destruction of European Jews. Eichmann called Brunner "one of my best men." Born in Rohrbrunn, Austria, on April 8, 1912, Brunner joined the Nazi Party at age 19 and the SS at 26 (1938). He worked with Eichmann in the Central Office for Jewish Emigration in Vienna, which forced Jews to emigrate. Then, in October 1939, Brunner organized the first transports to Poland, a pilot project for mass deportation of Jews to ghettoes and death camps in the East. As director of the Vienna Central Office for Jewish Emigration (1940-1942), Brunner deported people that might have received exemptions, such as invalids and orphans. Brunner's personal torture of Jews exceeded the needs of Nazi policy. He knew the fate of those he deported, for he visited the ghettoes and camps. The combination of tactics Brunner used in Vienna— efficiency, deception, and terror—was noted by higher authorities and activated elsewhere.
Brunner proved his worth to Eichmann, who posted him next to Salonica, Greece, the center of Sephardic Jewish culture in Europe. Salonica Jews, whose ancestors fled the Inquisition, had retained the language and some of the customs of 15th century Spain. Brunner forced Salonica's Jews into a ghetto, while he settled into a mansion with luxury gardens outside and torture chambers below. Witnesses have called Brunner the "most ferocious" of all the torturers. He packed 2,000 Jewish prisoners into each transport of sealed boxcars, which after ten days arrived at the gas chambers of Auschwitz. In six weeks Brunner destroyed a community that had persisted for five centuries.
In his next assignment as deportation expert in France (June 1943-August 1944), Brunner took over the transit camp of Drancy, northeast of Paris. He ruled by torture, reprisal, and deception (for example, encouraging prisoners to take personal belongings on transports to a so-called labor colony in Poland). Before Brunner's arrival, only Jews born outside France were deported. But Brunner began sending French Jews to death camps as well. He specifically marked Jewish children as targets, calling them "future terrorists," raiding children's centers, deporting hundreds of unaccompanied infants. Of the 23,500 people Brunner deported from France, only 1,645 survived.
As Germany faced defeat in the West in August 1944, Brunner left France for Slovakia (part of Czechoslovakia). Here he instituted a brutal camp regime and continued to deport Jews until the German retreat before the Russian attack.
Brunner was imprisoned by the Allies, but, using a false name, he got released. After working in Germany, he escaped in 1954 to Damascus, Syria, where he lived for over 40 years under Syrian protection. Beginning in the 1960s, monitors of Nazi activities asserted Brunner's presence in Damascus (under the name Georg Fischer) and his services to the Syrian secret service. In a 1985 interview Brunner showed no remorse for his wartime activities.
Warrants for Brunner's arrest and requests to Syria for his extradition were on the books in Germany, Austria, and elsewhere for many years. In 1954 France sentenced him to death in absentia, and in 1984 West Germany renewed a request for Brunner's extradition. Syrian authorities gave no sign of willingness to comply with such requests. Shortly after the in absentia verdict Brunner had four fingers blown from his left hand and was left partially blind when he opened a powerful mail bomb postmarked from Vienna. Armed government guards were outside his third floor apartment for many years. He was reported to carry cyanide with him at all times to be ingested in the event of his capture.
Brunner's mastery of deportation prevented resistance from his victims and showed his superiors how far the "Final Solution" could go. By a conservative estimate, Brunner deported 47,000 from Austria, 44,000 from Greece, 23,500 from France, and 14,000 from Slovakia. Very few of Brunner's victims survived.
Little has been written about Alois Brunner, and sources often confuse him with a Nazi named Anton Brunner. Information can be found in Raul Hilberg, The Destruction of the European Jews (1961, 1985). Documents which mention Brunner are reproduced and translated in The Holocaust: Selected Documents, edited by John Mendelsohn (1982), Vol. 8; Trial of the Major War Criminals (Nuremberg, 1946-1951), Vol. 4; and Nazi Conspiracy and Aggression (1946-1948), Vol. 8. A brief account of Brunner in Syria appeared in Newsweek (November 11, 1985). For more details, see Mary Felstiner, "Alois Brunner: 'Eichmann's Best Tool,"' Simon Wiesenthal Center Annual (1986).
Reader's Digest June 1990.
U.S. News & World Report, November 25, 1991.
Josephs, Jeremy, Swastika Over Paris, Arcade Publishing Incorporated (1989).
View the full website biography of Alois Brunner.