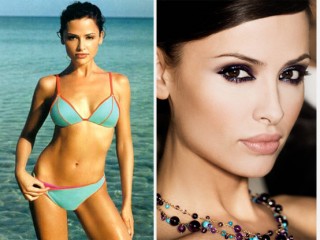 Almudena Fernandez
Date of birth : 1977-01-01
Date of death : -
Birthplace : Benavente, Spain
Nationality : Spanish
Category : Arts and Entertainment
Last modified : 2011-02-15
Almudena Fernández is a Spanish top model.

Almudena Fernandez was born in Benavente, Spain in 1977. Then Almudena Fernandez moved to Madrid with her family when she was a young girl. In a home filled love, passion and happiness Almudena Fernandez was raised which preceded her assets to the top of modeling world. Almudena Fernandez entered the world Supermodel contest during her senior year high school, The competition pitted Spain's most beautiful teens against each others, finally it was done and she got the second rank. Spanish Elle had sponsored that contest that concludes the recognition for this huge success, she managed to enter the European competition and once again gone to the up runner. Almudena Fernandez's latin beauty has helped her much, that she quickly worked with famous brands and designers like Hermés, lacoste, Olivier Strelli, Aquaflore, organza and Alain Manoukian that set her sights for becoming a model.

During the blitz, Almudena Fernandez decided to move to New York City in a chance to increase her exposure to fashion world. Almudena Fernandez landed there her two largest contracts up to date, becoming the most spokes model. She was ready then to wear the Autumn / Winter Show For Antonio Miro, Armando Basi and other designers in 2001.

Almudena Fernandez filled up her resume and worked for Revlon, L'Oréal, Kenneth Cole, Parasuco and Victoria's Secret, European and American brands. Cover pages in Elle and Cosmopolitan appearances helped Almudena Fernandez to be familiar amongst other supermodels. Boosting he career even more, Almudena Fernandez began to commute from New York to Paris, those two cities meant many magazine appearances and working with famous names Like Cartier and Gianfranco Ferre, she always insist on connection with the media and her fans, that lead into much publicity years post 2000. Almudena Fernandez's currently living in New York with her boyfriend Antonio Macain, a model too.

ALMUDENA FERNANDEZ - Revista WOMAN:



View the full website biography of Almudena Fernandez.