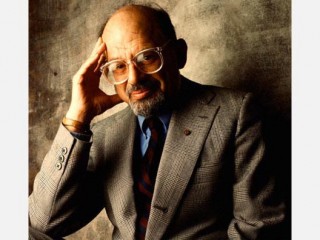 Allen Ginsberg
Date of birth : 1926-06-03
Date of death : 1997-04-05
Birthplace : Newark, New Jersey
Nationality : American
Category : Famous Figures
Last modified : 2010-11-25
The American poet Allen Ginsberg was one of the most celebrated figures in contemporary American literature. He was a leading member of the "Beat Movement" and helped lead the revolt against "academic poetry" and the cultural and political establishment of the mid-20th century.
Allen Ginsberg was born on June 3, 1926, in Newark, New Jersey, to Russian-Jewish parents. He had an emotionally troubled childhood that was later reflected in his poetry. His mother, Naomi, suffered from various mental illnesses, and was periodically institutionalized during his adolescence. Contributing to Ginsberg's growing confusion during these years was his growing awareness of his homosexuality, which he concealed from both his peers and his parents until he was in his twenties.
Ginsberg enrolled at Columbia University with the intention of becoming a lawyer. At Columbia, he fell in with a crowd that included writers Jack Kerouac and William Burroughs, as well as Lucien Carr and Neal Cassaday. Around the time he was a student at Columbia, Ginsberg got into some trouble with the police. His apartment was used as a base for a robbery, and in order to avoid being charged as an accomplice, he pleaded insanity. He ended up spending several months in a mental hospital.
After graduating with a bachelor of arts from Columbia in 1948, Ginsberg worked as a market researcher in New York and then migrated to San Francisco, where he became a principal figure in the "Beat Generation" literary movement. The Beat movement was an American social and literary movement originated in the 1950s where artists, derisively called "beatniks," expressed their alienation from conventional society by adopting a style of seedy dress, detached manners, and a "hip" vocabulary. Generally indifferent to social problems, they advocated sensory awareness that might be induced by drugs, jazz, sex, or the disciplines of Zen Buddhism. Ginsberg's Howl and Other Poems (1956), along with Kerouac's On the Road ultimately became the "Beat" movement's twin scriptures.
Howl's raw, graphic language dealt with human discontent and despair, moral and social ills, Ginsberg's homosexuality, and his mother's communist beliefs. Many traditional critics were astonished. While some commentators shared the attitude of Walter Sutton, who considered Howl "a tirade revealing an animus directed outward against those who do not share the poet's social and sexual orientation," others echoed the opinion of Paul Zweig, who argued that the poem "almost singlehandedly dislocated the traditional poetry of the 1950s." The publisher, poet Lawrence Ferlinghetti, became a defendant in an obscenity trial, but was later acquitted after testimony led Judge Clayton W. Horn to rule that Howl was not obscene. Still, leading literary and popular journals typically complained that Howl was vulgar and undisciplined. Another critic complained that "Ginsberg made it seem like anybody could write poetry.
Nevertheless, Ginsberg's triumphant synthesis of sociology and mysticism, Blake and Walt Whitman, and the Bible and Marxism, had found an audience. Declaiming his poems in coffeehouses, jazz clubs, and colleges, Ginsberg (with a thick, untrimmed beard and his balding head heavily fringed with hair) reinforced his dual image: a saint to the underground minority, a freak to the mainstream majority.
Ginsberg's next volume Kaddish and Other Poems 1958-1960 (1961), delved further into his past. Based on the "Kaddish," a traditional Hebrew prayer for the dead, it poignantly expressed the anger, love, and confusion felt towards his mother while rendering the social and historical milieu which informed his mother's troubled life. Some critics considered this piece to be his most important work. John Tytell explained "Kaddish testified for Ginsberg's capacity for involvement with another human in torment, for the acceptance of another's weirdness."
Ginsberg had visions while reading the poetry of William Blake. These visions led him to experiment with drugs, and he took LSD under the guidance of the late Timothy Leary in the 1960s. He said that some of his best poetry was written under the influence of drugs: the second part of Howl with peyote, Kaddish with amphetamines, and Wales - A Visitation with LSD. However, after a trip to India in 1962, where he was introduced to yoga and meditation, he, generally, changed his mind about drugs. He believed that yoga and meditation were far superior to raising one's consciousness, but still believed that psychedilcs could prove helpful in writing poetry.
Ginsberg was a visible political activist in the 1960s and 1970s. He coined the term and advocated "flower power," a strategy in which antiwar demonstrators promoted positive values like peace and love to dramatize their opposition to the death and destruction caused by the Vietnam War. He protested at the 1968 Democratic Convention in Chicago and later testified on behalf of the "Chicago Seven" who were prosecuted on conspiracy charges. Ginsberg was later jailed after demonstrating against President Richard Nixon at the 1972 Republican Convention in Miami. He was also a staunch advocate for gay rights. When asked to describe his social and political views, he simply responded "Absolute defiance." These experiences, as well as his conversion to Buddhism, his concerns about aging, and the anguish over the deaths of close friends Kerouac and Cassaday, heavily influenced Ginsberg's work.
Ginsberg was a survivor, as he outlived enemies like J. Edgar hoover who thought he was a threat to the establishment. He remained durable, and was an icon of American counterculture for four decades. It could be said that if one generation outgrew him, a new one rose to show their interest. In the 1990s, he was a favorite on MTV, and collaborated with the band Sonic Youth and singer Bono of U2.
In later years, Ginsberg's health began to fail. He suffered from cirrhosis of the liver, bouts of hepatitis, diabetes, and Bell's palsy, which left his face partially paralyzed. As he continued his relentless self-promotion and an exhausting schedule, Ginsberg accomplished what few writers attain: his acclaim and celebrity were at their height at his death. He had always said he wanted to die peacefully, and on April 5, 1997, at the age of 70, just days after being diagnosed with terminal liver cancer, he died, surrounded by "close friends and lovers" in his New York apartment. Ferlinghetti stated, "He went the way he wanted to go." Longtime friend and former California lawmaker Tom Hayden told CNN, "Allen was like a prophet of the 1960s." His most recent works before his death were Selected Poems, 1947-1955 and a rock cd The Ballad of the Skeletons.
There are also excellent pieces in his other collections: Empty Mirror (1962); Reality Sandwiches (1963); The Yage Letters (1964), written with William Burroughs; The Marihuana Papers (1966); TV Baby Poem (1968); Planet News 1961-1967 (1969); Ankor Wat (1969); and Indian Journals (1970).
Serious attention to Ginsberg's work is lacking, but Jane Kramer, Allen Ginsberg in America (1969), is a sympathetic, excellent biography. Obituaries which extensively detailed Ginberg's life and his writings appeared in the April 6, 1997 editions of the New York Times and the Los Angeles Times.
View the full website biography of Allen Ginsberg.