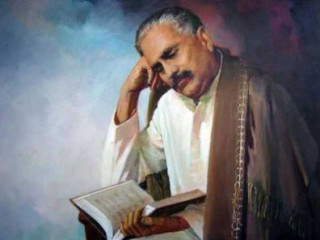 Allama Muhammad Iqbal
Date of birth : 1877-11-09
Date of death : 1938-04-21
Birthplace : Sialkot, British India
Nationality : Hindi
Category : Famous Figures
Last modified : 2010-10-22
One of the greatest Urdu poets in the contemporary world, Allama Muhammad Iqbal is famous for his poetry in Urdu and Persian. He is also given much credit for his works on political and religious philosophy in Islam. He is also credited with coming up with the idea of creation of Pakistan. He is usually referred to as Allama Iqbal; Allama means a scholar.

Allama Iqbal studied law in England and Germany a. His primary focus was on the creation of works on politics, religion, economics, philosophy and history. He also composed a number of poems and is well-known for his poetic works like Rumuz-i-Bekhudi, Asrar-e-Khudi and Bang-i-Dara among others. He is held in high honor in Afghanistan and Iran and he is fondly called as Iqbal-e-Lahori, which means Iqbal of Lahore.

A very strong supporter of the revival of Islam around the world, he advocated for the cause that the spiritual and political resurgence of Islam was very essential. He delivered a famous set of lectures in Muhammad Iqbal India that was compiled and published as Reconstruction of Religious Thought in Islam. Iqbal worked in close collaboration with Mohammad Ali Jinnah. He is honored as the national poet of Pakistan and his birth anniversary (November 9th) is a holiday in Pakistan.

Most of his poetic works are in Persian than Urdu. His works mainly revolved around the betterment of mankind and the present society. He took inspiration from real life incidents while he stayed in Europe and Middle East. He wanted to tell the West that their materialistic outlook will not last long and that they should take inspiration from the East and gain knowledge from spirituality to seek real happiness. He was greatly inspired by famous Western thinkers like Friedrich Nietzsche, Goethe, and Henri Bergson. This great poet breathed his last on April 21st 1938.
View the full website biography of Allama Muhammad Iqbal.