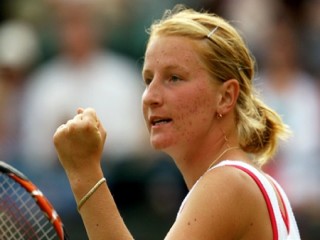 Alla Kudryavtseva
Date of birth : 1987-11-03
Date of death : -
Birthplace : Moscow, Russia
Nationality : Russian
Category : Sports
Last modified : 2011-04-21

Alla Kudryavtseva is a professional tennis player from Russia. She currently lives in Moscow, where she is coached by Nick Rybakov.

In 2008, Alla Kudryavtseva shocked fellow Russian Maria Sharapova in Wimbledon's second round, defeating her in straight sets. She went on to reach the fourth round for her best Slam result. Kudryavtseva is still waiting for her first WTA tour title, though she won an ITF Pro Circuit event in Balashikha, Russia, in 2005. She captured the Kolkata doubles title with Vania King in 2007. Kudryavtseva's father is a world champion Greco-Roman wrestler and her mother teaches chemistry. She lives and trains in Miami.

In 2007, Kudryavtseva defeated 29th seed Gisela Dulko 7–5, 1–6, 8–6 to reach the third round of Roland Garros, where she was defeated by second seed Maria Sharapova in straight sets 6–1, 6–4. After this match, she reached her new career high of #67.

At her first Wimbledon, in 2007, she lost against the eventual champion Venus Williams, 2–6, 6–3, 7–5.

During the 2008 Wimbledon, Kudryavtseva shocked the tennis world by beating fellow Russian and 3rd seed Maria Sharapova in the second round in straight sets 6–2 and 6–4. Afterwards, she joked "It's very pleasant to beat Maria... Why? Well, I don't like her outfit." She lost to Safina in the first round of the 2009 Australian Open.

At the 2009 Wimbledon Championships, she lost to #4 Elena Dementieva in the first round. And she lost at the second round of the Australian open 2010 of Agnieszka Radwańska with 6-0 and 6-2

In 2010, she reached the third round of the AEGON Classic in Birmingham, before losing to Maria Sharapova 6-3, 6-1.

She reached her first WTA final at the 2010 Guangzhou International Women's Open but lost to top seed Jarmila Groth 6-1, 6-4. Her good form continued and she won her first WTA singles title a week later, defeating Elena Vesnina 6-4, 6-4 at the 2010 Tashkent Open.

Singles Titles
2010: Tashkent

Doubles Titles
2010: 's-Hertogenbosch
2007: Kolkata

Personal:
Coached by Christian Zahalka
Started playing tennis at age 7; took it seriously from the start
Favorite shot is forehand; favorite surface is hard
Mother, Galina, is a former chemistry teacher; father, Alexander, was a world champion in Greek Roman wrestling in the 1980s; younger brother, Platon, is in school and plays tennis for fun; has a dog (rottweiler) named Ralph and a parrot too
Is an avid reader; likes Russian author Boris Akurin, as well as classics by Dostoevsky and Solzhenitsyn
Favorite food is sushi
Speaks Russian and English
Currently in third year at University of Physical Culture in Moscow
Favorite player growing up was Agassi; also liked Seles, Graf, Hingis, Roddick
Goal is to be a top player and be a memorable one too.


View the full website biography of Alla Kudryavtseva.