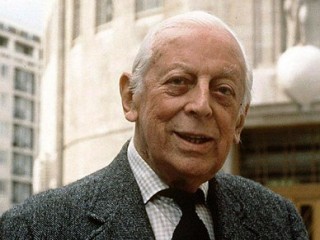 Alistair Cooke
Date of birth : 1908-11-20
Date of death : 2004-03-30
Birthplace : Salford, Lancashire, United Kingdom
Nationality : British
Category : Famous Figures
Last modified : 2011-09-27
Alfred Alistair Cooke was a British/American journalist, television personality and broadcaster. Outside his journalistic output, which included Letter from America and Alistair Cooke's America, he was well known in the United States as the host of PBS Masterpiece Theater from 1971 to 1992. After holding the job for 22 years, and having worked in television for 42 years, Cooke retired in 1992, although he continued to present Letter from America until shortly before his death.

He was the father of author and folk singer John Byrne Cooke.

Cooke's origins, however, were less than genteel, and his transformation into the epitome of British erudition seemed a quintessentially American, ragsto-riches one. Born Alfred Cooke in 1908 in Salford, a town near Manchester, he was the son of a lay preacher and metalsmith by trade; his mother's family were of Irish Protestant origin. The family relocated to the seaside town of Blackpool in 1917, and the late entry of the United States into World War I, on the side of the British, caused a contingent of American soldiers to be billeted at the family home. The event was a pivotal one in Cooke's life, he later recalled. The seven U.S. doughboys, he once said, were "inordinately kind and outgoing and quite devoid of the joylessness that, in my view, afflicted my own countrymen," a New York Times article by Frank J. Prial quoted him as saying.
Cooke won a scholarship to Jesus College of Cambridge University, which carried with it a stipulation that he would enter into teaching as a profession. He was an excellent piano player and active in extracurricular drama activities, even founding a theater group that was the first at Cambridge to admit female students into its ranks. He also changed his name to the posher-sounding "Alistair" around 1930, completing his transformation, and partly avoided the teaching requirement after graduation by landing a fellowship for further study at Yale and Harvard. From there, he ventured on to Hollywood in 1934, befriending actor and director Charlie Chaplin, and then parleyed his experiences into a job as the film critic for the BBC.

Cooke came back to England for that job, with his American-born wife, Ruth Emerson, a model, but was eager to return to America. An unexpected opportunity arose with King Edward VIII's abdication crisis of 1936, when Cooke landed an assignment for NBC to broadcast reports on the royal drama and its political implications from London. He filed some 400,000 words for the radio network, and the pay netted him a small fortune that gave the Cookes the chance to permanently settle in New York City in 1937.

Cooke served as a correspondent for the Times of London, and took occasional BBC work during the World War II years. Wholly embracing his new home, he even became an American citizen in 1941, though his ties to England remained strong. Reporting from San Francisco on the founding of the United Nations in 1945, he was offered a post as the chief American correspondent for the Manchester Guardian, the newspaper that eventually became London's Guardian daily. He eagerly delved into all the major stories of the day, and his nonfiction account of some notorious postwar domestic espionage trials, A Generation on Trial: U.S.A. vs. Alger Hiss, was published by Knopf in 1950 and became a best-seller.

By then Cooke had already began his long-running Letter from America, which was first broadcast on the BBC on March 24, 1946. It was slated to be just a 13-week series, but his trenchant observations of American life and events, which usually clocked in between 13 and 14 minutes, proved so popular that it became the most enduring program on BBC radio as well as the longest-ever hosted by a single person in broadcast history.

The major American networks courted the elegant Brit as well, and Cooke hosted a highly regarded American documentary series called Omnibus that aired on CBS in the 1950s. He ventured back into television several more times, most notably with a 1972 series for NBC, Alistair Cooke's America, which won two Emmy Awards. A lucrative deal he inked for a companion book earned him another small fortune when it became a best-seller as well.
Cooke was also a familiar figure to American viewers of the Public Broadcasting Service (PBS) staple Masterpiece Theatre as its host from 1971 to 1992. The series featured lavish film adaptations of classics from British literature; Cooke wrote his scripts himself and was famous for never using a teleprompter. His introductions were such an institution unto themselves that they became the source of parodies, from Saturday Night Live to Sesame Street.

Letter from America ended in late February of 2004, when Cooke was finally forced to give up the assignment, which he still wrote from a manual typewriter, because of declining health. The last of its 2,869 broadcasts aired a few weeks later, and Cooke died that same month, on March 30, 2004, at the age of 95. He had lived in the same rent-controlled apartment on New York's Upper East Side for decades, but also had a summer home on Long Island with his second wife, the painter Jane Hawkes White. He is survived by their daughter and a son from his first marriage.
View the full website biography of Alistair Cooke.