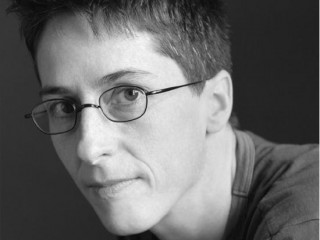 Alison Bechdel
Date of birth : 1960-09-10
Date of death : -
Birthplace : Lock Haven, Pennsylvania, United States
Nationality : American
Category : Arts and Entertainment
Last modified : 2010-08-18
Alison Bechdel, born September 10, 1960 in Lock Haven, Pennsylvania, United States is an American cartoonist. Originally best known for the long-running comic strip Dykes To Watch Out For, in 2006 she became a best-selling and critically acclaimed author with her graphic memoir Fun Home.

Since the mid-1980s, Alison Bechdel has been a well-known name in the gay community for her long-running comic strip, Dykes to Watch Out For. The successful feature was a comics-page staple of several dozen alternative newspapers for twenty-five years and was regularly collected into book form. "With each image that Bechdel has created, she invites the lesbian community, both in the United States and internationally, to gaze into a mirror that reflects its passions, politics, and idiosyncrasies," noted a contributor in Gay & Lesbian Biography. In 2006, Bechdel earned more mainstream media attention for her acclaimed memoir, a graphic novel she titled Fun Home: A Family Tragicomic. In it, she recounts her youth in a small Pennsylvania town, where her father served as the local mortician--and lived as a closeted gay man, which she learned not long after revealing her own sexual orientation to her parents when she was in college.

Born in 1960, Bechdel grew up in the central Pennsylvania town of Beech Creek, population 800, where both of her parents taught at the local high school. Her father Bruce also had a side job as the director of the town's funeral home, which Bechdel and her two younger brothers rather morbidly dubbed the "Fun Home." Her father Bruce's true calling, however, came in his restoration of their actual home, a 4,000-square-foot Gothic Revival mansion he restored to its original 1880s condition, complete with period furnishings and custom reproduction wallpaper. "One thing I remember vividly from my childhood is sitting in a car outside an antique store, for what would seem like forever," Bechdel recalled in an interview with Ginia Bellafante of the New York Times. "I'd die of boredom." Her father, she noted years later in her memoir, had a strong-willed personality, and she and the rest of her family occasionally locked horns with him over innocuous household-related issues. "I think I was drawn to cartooning because of the absence of color," she theorized in the same New York Times interview. "It was such a rejection of the environment I grew up in, and my father had no aesthetic criteria for judging it."

Strange Beginnings

Bechdel's artistic gifts became apparent at an early age and were actively encouraged by her parents. Many of the artists she encountered as a child would have a lasting influence on her work. The cartoonists of Mad magazine were among them, as well as "Norman Rockwell and certain children's book illustrators," as she told Anne Rubenstein in the Comics Journal. "We had some books of children's poetry that Edward Gorey illustrated.... I also loved Hillary Knight's work, the guy who did the Eloise books. And Dr. Seuss. And Richard Scarry's picture books." While her early childhood felt ordinary, as the artist grew into her teens she began to suspect her family was different from those around her, aside from the fact that the Bechdels lived in what amounted to a carefully arranged decorative-arts museum. As she wrote years later in her memoir Fun Home, "My father began to seem morally suspect to me long before I knew that he actually had a dark secret." The male students he befriended, who babysat for Bechdel and her brothers and even went on vacation with the family, were one sign that something might have been amiss. On another occasion, her father was arrested for buying beer for a teen.

Like her parents, Bechdel was an avid reader, and during her high school years seemed to find common ground with her father in their discussions of literature. She left home to attend Simon's Rock of Bard College in Great Barrington, Massachusetts, but transferred to Oberlin College in Ohio after her sophomore year. It was during her first year at Oberlin that Bechdel wrote a letter to her parents informing them that she was gay. She had worried they would be upset but was unprepared for what followed. "My father called after receiving it," she recounted in her memoir. "He seemed oddly pleased to think I was having some kind of orgy. Mom wouldn't come to the phone." Bechdel soon learned the truth: that her father had had homosexual encounters himself. Bechdel's mother soon began divorce proceedings, but four months after the letter was sent, Bruce Bechdel was struck and killed by a truck while crossing the road near another old home he was in the process of restoring. The family considered it an accident, but Bechdel wondered privately if her father had made a deliberate decision to step into the road that day.

Makes Mark with Alternative Comic

After graduating from Oberlin in 1981, Bechdel moved to New York City and did secretarial work for a few years before moving on to Hadley, Massachusetts, and then Minneapolis, Minnesota. The first cartoons she ever drew appeared in the margins of letters she wrote to friends, and one of her correspondents suggested that she try her hand at drawing a comic strip. Fascinated by contemporary lesbian subculture, she came up with the idea for Dykes to Watch Out For, which first appeared in 1983 on the pages of a feminist publication called Womanews. She was excited by the reaction she saw after distributing the paper at a lesbian march. "I was so elated that my work was getting passed around, and getting read," Bechdel told Rubenstein. "It was really thrilling to actually see people react to my cartoons, to laugh. I was so happy. I knew that was something I wanted." The strip was picked up for syndication two years later and began appearing in alternative newspapers around the United States. It became a cult read in lesbian communities across the United States for its wry, witty take on gay women and their relationships. It was also successful enough to generate a line of T-shirts, mugs, and other products, and by 1990 the extra income allowed Bechdel to quit her day job as a newspaper production manager to work on the strip full-time.

Dykes to Watch Out For focused on a group of characters anchored by Mo--Bechdel's bespectacled, close-cropped alter ego--who works in a women's bookstore, and whose friends and partners comprise the full range of lesbian stereotypes in their hometown of Erewhon, a fictional city that shares many similarities with Minneapolis. The series was regularly assembled into book form at roughly two-year intervals, bearing titles such as Spawn of Dykes to Watch out For and Split-level Dykes to Watch out For. Writing for the London Independent on Sunday, Louise Gray called the strip "one of the most subtle comedies of modern manners to come along in the last two decades. That they happen to be gay mores is neither here nor there." This was the artist's goal, Bechdel revealed to Gray, asserting that her "characters are as human as anyone else, and I really am insistent about letting them be universal." Bechdel added, "The strip is about all kinds of things, not just gay and lesbian issues, although the world is seen through that lens. These events--births, deaths and everything in-between--happen to everyone."

Bechdel succeeded in that goal well enough that in 1994 Universal Press Syndicate approached her about creating a mainstream comic strip. "I thought about it for a couple of weeks," she told Rubenstein, "but eventually I came to my senses.... I have less than no interest in speaking to the mainstream. I mean, if my work ever got banal enough to make it into a mainstream newspaper, I hope someone would just put me out of my misery." Besides, Bechdel had a new project in mind. In the late 1990s she reduced the frequency of Dykes and ended her licensing agreements to explore the possibility of writing her family's story in a graphic novel format. The idea had intrigued her since her father's death, and she finally decided that the time had come. She began Fun Home in 1998, and it took her several years to write. A large part of the work involved staging each of the cartoon frames with the help of a digital camera; she positioned herself in each one as the different family members, including herself looking at her father in his casket, to produce the photographs from which she drew the story.

A Haunting Autobiography

Fun Home was published by Houghton Mifflin in 2006 as the first graphic novel the company had ever issued. Critics greeted the work with unstinting praise, with most writing appreciatively of Bechdel's candor in dealing with such sensitive topics as suicide and families with closeted parents. Entertainment Weekly's Jennifer Reese commended the "openness that distinguishes Bechdel's generous and intelligent work. Unlike so many memoirs, this one never tries to set the record straight, and while Fun Home takes only a couple of hours to read, it has a depth and sweetness few can match at five times the length." Writing in the Lambda Book Report, Nisa Donnelly found that Bechdel's chronicle of her family "takes readers into a dark and daring place, much like a confessional. It is an intimate look at the underpinnings of a family, and especially of a lesbian daughter's relationship to her complicated father."

Donnelly also characterized Bechdel's memoir as "extraordinarily literary," a sentiment echoed by Sean Wilsey in his New York Times Book Review critique. Wilsey described Fun Home as "a comic book for lovers of words" in which "Bechdel's rich language and precise images combine to create a lush piece of work--a memoir where concision and detail are melded for maximum, obsessive density. She has obviously spent years getting this memoir right, and it shows." The book also earned recommendations from People, Booklist, and Time magazine, which deemed it one of the ten best books of 2006. It also earned a National Book Critics Circle Award nomination for memoir/autobiography, and an Eisner Award for best reality-based work from her comic book artist peers.

Some of the reticence that Bechdel harbored for years about revealing her family's story was fueled by external issues. By the time she was midway through, she told Rachel Deahl in a Publishers Weekly article, "the culture had really changed. It didn't feel like it was such a terrible thing to reveal my father was gay, as it had 20 years earlier." Despite that progress, Fun Home was the target of censorship crusades in a few conservative communities, whose residents objected to its presence on library shelves. There were a few others uncomfortable with the book for more personal reasons: though Bechdel's mother and brothers knew of her project during its genesis, and she thanked them in the book's acknowledgements page for "not trying to stop me," she admitted in an interview with the London Guardian that they were uneasy with the final result. "I've discovered that there's something inherently hostile about having someone else write about your life," she remarked to Oliver Burkeman, "no matter how well-intentioned that other person might be."

Some of the family's unease was tied to the nature of Bruce Bechdel's death--was it an accident, or suicide? Even a quarter-century later, the question remained an unanswered one. "I think it's part of my father's brilliance, the fact that his death was so ambiguous," she told Burkeman in the Guardian interview. "The idea that he could pull that off. That it was his last great wheeze. I want to believe that he went out triumphantly." There was another factor that also weighed heavily on her in the decade following his death: In her job at the Minneapolis weekly Equal Time in the late 1980s, she arranged pages of obituary notices and tributes for men who had died of acquired immune-deficiency syndrome (AIDS), the disease that spread with deadly force in the gay community beginning in the early 1980s. "When I try to project what Dad's life might have been like if he hadn't died in 1980, I don't get very far," Bechdel mused in her memoir. She also wrote of the prejudices of the era as "a narrative of injustice, of sexual shame and fear of life considered expendable. It's tempting to say that, in fact, this is my father's story. There's a certain emotional expedience to claiming him as a tragic victim of homophobia. But that's a problematic line of thought. For one thing, it makes it harder for me to blame him."

Drawing to a Close

From her home in Vermont, Bechdel continued drawing her cult-favorite comic strip throughout the late 2000s. The storylines threading through Dykes to Watch Out For over the years have reflected many changes in the gay, lesbian, and transgender community--a journey that can be traced in The Essential Dykes to Watch out For, a 2008 collection of most of her strips. New York Times contributor Dwight Garner noted that the collected panels "offer the chance to watch a group of very appealing women grow and change (and struggle to have better sex) over the course of more than two decades." He continued: "The most important thing to know about The Essential Dykes to Watch out For, however, is how deeply amusing it is. It crackles with one-liners." "What cannot be overemphasized is the sheer scope of the collection, which follows these women from idealistic young adulthood to contentedly disillusioned middle age and, for some, parenthood," a Publishers Weekly critic commented. "Bechdel's characters are alive. You know them, you recognize them, you've seen them before. They are the dykes next door, or the dykes you didn't know lived next door," Trina Robbins stated in the Women's Review of Books. The critic added that one can view the progress of Bechdel's art throughout the strips and in a cleverly inked introduction, and "in short, she is a damn good artist." As Booklist's Ray Olson concluded, while Fun Home brought the author a wider audience than Dykes, "make no mistake--the strip is her masterpiece."

Although in 2003 Bechdel told Gray in the Independent on Sunday that "I have a hazy fantasy about lying on my deathbed when I'm 117 and completing the last panel" of Dykes to Watch Out For, in 2008 she retired from the strip. "The longer I wrote about these people, the fewer possibilities were open to everyone based on the choices they made. Everyone's lives started to narrow," Bechdel told Kera Bolonik in New York magazine. In addition, while once she had seen her role "really as a kind of cultural anthropologist," as she told Lisa London in the Women's Review of Books, she felt the world had caught up to the gay subculture. "When I was young, there was this very cohesive little gay world, an alternative world to the mainstream," she told Emma Brockes in the London Guardian. "That's not the case anymore. Things have gotten so assimilated. I feel in some ways I was longing for those days, in a way that I eventually had to let go of. The whole purpose of a liberation movement is to render itself obsolete. You can't go on clinging to it."

By leaving Dykes behind, Bechdel instead planned on returning to the graphic memoir genre and taking advantage of having "the luxury of just completely immersing myself in one project," as she told Bolonik. In her new project she planned to explore her coming of age and relationships as a lesbian, "but using it as a laboratory to look at bigger and more abstract issues about the self and other," she revealed to Brockes. "I don't know if I can pull it off." In a Nerve interview with Peter Smith she acknowledged the pressure of matching the success of Fun Home: "[It was] a pretty good story, and I can't top it. So I decided I wouldn't even try. I guess I've sort of gotten used to this problem, just from doing creative work for so many years. Every time I do an episode of my comic strip I feel like I have to top what I did last time, so it's a kind of pressure I've learned to manage." She concluded to Smith, "I guess I sort of almost assume the second book is just going to disappoint people, and there's nothing I can do about that, so I just get on with it."

PERSONAL INFORMATION

Born September 10, 1960, in Lock Haven, PA; daughter of Bruce Allen (a high school English teacher, antiques dealer, and funeral director) and Helen (a high school English teacher and actress) Bechdel.

WRITINGS

* COMIC COLLECTIONS

* Dykes to Watch Out For, Firebrand Books (Ithaca, NY), 1986.
* More Dykes to Watch Out For, Firebrand Books (Ithaca, NY), 1988.
* New, Improved! Dykes to Watch Out For, Firebrand Books (Ithaca, NY), 1990.
* Dykes to Watch Out For: The Sequel, Firebrand Books (Ithaca, NY), 1992.
* Spawn of Dykes to Watch Out For, Firebrand Books (Ithaca, NY), 1993.
* Unnatural Dykes to Watch Out For, Firebrand Books (Ithaca, NY), 1995.
* Hot, Throbbing Dykes to Watch Out For, Firebrand Books (Ithaca, NY), 1997.
* Split-level Dykes to Watch Out For, Firebrand Books (Ithaca, NY), 1998.
* Post-Dykes to Watch Out For, Firebrand Books (Ithaca, NY), 2000.
* Dykes and Sundry Other Carbon-based Life Forms to Watch Out For, Alyson Books (Los Angeles, CA), 2003.
* Invasion of Dykes to Watch Out For, Alyson Books (Los Angeles, CA), 2005.
* The Essential Dykes to Watch out For, Houghton Mifflin Harcourt (Boston, MA), 2008.

* OTHER

* The Indelible Alison Bechdel: Confessions, Comix, and Miscellaneous Dykes to Watch Out For (autobiography), Firebrand Books (Ithaca, NY), 1998.
* (Illustrator) Louise Rafkin, What Do Dogs Dream?, Andrews & McMeel (Kansas City, MO), 1998.
* (Illustrator) Louise Rafkin, What Do Cats Dream?, Andrews & McMeel (Kansas City, MO), 1998.
* Fun Home: A Family Tragicomic (graphic novel), Houghton Mifflin (Boston, MA), 2006.
View the full website biography of Alison Bechdel.