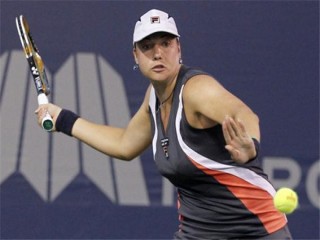 Alisa Kleybanova
Date of birth : 1989-07-15
Date of death : -
Birthplace : Moscow, Russia
Nationality : Russian
Category : Sports
Last modified : 2011-04-21

Alisa Kleybanova is a Russian professional tennis player. Her highest WTA world ranking to date is No. 20, achieved on February 21, 2010. Kleybanova has won two WTA singles titles.

Singles Titles
2010: Kuala Lumpur, Seoul

Doubles Titles
2009: Fès, Budapest, Tokyo

Personal:
Coached by Iulian Vespan
Began playing tennis at age 4; was coached by mother for first nine years
Mother, Natalia Levina, is a biologist (isn't working now); father, Mikhail Kleybanov, used to work for Institute of Steel and Alloys and now works for a chemical company; grandmother, Zhanna Kleybanova, stays at home and takes care of everyone
Likes all surfaces but favorite is grass; favorite shots are serve, backhand
Favorite city is Moscow; favorite tournament is Australian Open
Enjoys reading, going on her laptop and watching TV and movies with her family when she's home
Doesn't really have any tennis idols, but when young she was told she played aggressively like Monica Seles, and was proud of the comparison
Goal is "to improve her game and mental strength and become one of the top players in the world".

View the full website biography of Alisa Kleybanova.