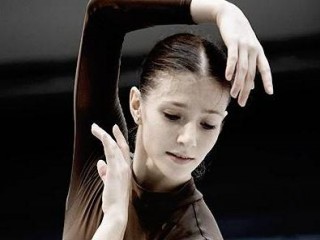 Alina Cojocaru
Date of birth : 1981-05-27
Date of death : -
Birthplace : Bucharest, Romania
Nationality : Romanian
Category : Famous Figures
Last modified : 2011-10-29
Alina Cojocaru, a native from Bucharest, Romanian become a principal dancer with The Royal Ballet of London since 1997. She competed in the Prix de Lausanne in January 1997 and she won the gold medal. Alina got a six months scholarship to train at the Royal Ballet School in London. She was only 16-year-old.

At the age of 7 or 8 she began gymnastic classes, progressing at the age of 9 to a Bucharest ballet school which acted as a feeder for the Romanian State Ballet school. Later the same year she took and passed the entrance exam for the school and a few months later was chosen (with 8 other Romanian students) by the director of the Kiev Ballet school to take part in a student exchange.

She left her family to train at the school, and did not speak any Russian. The ballet school gave a public performance every six months and it was in one of these performances that Cojocaru made her debut, dancing the role of Amor in Don Quixote.

After completing her six months training with the Royal Ballet School, Cojocaru was offered a contract to join The Royal Ballet as a member of the corps de ballet. She was also offered a contract to join the Kiev Ballet as Principal. She subsequently joined Kiev Ballet in November 1998, believing she would gain greater experience as a Principal dancer. She stayed for one season, dancing a variety of roles.

Whilst dancing with Kiev Ballet, Cojocaru re-applied to the Royal Ballet in London, but was only invited to audition for the corps de ballet. She attended an audition for the company whilst on leave from Kiev Ballet and was offered a contract. Doubtful of development opportunities elsewhere, she accepted the contract and joined the company in November 1999. She was subsequently promoted to the rank of Principal dancer in 2001.

Cojocaru's early appearances with the company included performing in the opening gala for the refurbished Royal Opera House, plus appearances with the corps de ballet in the Kingdom of the Shades from La Bayadère, as a snowflake in The Nutcracker and as a doll in Coppélia.

View the full website biography of Alina Cojocaru.